ProOmega-CoQ10 1000mg
Nordic Naturals
60 softgels $38.95
120 softgels $69.95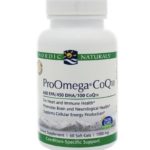 -Double-strength EPA+DHA for more omega-3s in fewer soft gels plus 100mg 
ubiquinone-form CoQ10
-Synergistic heart support
-Promotes brain and neurological health
ProOmega CoQ10 provides the same powerful EPA+DHA formula as our ProOmega, with 
the added heart health benefits of CoQ10. This formula helps supply the heart 
with the ATP it needs, and protects heart tissue from oxidative stress and 
damage.
Servings Per Container: 30
Two soft gels daily, with food, or as directed by your health care professional or pharmacist.
Serving Size: 2 soft gels
Amount Per Serving: 
Calories …20
Calories from Fat …18
Total Fat …2.0g
Saturated Fat …0.1g
Trans Fat …0g
Coenzyme Q10 …100mg
Total Omega-3s …1280mg
EPA …650mg
(Eicosapentaenoic Acid)
DHA …450mg
(Docosahexaenoic Acid) 
Other Omega-3s …180mg
Ingredients: purified deep sea fish oil (from anchovies and sardines), soft gel 
capsule (gelatin, glycerin, purified water, caramel color, natural lemon flavor), coenzyme Q10, beeswax, d-alpha tocopherol, rosemary extract (a natural 
preservative)
No gluten, milk derivatives, or artificial colors or flavors. Non-GMO.