Gluten Free
now browsing by tag
Purple Sweet Potato Brownies

Grain Free, Paleo, Gluten Free, Dairy free
Happily serves 12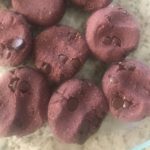 ALL ORGANIC INGREDIENTS
2 Purple Sweet Potatoes
14 Medjool Dates
1 1/2 Paleo Nut Flour
4 TBSP Raw CACAO Powder
3 TBSP Maple Butter
1/4 tsp Himalayan sea salt
Soak Date about 1-4 hours. Remove seeds.
Peel Sweet Potatoes. Slice/cut and steam for about 15 mins or until soft.
The smaller the pieces, the faster it will cook, the less nutrients you'll lose.
Add Sweet Potatoes and Dates to food processor, blend until a creamy smooth texture.
Mix all other ingredients in a bowl, then add cream mixture. Stir well.
Bake for 20-30 mins on 350 until the toothpick comes out dry.
Allow to cool 10 mins for the brownies to gel together.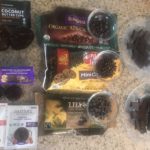 Chocolate….we all love it, might as well figure out how to make it healthy so we can enjoy it without Guilt! Just a few things we sampled and made today! Most of these products I got from Sprouts and Natural Grocers.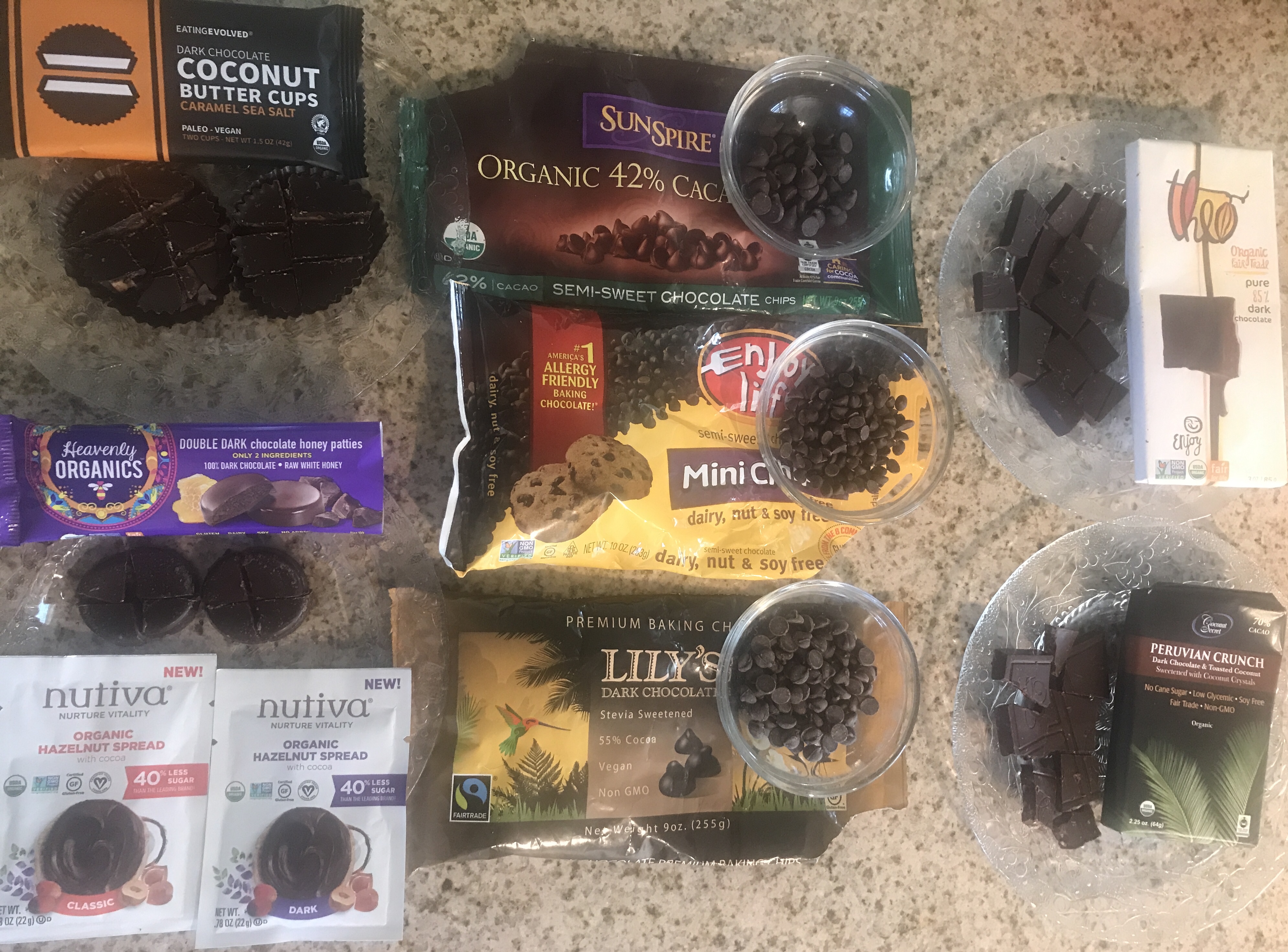 Purple Sweet Potato Brownies


Grain Free, Paleo, Gluten Free, Dairy free




Happily serves 12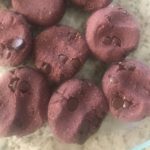 ALL ORGANIC INGREDIENTS
2 Purple Sweet Potatoes
14 Medjool Dates
1 1/2 Paleo Nut Flour
4 TBSP Raw CACAO Powder
3 TBSP Maple Butter
1/4 tsp Himalayan sea salt
Soak Date about 1-4 hours. Remove seeds.
Peel Sweet Potatoes. Slice/cut and steam for about 15 mins or until soft.
The smaller the pieces, the faster it will cook, the less nutrients you'll lose.
Add Sweet Potatoes and Dates to food processor, blend until a creamy smooth texture.
Mix all other ingredients in a bowl, then add cream mixture. Stir well.
Bake for 20-30 mins on 350 until the toothpick comes out dry.
Allow to cool 10 mins for the brownies to gel together. (Important step!!)
Jodi's Fudgy Black Bean Brownies
Grain free, Dairy free, Gluten Free, Vegan
Happily serves 12-15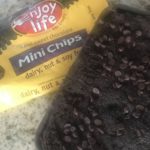 ALL ORGANIC INGREDIENTS
1 Egg Replacer (or 1 egg)
2 Cups Cooked Black beans
One Avocado (or 1/2-3/4 Cup coconut oil)
1 TBSP Vanilla extract
1/2 Cup Coconut sugar
2/3 Cup Raw Cacao or Carob
1/4 tsp Baking soda
1/4 tsp Baking powder
Optional: 1/2 cup dairy free chocolate chips
Preheat oven to 350°.
Grease an 8 x 8″ baking stone or mini muffin pan (spray coconut oil)
Mix flax egg, black beans, avocado or oil, vanilla and sugar in the food processor until smooth.
Add the Cacao, baking soda, baking powder and mix again until smooth.
Batter needs to be stick to be fudgy if you want it thinner add a tablespoon or so of coconut milk or tsp coconut oil.
Fold in the chocolate chips spread in the pan and bake for about 20 minutes or until toothpick comes out clean.
Cool completely.
Tips:
The food processor is best, blends and hides the consistency of the beans.
Brownies are best cold.  Can be stored in the fridge or frozen.
Also tastes good raw, no need to bake if you are in a hurry.


Holiday drinks!! What to do if you drink to little water and become dehydrated and have a hangover the following day?
If you are going to drink this holiday season, please be responsible and smart.  Always choose good quality ingredients and ORGANIC where you can.  Good rule of thumb is drink a glass of water after each mixed drink. This will not affect your "Buzz" It allows your body to metabolize the alcohol content.
Following the "fun" recipes I have listed a few tips to help sooth your guts.  Remember: if you are a coffee/caffeine person or drinker, those two deplete your B vitamins and fatigue/stress your adrenals out.  Supplements are strongly recommended to help keep levels normal.
I'd be more than happy to help create a meal plan for you to keep you on track during the holidays.  Happy creating!!
I found Bailey's Almond cream, it's gluten free and vegan.  Was a total hit at class.  The salted Caramel Kaula was a second win!  The Staff at Total Wine was so helpful in answering my questions since my knowledge lacks in this department.  Don't be afraid to ask….remember you are the consumer and you vote with your dollars so do so wisely.

Vegan Eggnog Chai Latte
Dairy Free, Vegan
Happily serves 1
ALL ORGANIC INGREDIENTS
8 oz So Delicious Eggnog
2 Chai Tea bags
1/2 cup espresso or Cold Brew
Optional: 2oz Kahula
Heat eggnog and 2 tea bags over medium heat, never allowing it to come to a boil. Stir often.
As soon as eggnog begins to form little bubbles remove from the heat.
Remove tea bags from eggnog.
Pour coffee in a mug and top with the chai spiced eggnog.
Serve immediately.
Peppermint White Russian Cocktail
Dairy Free
Happily serves 2
1/2 cup Kahlúa coffee liqueur
1/4 cup Peppermint flavored vodka (2 oz)
1/2 cup Coconut Cream or coconut egg nog
6-8 Ice cubes
Top of Glass:
1/8 cup vanilla frosting
1/4 cup peppermint candy bits
Apply a thin layer of vanilla frosting around the rims of both glasses.
Add the peppermint bits to a shallow bowl. Dip the rims of each glass into the candy, covering the frosting entirely. Chill for 10 minutes.
In a cocktail shaker, add the Kahlúa, vodka and coconut cream.
Shake it!
Pour into the peppermint-rimmed serving glasses filled with ice.
Hot Caramel Apple Cider
Vegan, Gluten Free (Use Tito's vodka or Towers-it's Gluten Free)
Happily serves 4
ALL ORGANIC INGREDIENTS
32 oz apple cider (Four 8 oz servings)
8 oz Caramel vodka
1 TBSP Cinnamon
OPTIONAL: 1/4 cup Coconut brown sugar (for rimming your glasses)
Mix all of the ingredients in a large pot.
Heat over medium-low heat, stirring occasionally until liquid just begins to steam
TIP: Heat to your desired temperature and then add the vodka to ensure the alcohol doesn't burn off.
Optional: While cider is warming up rim the mugs with brown sugar
BAILEYS Spiced Iced Cold Brew
Gluten Free, Dairy Free, Vegan
Happily serves 1
ALL ORGANIC INGREDIENTS
2 oz Baileys Almond Milk Liqueur
15 oz Cold brew
Cinnamon essential oil or cinnamon stevia
Nutmeg
Ice if desired
Combine Baileys with cinnamon oil/stevia, cold brew over ice.
Top with grated nutmeg.
Golden Milk
Dairy Free, Soy free, Gluten Free, Vegan, Yeast Free
Happily serves 1
ALL ORGANIC INGREDIENTS
1 Cup Almond or non dairy nut milk
1 TBSP Coconut oil
1 tsp Turmeric
1/4 tsp ground ginger
1/2 tsp ground cinnamon
1/8 tsp white pepper (or black)
1 scoop of collagen
Hangover Remedies:
1 scoop Can't Beet this (Purium)
8 oz Organic Coconut water
Optional but strongly recommended:
1 scoop Green Spectrum or "More Greens" (Purium)
8oz Bone Broth before bed
8oz Bone Broth first thing in the morning.
Avocado and sea salt for your first meal.
Holiday Desserts!  We had such a fun time creating new recipes and adapting old recipes to better quality ingredients.  Reducing the sugar "coma" feeling is huge during the holidays.  Remember it's an indulgence, not an everyday treat.  When you can learn to appreciate dessert or good food, you know there be more and you don't need to be the "starving child" and scarf down what's in front of you.  Learning how to have a healthy relationship is part of what I teach in "cooking class".  You shouldn't be alarmed because it's not always "cooking", we learn preparation methods, tips on saving time and energy.  Come to the next class-step out of your comfort zone and see how good you feel after realizing "cooking" isn't so bad!
Vegan Pumpkin Cheesecake
Gluten Free, Vegan, Paleo
Happily serves 8
ALL ORGANIC INGREDIENTS
Crust
1/2 Cup soaked dates
2 TBSP Coconut Oil
1 Cup Ground Nut Flour
1/8 tsp Himalayan Sea Salt
Soak Dates 1-4 hours. Remove seeds, discard water.
Add the nuts to the food processor and blend until they are like a rough flower then add the dates, coconut oil and sea salt.
Pulse together until it becomes a lumpy ball and then press into the bottom of a pie dish and refrigerate.
Filling
4 Cups Fresh Pumpkin (or 2 Cans Pumpkin purée)
8 oz Vegan Cream Cheese
1/3 cup Maple syrup (can sub coconut nectar) OR 1/4 tsp maple extract & 1/4 tsp stevia or Lohan Sweetener
2 TBSP Pumpkin pie spice
To make the filling
Add pumpkin and other ingredients and process until smooth.
Blend on the highest setting until It is smooth like the cooked version of pumpkin pie.
Transfer the filling to your pie crust and let refrigerate for a few hours.
Quinoa Brittle
Gluten Free, Dairy Free, Refined Sugar Free
Happily Serves 10
ALL ORGANIC INGREDIENTS
3/4 Cup Tricolor uncooked quinoa
3/4 cup Pecans and/or macadamia nuts
2 TBSP Coconut sugar
1/2 tsp Pumpkin pie or Allspice
2 TBSP Coconut oil
1/4 cup Blackstrap molasses
Dash of cinnamon
Pinch of Himalayan Sea salt
Stevia if you desire it sweeter
Preheat oven to 325.
Line a baking sheet with parchment paper. (Cover all edges)
Combine quinoa, macadamia nuts/pecans, coconut sugar, salt, and cinnamon/spices in a bowl and set aside.
Over low to medium heat, add the coconut oil and black strap molasses (and optional Stevia). Stir until there is no visible separation. Pour over the dry ingredients, combine and coat evenly, spread on a parchment lined baking sheet with a metal spoon.
Try to get it as even as possible or the edges will burn in the center won't crisp up.
Bake for 15 minutes and turn the pan around to ensure even baking and Browning. Back 5 to 10 minutes more and watch carefully so it does not burn. The edges will get crisp and caramelized, and the color will be uniformly deep golden brown in color.
Let it cool completely before breaking it into serving pieces.
You can store leftovers in a sealed container at room temperature for a week, or in the freezer for up to one month.
Canadian Butter Tarts
Gluten Free, Refined Sugar Free, Dairy Free option
Happily Serves 24
ALL ORGANIC INGREDIENTS
Crust
1 Cup Soaked Dates
1 Cup Ground Nut Flour
1/8 tsp Himalayan Sea Salt
Soak Dates for 1-4 hours. Remove seeds.
Combine Dates, Nut Flour and Sea Salt in the Food Processor and blend well. Press into mini muffin tin and refrigerate.
Filling
1⁄4 Cup soft butter, or vegan butter
1⁄4 Cup packed Coconut brown sugar
1/8 tsp Himalayan Sea Salt
1⁄2 Cup maple syrup or 1/4 tsp maple extract and 1/4 tsp Powder Stevia
1 egg, lightly beaten or 1 flax/chia egg replacement
1⁄2 tsp Vanilla
Mix all ingredients together.
Add a bit of chopped marischino cherries in mini muffin tin on the crust and fill the tart with the filling.
Bake at 400 degrees for about 15-20 minutes.
Optional to top with crushed pecans.
Egg substitute:
1 TBSP Ground flax or Ground Chia seed added to 3 TBSP water.
Mix and let sit/jell together about 5 minutes.
Cooking Class 7.7.2017
********************************************************
Taco Salad
Gluten Free, Vegan
Happily serves 3-4
ALL ORGANIC INGREDIENTS
Salad
2-4 Zucchini
2 Cups Kidney Beans
2 green onions
1 Red Bell pepper
4 Cups Mixed Greens
1 Jalapeño
Handful Cilantro
1 avocado
1-2 TBSP lemon or lime juice
Sea salt to taste
Dressing
8 oz Coconut yogurt
1 cup Salsa
Sprialize Zucchini.
Soak, rinse and drain beans.
Dice Bell pepper, Cilantro and jalapeño, and Avocado.
Adding lemon juice for taste if needed.
Mix salsa and yogurt together.
Mix the veggies and Dressing and place on a bed of greens.
******************************************************************
Sauerkraut Dill Coleslaw
Vegan, Gluten Free, Soy Free
Happily serves 12
ALL ORGANIC INGREDIENTS
1 head Purple Cabbage, Sliced
1 Cup Sauerkraut, plus juice
1 Cup Dill Pickles, save juice
1/2 Red onion
1/2 Yellow onion
1 Tbsp minced garlic
1 tsp ginger, powdered (or Finely chopped fresh)
2 TBSP Hemp Seed oil
2 TBSP Balsamic Vinegar
2 TBSP Coconut Aminos
2 TBSP Lime juice
Slice and quick roast/bake Cabbage for 5-7 minutes until bright purple and still crunchy.
Dice onions and pickles. (You can use dill relish)
Combine all ingredients. Adjusting taste to preference. I used juice from the pickles and sauerkraut for a stronger flavor. You can use any where from 2-4 TBSP of the last 4 ingredients to fine tune to your desired taste.
*****************************************************************
Avocado Sweet Potato Breakfast Salad
Vegan, Gluten Free, Refined sugar Free
Happily serves 2
ALL ORGANIC INGREDIENTS
Salad
1 Purple or orange sweet potato, cubed
1 Tbsp avocado oil
Himalayan Sea salt and pepper
4 cups mixed greens (not raw spinach or kale)
1 ripe avocado, chopped
2 Tbsp hemp seeds
1-2 TBSP Fresh chopped parsley
1 cup blueberries, Optional
Dressing
3 Tbsp lemon juice
1 Tbsp Avocado oil or Hemp seed oil
Himalayan sea salt and pepper
Heat a cast iron skillet over medium heat. Once hot, add oil, sweet potatoes, salt, and pepper. Coat well. Arrange in a single layer to ensure even cooking and place a lid on top to steam.
Cook for 3-4 minutes.
Uncover and turn the potatoes. Use medium-low heat. Cook about 10 minutes until golden brown and tender.
Prepare dressing. Add lemon juice, olive oil, salt, and pepper to a mixing bowl and shaking or whisking to combine. Set aside.
To serve, divide greens and top with roasted sweet potatoes, blueberries, avocado, hemp seeds and parsley.
Top with Dressing or Serve on the side.

Purium`s Power Shake was created so that you can easily consume several energizing, gluten-free superfoods all at once, saving you time and money!
30 servings $99.95

Ingredients:
Rice Bran Solubles – vital for maintaining normal cholesterol levels and blood glucose control. They are also an all-natural source of vitamin E type tocopherols and tocotreinols and contain a variety of B vitamins, Q-10, gamma oryzanol, folic acid, and more. Rice Bran Solubles is the outer, soluble part of brown rice that normally gets cooked away. Soluble rice bran is the fuel of many Asian martial artists.
Organic oats – great source of fiber and manganese that may also help support healthy blood sugar levels and enhance immune system response.
Organic spirulina – nature's most complete nutrient source, containing over 60% complete vegetarian protein, an abundance of chlorophyll and essential fatty acids, vitamins, minerals, and nucleic acids, as well as nature's highest source of a new class of immune enhancers, a photosynthetic pigment called phyco-can. An all-natural 'multivitamin' in and of itself. Used for centuries, Spirulina was the fuel of the Aztecs.
Organic carrot juice – Known as one of the most important parts of any juice fast or raw food regimen, their deep, rich, orange color comes from the abundance of beta-carotene, minerals, and other phyto-nutrients that are unique to the tuber family. It also has a naturally sweet taste that perfectly complements the other super foods
Organic wheatgrass – Clinics all over the world have been set up to administer the miraculous juices extracted from sprouted wheat plants. People report that the intensive cleaning the chlorophyll and enzymes provide is unsurpassed in its abilities to stimulate the immune system response and instigate healing.
Organic millet – rich in fiber and the B complex vitamins, also aids in digestive health.
Organic amaranth – great source of most of the B vitamins and vitamin A.
Organic buckwheat – Not technically a grain, it comes from a fruit seed in the rhubarb family, and is therefore gluten free. Buckwheat contains a rich supply of flavonoids, particularly rutin, and may help support healthy blood sugar levels. Very high in many vitamins and minerals, especially vitamin K, vitamin B1, B2, B3, B6, B9, magnesium, potassium, phosphorus, zinc, iron, copper, and manganese.
Organic quinoa – this gluten-free grain has grown in popularity due to its nutrient density, it contains more calcium than milk and is also a great source of protein.
Organic chia – a staple in Mayan and Aztec diets for centuries, chia is a rich source of fiber, omega-3 fatty acids, fiber, and antioxidants.
Organic alfalfa leaf juice – The father of all foods, alfalfa has roots that reach up to 60 ft. into the soil to absorb trace minerals. Its lightweight proteins stimulate the rebuilding of tissues and strengthen the hair, skin, and nails.
Organic oat grass juice – One of the little known superstars among cereal grasses. Recent and ongoing studies indicate that unique proteins, lipids and other factors in oat greens may possibly help revive reproductive function.
For APPLE-BERRY POWER SHAKE ONLY: Organic raspberry flavor and Organic apple flavor were added to give the Power Shake a sweeter taste without adding anything harmful, unnatural or sugar based.
Lo han berry – contains a natural sweetening agent called Mogroside that is ten times sweeter than fructose, so a small amount means less calories.
Over Night Oats
Gluten Free, Dairy Free
Happily serves 2
ALL ORGANIC INGREDIENTS
1/2 cup rinsed gluten free organic steel cut oats or buckwheat (can sub Quinoa)
1/2 cup almond, oat, or hemp milk
2 tbsp Nut butter of choice
1 tbsp maple syrup or honey
*If you are watching your sugar or calories, use stevia
Cinnamon to taste.
Add everything but oats to a mason jar.
Stir in oats, and cover tight.
Set in fridge, needs to sit for at least 6 hours.
Enjoy the next day. It will last up to 2 days in the fridge.
Best within first 12-24 hours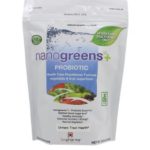 NanoGreens Plus Probiotic
BioPharma Scientific
300grams $54.95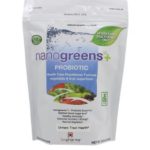 What makes nanogreens + probiotics different?
*Green powder mixed with DE111 Probiotic
*UTI Health Support
*Pouch Form -> Nitrogen Flushed
*5 Billion CFU dose after 2+ years
*DE111 Probiotic does not require special storage conditions like many other probiotics.
*Oral administration of Bacillus Subtilis DE111 helps digest and convert sugars and fats, and helps maintain glucose, cholesterol and triglyceride levels in the blood.
Vegan
Vegetarian
Gluten Free
All Natural
Non-GMO
Probiotic
Kid Friendly
How To Enjoy: Mix one scoop of nanogreens + probiotic with 6-8 oz of cold water, milk or juice. For best results, use shaker cup. Children under 12 should take 1/2 serving.  Refrigerate after opening.
Servings Per Container: 30
Serving Size: 10g (1 scoop)
Amount Per Serving
Calories … 45
Calories from Fat … 10
Total Fat … 1g
Total Carbohydrate … 7g
Dietary Fiber … 2g
Sugar … 2g
Protein … 2g
Vitamin A … 2500IU
(as Beta Carotene)
Vitamin C … 30mg
Sodium … 20mg
Potassium … 130mg
DE111®
Bacillus subtilis … 5 billion CFU
Greens Blend … 2250mg
(Proprietary)
Organic Barley Grass Juice, Spiruline, Chlorella
Phytonutrient Blend … 360mg
(Proprietary)
Green Tea Extract, Silybin (from Milk Thistle), Grape Seed Extract, Blueberry, Cranberry, Raspberry, Tart Cherry, Pine Bark Extract, Organic Broccoli, Tomato, Organic Carrot, Organic Spinach, Organic Kale, Bilberry, Elderberry, Pomegranate, Blackberry
Quercetin/Rutin … 100mg
50/50
Organic Rice Bran Soluble … 2081mg
Raspberry Extract … 50mg
(20% Ellagic Acid)
Organic Aloe Vera Powder Extract … 30mg
(100:1 freeze dried)
Fruit & Vegetable Blend … 930mg
(Proprietary) (freeze-dried, low temperature dried)
Organic Apple, Organic Carrot, Organic Mango, Organic Lemon, Organic Sweet Potato, Organic Peach, Organic Parsley, Organic Kale, Organic Broccoli, Organic Spinach, Organic Leek, Organic Cabbage, Beet, Organic Cranberry (Quinic Acid 6%)
Organic Acerola Cherry Powder … 175mg
(17.5% AscorbiC Acid)
Green Tea Extract, White Tea Extract … 100mg
(decaffeinated 50% Polyphenol)
Polygonum Cuspidatum Extract … 70mg
(15% Resveratrol)
Oat Beta Glucan … 1500mg
Cinnamon Blend … 50mg
(Proprietary)
cinnamon Extract 8%, Organic Cinnamon Bark Powder
Milk Thistle … 50mg
(20% Silymarin)
Marigold Extract … 50mg
(5% Lutein with Zeaxanthin)
Dunaliella Salina Extract … 100mg
(Natural Carotenoids)
Enzymes … 40mg
(Plant-based)
Alpha Amylase, Bromelain, Cellulase, Galactosidase, Glucoamylase, Hemicellulase, Lipase, Papain, Protease
Lecithin … 1000mg
(non GMO)
Lycopene Extract-10% … 25mg
(from tomato)
Organic Lemon Peel Powder … 25mg
Organic Quinoa Sprout … 90mg
Artichoke Extract … 20mg
(5% Cynarin)
Organic Atlantic Kelp Powder … 20mg
(laminaria Digitata, 0.4% Iodine)
Stevia Leaf Crystals … 200mg
(Stevia Rebaudiana)
Other Ingredients: Natural Flavors (Plant Based), Citric Acid, Soy Phospholipds.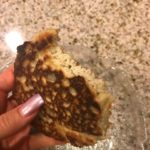 Protein Collagen Pancakes
Gluten Free, Dairy free
Happily serves 2-3
ALL ORGANIC INGREDIENTS
2 Free Range Pasture raised eggs
1 egg white
1/8 Cup melted Coconut oil
1/4Cup Coconut flour
2 scoops Bone Broth Protein Powder
Dash cinnamon
1/8 tsp Himalayan sea salt
Liquid Bone broth or water to thin (I only needed about a TBSP)
Stevia if desired sweeter
Whisk eggs and oil together thoroughly.
Stir in coconut flour, protein powder and Himalayan sea salt and allow to sit for 5 minutes
Heat coconut oil in a large skillet over medium-low heat.
Once hot, drop batter into cast iron skillet, cook until bubbles form on one side, flip and repeat.
Serve Hot