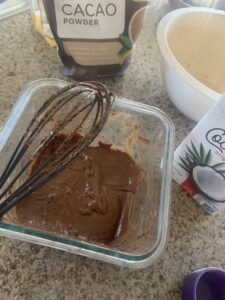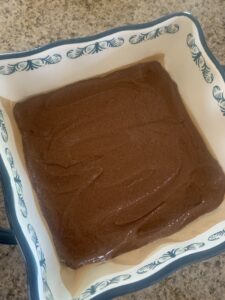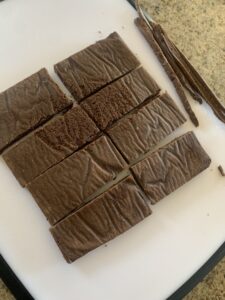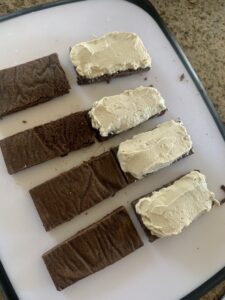 Traditional German dessert
Gluten free
Happily makes 4 wafers
ALL ORGANIC INGREDIENTS
Chocolate Biscuit Cake:
1/3 Cup all purpose Gluten free flour (I used Cassava Flour)
2 TBSP Cacao Powder
2 Eggs
1/4 Cup Sugar (I used Monk Fruit)
1 TBSP Milk (I used Coconut milk)
1/8 tsp Sea Salt
Filling:
1 Cup Cream Cheese (I used Coconut Cream Cheese, Miyoko's brand)
1/2 Cup Soft Butter
1 tsp Vanilla
3 TBSP Condensed milk (I used Coconut Cream)
To make the Cake:
Whisk flour, cacao, and salt together.  In a separate bowl whisk room temperature eggs and sugar together until light and airy. 
Add flour mixture and mix well until creamy.
Spray an 8×8 baking pan/stone. Line with parchment paper.
Pour in batter. Cook at 350 for 10-12 mins.
Remove, turn over, pull of parchment paper.
To make the filling:
Whisk or blend (easiest) the ingredients together.
Cut the cake in half. Then cut longways to create a wafer bottom and top.
Spread the filling on one side of the cake, then top with the other half.
ENJOY!