Vegan, Gluten Free
Happily Serves 16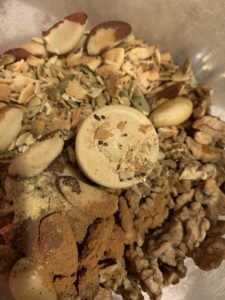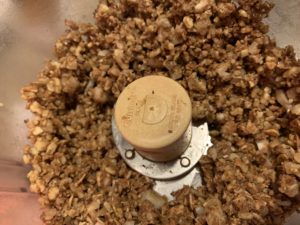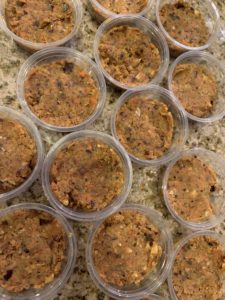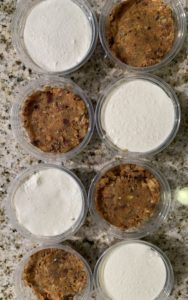 ALL ORGANIC INGREDIENTS 
VEGAN FROSTING
1 1/4 Cup Cashews
1/2 Cup Coconut Cream
2 Tbsp Lemon juice
3 Tbsp Maple syrup
1 tsp Vanilla extract
Soak the cashews in hot water for about an hour. Drain and rinse.
In a food processor add cashews.
Add coconut cream, lemon juice, vanilla, maple syrup, and blend on high until creamy.
Cover and refrigerate to chill.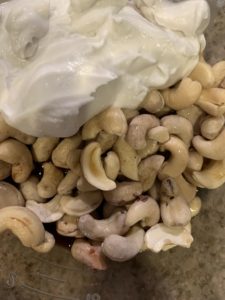 CAKE
2 Cups finely shredded carrots
2 Cups Medjool dates
1 Cup Walnuts
1/2 Cup Brazil nuts
1 Cup Sweetened Coconut flakes & Pumpkin Seeds
2 tsp Vanilla extract
1/8 tsp Nutmeg
¼ tsp Himalayan sea salt
1 1/4 tsp Cinnamon
1/4 tsp Ground Ginger
1/2 Cup Coconut Flour

Soak Dates for 1-4 hours. Remove pits.
Chop carrots and set aside. You can cook the carrots for 7 minutes if you can't handle as much raw food.
In a food processor, blend the dates until a ball forms.
Remove and set aside.
(Tip: a 7 cup processor works best. Or cut the recipe in half when making as to not overflow the bowl.)
Blend the nut mixture, vanilla, salt, and spices until a semi-fine meal is achieved.
Add the dates and shredded carrots back in, pulse until a loose dough forms and the carrots are just incorporated. Do not to over-blend, you are looking pliable dough not a purée.
Transfer mixture to a mixing bowl.
Add coconut flour and stir to combine. Make sure to do this step by hand to keep the mixture light.
Once well combined, set aside.
Use coconut oil spray to Prepare a 8×8-baking dish with high edges.
Add the cake mixture, spread and press down evenly. Use a flat-bottomed object, such as a drinking glass, to help press everything into an even layer.
Add the frosting, tap out any air bubbles.
Freeze for 3-4 hours. To serve, let it thaw on the counter for about 25 minutes.
Tip:the frosting will begin to get soft if the cake sits out at room temperature more 2 hours.