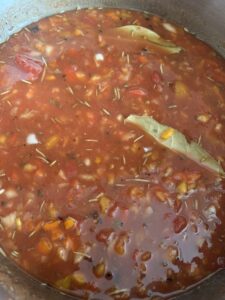 Gluten Free
Happily Makes 12 (one cup serving
ALL ORGANIC INGREDIENTS
1 Pound ground beef
1 15oz Can Fire Roasted Organic Tomatoes
1 6oz Tomato Paste
4 Cups Bone Broth
1 Red Bell Pepper
1 Yellow Bell Pepper
1 Orange Bell Pepper
1 Sweet Yellow Onion
2 tsp Roasted Garlic Powder
1 tsp Thyme
1 tsp Parsley
1 tsp Rosemary
1 tsp White Pepper
1 TBSP Himalayan Sea Salt
3 Bay Leafs
Cook Ground beef, add sea salt, pepper and roasted garlic.
Chop onion, bell peppers, add to ground while you prepare the base.
In a large stock pot, add the bone broth, fire roasted tomatoes, tomato paste. Stir until combined.
Add veggies, ground beef and spices to the pot. Stir well.
Add Bay leafs.
Simmer on low for about 2 hours