Cup Coconut flour
now browsing by tag
Coconut flour cacao pancakes
GF, Dairy free
Happily serves 12 pancakes
ALL ORGANIC INGREDIENTS
1⁄3 Cup Coconut flour
5 eggs
½ Nut milk of choice
¼ Cup full fat coconut milk
¼ Cup coconut sugar or stevia
3 TBSP Raw Cacao powder
¾ tsp vanilla extract
Dash of Sea salt
Coconut oil spray for each pancake
In a deep bowl, whisk all ingredients except ghee/coconut ghee/coconut oil, until well combined. Batter should be very thick but pourable. Not watery.
Let batter sit for 5 minutes to let the coconut flour absorb the liquid, stirring once more at the end.
Pour about 1⁄3 cup of batter into a frying pan pre-heated with coconut oil. 
If necessary, tilt pan and shake lightly for even distribution of batter. (Batter does not necessarily need to spread throughout the pan).
Fry for a couple of minutes, occasionally covering with a lid, till liquid has almost firmed up
Tip: Covering the pan with a lid occasionally will help keep moisture and enhance even cooking.
Flip with a spatula, and fry the other side for a couple more minutes, then remove from pan.
Repeat for rest of batter, greasing pan between batches as needed, and occasionally stirring the batter left in your bowl for even consistency.
Bone Broth Protein Pancakes
Paleo, Gluten Free, Dairy free
Happily serves 2-4
ALL ORGANIC INGREDIENTS
1/2 Cup Applesauce
3–4 Free Range eggs
1/4 Cup melted Coconut oil
1/2 Cup Coconut flour
4 scoops Bone Broth Protein Powder
1/8 tsp cinnamon
1/8 tsp Himalayan sea salt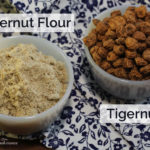 Tigernut Flour Pancakes
GF, Refined Sugar free
Happily serves 4-6
ALL ORGANIC INGREDIENTS 
4 organic cage free eggs
½ cup tigernut flour
¼ cup coconut flour
½ cup dairy free milk (coconut milk)
½ tsp cinnamon
½ tsp raw apple cider vinegar
¼ tsp baking soda
Properly measuring the flours is key to the recipe. Stir the tigernut flour with a fork to "loosen" it, then dip in the measuring cup and level the top with a knife. Measure the coconut flour the same way. Combine the flours and eggs to create a smooth batter. Mixing these ingredients first allows you to smooth out the clumps of tigernut flour. Add remaining ingredients, stir until combined.  Cook pancakes as usual
You can store leftover pancakes in an airtight container in the fridge for a few days. The leftover pancakes actually make a delicious "bread" for grain free sandwiches!