health benefits
now browsing by tag
Spicy Beet Shake
Vegan, Gluten free
Happily serves 1
ALL ORGANIC INGREDIENTS
8oz Coconut water or Coconut milk
2 tbsp lemon juice
Bunch of cilantro
1 beet
Dash turmeric
1/4 tsp Cinnamon
1 cup of microgreens
Stevia to taste
Blend all together in the vitamix.  Add ice if desired.
If you need more of a keto shake, you can add a small avocado.
More information on the health Benefits of Micro Greens:
*Supports liver detox and thyroid health.

Potassium Rich Foods-Top ten
Potassium is an essential nutrient used to maintain fluid and electrolyte balance in the body.
Potassium is the third most abundant mineral in the body and is a required mineral for the function of several organs including the heart, kidneys, brain and muscular tissues.
Potassium also plays an important role in keeping the body hydrated and works with sodium to support cellular function with your bodies sodium-potassium pump.
Potassium deficiency symptoms can include severe headaches, dehydration, heart palpitations and swelling of glands and tissues.
Also, potassium deficiency can lead to:
* Fatigue
* Irritability
* Muscle cramps
* Weight gain
* Increased blood pressure
* Cellulite buildup
The main culprits that can cause low levels of potassium are endurance cardiovascular exercise without proper hydration, vomiting, diarrhea and a diet low in fruits and vegetables.
Unless you are on dialysis, or have a special condition, overdose of potassium from natural sources is very rare.
The RDA for potassium is 4700 mg/day.
Keeping in mind Sodium should be 2300mg.
Think Double potassium for your sodium intake!
Consuming these 3 servings of this high potassium foods list daily to ensure optimal levels of potassium.
Top 10 Potassium Rich Foods List
1) Avocado. 1 whole: 1068 mg (30% DV)
2) Spinach. 1 cup: 839mg (24% DV)
3) Sweet potato. 1 medium: 952 mg (27% DV)
4) Coconut Water. 1 cup 600 mg (17% DV)
5) Kefir or Yogurt 1 cup: 579 mg (15% DV)
6) White Beans ½ cup: 502 mg (15% DV)
7) Banana 1 large: 422 mg (12% DV)
8) Acorn squash 1 cup: 899 mg (26% DV)
9) Dried apricots ½ cup: 755 mg (22% DV)
10) Mushrooms 1 cup: 428 mg (27% DV)
Potassium Health Benefits
Cramps
: One of the main benefits of consuming high potassium foods is decreased muscle cramping and improved muscle strength.  Muscle cramps are a common side effects of low potassium levels.  This can happen if an athlete becomes dehydrated and isn't consuming enough potassium rich foods before and after exercise.
Reduced Risk of Stroke
: Several observational studies have found that those with high potassium levels experience a lower risk of stroke. The health benefits of potassium are likely through reduction of blood pressure combined with a diet high in fruits and vegetables.
Alleviation of High Blood Pressure (Hypertension): 
Studies show that a diet high in potassium, especially potassium from fruits and vegetables, lowers blood pressure. This is especially true if the increase in potassium foods is not accompanied by an increase in high sodium foods.
Reduced Cellulite Appearance
: One of the main causative factors of cellulite buildup is fluid retention.  Most people consume far too much sodium and not near enough potassium.  Sodium brings nutrients into your cells where potassium helps flush excess waste out of your cells.  For this reason, if you reduce sodium intake and start consuming potassium rich foods you can reduce the appearance of cellulite.
Osteoporosis Protection
: Several studies have found a relation between increased bone density and increased intake of dietary potassium. These studies were true even for post- menopausal women and older men.
https://draxe.com/top-10-potassium-rich-foods/
Selenium Health Benefits and the Best sources
Do you have an under active Thyroid? Are you getting the vitamins and minerals needed to support the process?  Here is some info on why Selenium is important to the process.  Soaking your nuts and seeds for best absorption will help your already stressed out body.
Antioxidant Protection
Selenium is required for the proper activity of a group of enzymes called glutathione peroxidases. (sometimes abbreviated "GPO" or "GPx" for a glutathione peroxidase enzyme.) These enzymes play a key role in the body's detoxification system and they also provide protection against oxidative stress. (Oxidative stress is physiological circumstance in which there is excessive risk of oxygen-related damage to the body.) Of the eight known glutathione peroxidase enzymes, five of them require selenium.
In addition to the activity of glutathione peroxidase, selenium-containing enzymes are involved in recycling of vitamin C from its spent form back to its active one, allowing for greater antioxidant protection.
Support Normal Thyroid Function
A selenium-containing enzyme is responsible for transforming a less active thyroid hormone called T4 into the more active T3. As you'll see below in the Relationship with Other Nutrients section, selenium and iodine work together to keep thyroid function strong and consistent.
Like the antioxidant protection issue, this is not just an esoteric concern. Researchers have been able to induce problems with the thyroid gland in just two months of a low-selenium diet.
Probably, if you've read about food sources of selenium, you've read about Brazil nuts as a strong source of the mineral. Depending on where they are grown, this is likely to be true—one ounce of Brazil nuts may contain as much as 10 times the Dietary Reference Intake (DRI) recommendation for selenium intake.
Other exceptionally selenium-rich foods include oysters, clams, liver, and kidney. Each of these foods is likely to contain double to triple the DRI in a serving.
Fish and shellfish make up an outsized proportion of our excellent and very good sources. After these come other animal meats, many of which fall in the very good category. Close behind are whole grains and seeds, both of which are well-represented in our good selenium sources category.
http://whfoods.org/genpage.php?tname=newtip&dbid=144&utm_source=daily_click&utm_medium=email&utm_campaign=daily_email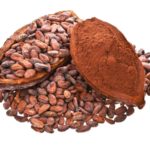 Cooking Class 2.12.2017
Chocolate Info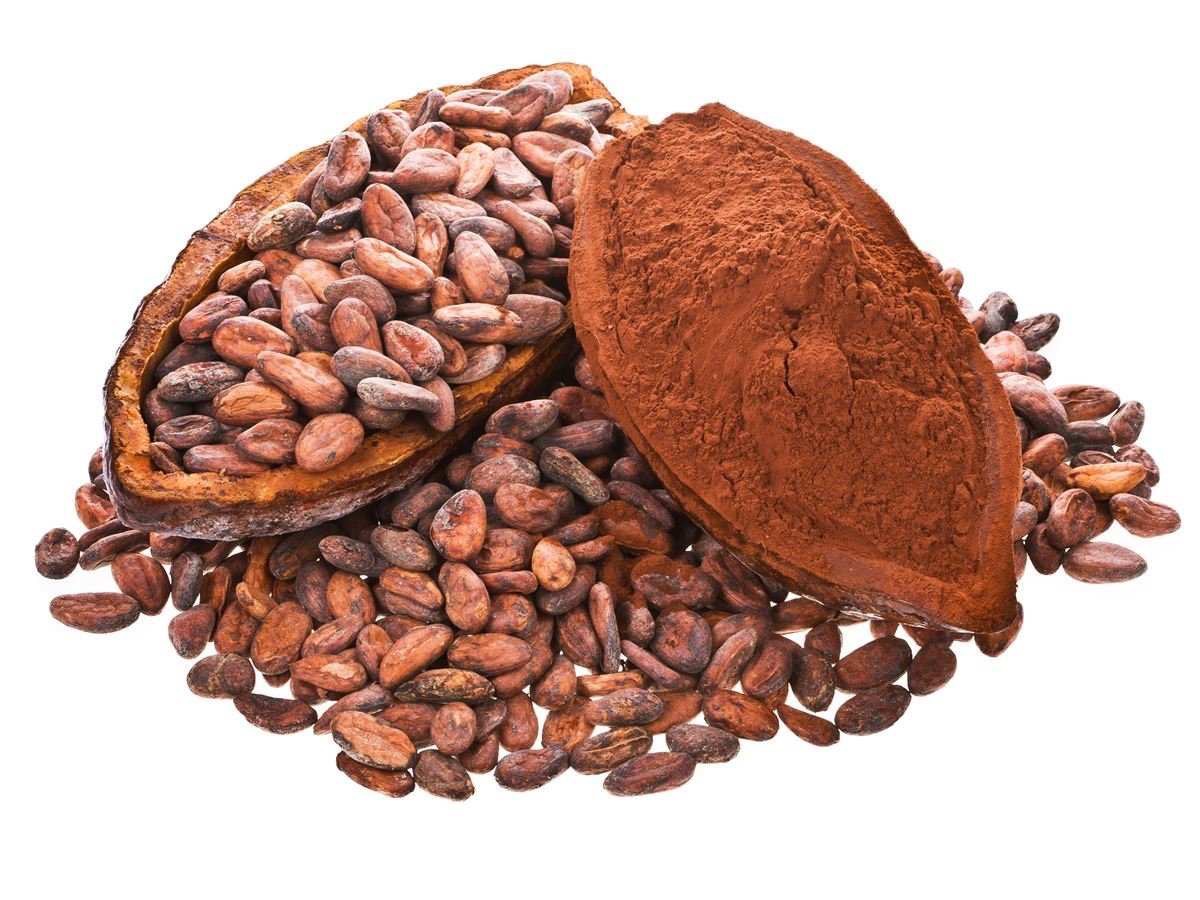 Cacao can fuel energy and mood. It is an excellent source of fiber good source of protein and iron. It is high in antioxidants and polyphenols. A half half a cup of raw organic cocoa powder has 110 cal, 2 g of fat 16 carbohydrates, 10 of which is dietary fiber. It contains 8 g of protein and will give you 10% of the iron you need for your daily requirements. It is considered a stimulant and should be eaten occasionally not every day.
Cocoa beans are the fermented seeds of the cacao tree. The fruit of the cocoa tree is a pod full of sweet pulp enfolding a cluster of about 20-40 cacao seeds. Cocoa refers to the low-fat constituent of the finely ground cacao beans. These ground beans, known as cocoa liquor or cocoa mass, also contains cocoa butter which is a non-dairy, naturally occurring fat. Cocoa butter is a mixture of monounsaturated fats like oleic acid and saturated fats, namely stearic acid and palmitic acid. About 50-60% of cocoa liquor consists of cocoa butter.
Cacao bark, butter and flowers have also been valued since ancient times for treating various diseases like skin ailments, bowel malfunction and wounds. Cocoa has anti-inflammatory, anti-allergenic, anti-carcinogenic and antioxidant qualities. Health benefits include relief from high blood pressure, cholesterol, obesity, constipation, diabetes, bronchial asthma, cancer, Chronic fatigue syndrome and various neurodegenerative diseases. It helps to improve cardiovascular health and brain health. It also helps in treating copper deficiency.
Commercially available chocolates and cocoa-products may not be rich in the original beneficial flavonols since their properties get destroyed by over-processing and heat. In order to obtain the benefits of cocoa, it is important to consume the correct source of cocoa. Milk/dairy blocks the absorption of the antioxidants in chocolate, so be sure to check the labels!
Antioxidant Capacity: Studies have shown it is evident that cocoa exhibits higher antioxidant activity than against green and black tea, and red wine. Antioxidants helps to neutralize the oxygen-based free radicals that are present in the body. Cacao is abundant in phenolic phytochemicals and possesses a high amount of flavonoids as well.
Of course, everything in moderation!
Jodi's Sweet Potato Brownies
Grain Free, Paleo, GF, Dairy free
Happily serves 12
ALL ORGANIC INGREDIENTS
2 medium Sweet Potatoes
14 Medjool Dates
1 1/2 Cups Quinoa or Almond Flour
4 TBSP Raw CACAO Powder
3 TBSP maple Syrup (Grade B) or Coconut netar
Pinch of sea salt
Peel Sweet Potatoes. Slice/cut and steam for about 20 mins until soft.
The smaller the pieces, the faster it will cook.
Add Sweet Potatoes and Dates to food processor, blend until a creamy smooth texture.
Mix all other ingredients in a bowl, then add cream mixture. Stir well.
Place on Parchment paper lined baking dish and bake for 20-30 mins on 350 until the toothpick comes out dry.
Allow to cool 10 mins for the brownies to gel together, very important step!!
Tip: If you don't use raw cacao powder, you cause conventional cocoa powder but you will need to double the quantity.
Chocolate Nut Butter Cookies
GF, Refined Sugar Free
Happily serves 12
ALL ORGANIC INGREDIENTS
1 Cup Chocolate Peanut or Sunflower butter
3/4 Cup Coconut sugar
1 egg
Combine all ingredients. Bake on 350 for 7-8 mins.
If you are not using an already flavored nut butter, you can use a regular nut butter and ad 1/4 cup raw cacao
Chocolate Iced Coffee Protein Shake
Dairy Free, Vegan, Refined Sugar Free
Happily serves 1
ALL ORGANIC INGREDIENTS
2 TBSP Raw Cacao powder
2 TBSP Collagen Powder
2 oz Coconut milk
2 oz Cold brew (optional)
4-6 oz Chai Tea or water
Dash of cinnamon
Stevia Powder if desired sweeter
Ice
Blend all ingredients in bullet/blender, transfer to shaker bottle.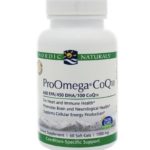 ProOmega-CoQ10 1000mg
Nordic Naturals
60 softgels $38.95
120 softgels $69.95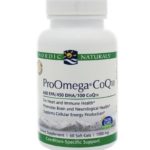 -Double-strength EPA+DHA for more omega-3s in fewer soft gels plus 100mg 
ubiquinone-form CoQ10
-Synergistic heart support
-Promotes brain and neurological health
ProOmega CoQ10 provides the same powerful EPA+DHA formula as our ProOmega, with 
the added heart health benefits of CoQ10. This formula helps supply the heart 
with the ATP it needs, and protects heart tissue from oxidative stress and 
damage.
Servings Per Container: 30
Two soft gels daily, with food, or as directed by your health care professional or pharmacist.
Serving Size: 2 soft gels
Amount Per Serving: 
Calories …20
Calories from Fat …18
Total Fat …2.0g
Saturated Fat …0.1g
Trans Fat …0g
Coenzyme Q10 …100mg
Total Omega-3s …1280mg
EPA …650mg
(Eicosapentaenoic Acid)
DHA …450mg
(Docosahexaenoic Acid) 
Other Omega-3s …180mg
Ingredients: purified deep sea fish oil (from anchovies and sardines), soft gel 
capsule (gelatin, glycerin, purified water, caramel color, natural lemon flavor), coenzyme Q10, beeswax, d-alpha tocopherol, rosemary extract (a natural 
preservative)
No gluten, milk derivatives, or artificial colors or flavors. Non-GMO.
Green tea is the least processed and thus provides the most antioxidant polyphenols, notably a catechin called epigallocatechin-3-gallate (EGCG), which is believed to be responsible for most of the health benefits linked to green tea. Green tea is made by briefly steaming the just harvested leaves, rendering them soft and pliable and preventing them from fermenting or changing color. After steaming, the leaves are rolled, then spread out and "fired" (dried with hot air or pan-fried in a wok) until they are crisp. The resulting greenish-yellow tea has a green, slightly astringent flavor close to the taste of the fresh leaf.
In black tea production, the leaves are first spread on withering racks and air-blown, which removes about one-third of their moisture and renders them soft and pliable. Next, they are rolled to break their cell walls, releasing the juices essential to fermentation. Once again, they are spread out and kept under high humidity to promote fermentation, which turns the leaves a dark coppery color and develops black tea's authoritative flavor. Finally, the leaves are "fired," producing a brownish black tea whose immersion in hot water gives a reddish-brown brew with a stronger flavor than green or oolong teas.
Oolong tea, which is made from leaves that are partially fermented before being fired, falls midway between green and black teas. Oolong is a greenish-brown tea whose flavor, color and aroma are richer than that of green tea, but more delicate than that of black.
Green tea has always been, and remains today, the most popular type of tea from China where most historians and botanists believe the tea plant originated throughout all of Asia. Why is this so? Perhaps because green tea not only captures the taste, aroma and color of spring, but delivers this delightful bouquet along with the highest concentration of beneficial phytonutrients and the least caffeine of all the teas.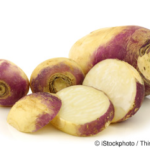 Rutabaga Sweet Potato Soup
Vegan, Gluten Free
Happily Serves 4
ALL ORGANIC INGREDIENTS
1 butternut squash, cut in half
3 garlic cloves
2 cups rutabaga, peeled and diced
2 cups sweet potato, peeled and diced
Coconut Oil
1 tsp. Sea salt
½ tsp pepper
1 Yellow onion, chopped
¾ Cup soaked cashews
2½ Cups Coconut milk
2 Cups vegetable or chicken broth
½ tsp nutmeg
1 tsp thyme
Directions
Preheat oven to 400º .
Rub the squash with oil and place cut-side down on a baking sheet.
Cut garlic and let sit 5-10 mins.
Coat the rutabaga and sweet potato in oil and sprinkle with salt and pepper.
Add both to baking sheet. Bake for 50-60 minutes, rotate half way through.
Sauté onion and garlic until soft and caramelized.
Remove roasted veggies from oven and blend all of the above in a food processor until smooth. The nuts may remain grainy, but that's okay. You can add water to reach desired consistency.
Rutabagas Nutrition Facts
Serving Size: 3.5 ounces (100 grams), raw
Calories 39
Calories from fat 2
Total fat 0 g 0%
Saturated fat 0 g 0%
Trans fat
Cholesterol 0 mg 0%
Sodium 20 mg 1%
Total Carbohydrate 9 g 3%
Dietary Fiber 2 g 7%
Sugar 6 g
Protein 1 g
Vitamin A 0% Vitamin C 31%  Calcium 5% Iron 3%
Health Benefits of Rutabagas
All crucifers (brassicas or cole crops) are high in antioxidant and anti-cancer compounds. The anti-cancer properties of these vegetables are so well established that the American Cancer Society recommends that Americans increase their intake of cruciferous vegetables.
Rutabaga's most significant nutrient comes from vitamin C. One cup contains 53% of the daily recommended value, providing antioxidants and immune system-supporting functions that help protect the cells from free radical damage. Although rutabagas provide only 5% of the iron needed for healthy blood on a daily basis, vitamin C enhances its absorption, while helping to form both collagen and the thyroid hormone thyroxine, which protect cells against damage, encourage wounds to heal, fight infections, and promote healthy bones, teeth, gums, and blood vessels.
Beta-carotene-rich rutabagas are also an excellent source of potassium and manganese (for energy), and a good source of fiber, thiamin, vitamin B6 (helps support the nervous system), calcium (for strong bones), magnesium (helps absorb calcium and combat stress), and phosphorus (helps metabolize proteins and sugars).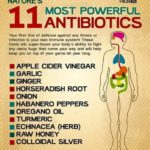 Are you tired of getting sick?  Antioxidants could be the answer…
Antioxidants have been around since the beginning of time. We often hear about them on commercials, or talk shows. Most people don't realize that the food that we eat or don't eat will make the difference in our overall health. The benefits of antioxidants can be found in plant based diets, fruits and vegetables, nuts, and antioxidant vitamins.  Many antioxidant rich foods are called super foods.  This article is a great way to understand what foods will arm your body with the defenses that it needs to fight off sickness and infection. We will dive into the health benefits of the top 10 antioxidant rich foods. You should definitely add these to your diet.
| | |
| --- | --- |
| Keywords: | Description: |
| antioxidants |  A substance that reduces damage due to oxygen, such as that caused by free radicals. Well-known antioxidants include enzymes and other substances, such as vitamin C, vitamin E, and beta carotene, which are capable of counteracting the damaging effects of oxidation. Antioxidants are also commonly added to food products such as vegetable oils and prepared foods to prevent or delay their deterioration from the action of air. Antioxidants may possibly reduce the risks of cancer. Antioxidants clearly slow the progression of age-related macular degeneration. |
| oxidative stress |  reflects an imbalance between the systemic manifestation of reactive oxygen species and a biological system's ability to readily detoxify the reactive intermediates or to repair the resulting damage. Disturbances in the normal redox state of cells can cause toxic effects through the production of peroxides and free radicals that damage all components of the cell, including proteins, lipids, and DNA. |
| free radical formation |  Free radicals are atoms or groups of atoms with an odd (unpaired) number of electrons and can be formed when oxygen interacts with certain molecules. Once formed these highly reactive radicals can start a chain reaction, like dominoes. Their chief danger comes from the damage they can do when they react with important cellular components such as DNA, or the cell membrane. Cells may function poorly or die if this occurs. To prevent free radical damage the body has a defense system of antioxidants. |
| oxygen radical absorbance capacity | ORAC stands for Oxygen Radical Absorbance Capacity. It's a lab test that attempts to quantify the "total antioxidant capacity" (TAC) of a food by placing a sample of the food in a test tube, along with certain molecules that generate free radical activity and certain other molecules that are vulnerable to oxidation . After a while, they measure how well the sample protected the vulnerable molecules from oxidation by the free radicals. The less free radical damage there is, the higher the antioxidant capacity of the test substance. There are actually a handful of different tests designed to measure total antioxidant capacity in this way, but the ORAC is probably the best known and most popular |
| inflammation | Inflammation and Antioxidants, |
Apple Cider Vinegar

lowers cholesterol
boost energy
reduces cramping and lactic acid
helps bad breath
controls blood sugar
supports heart health
whitens teeth

Garlic
boost immune system function/fights infection
aids in cancer prevention
fights inflammation
promotes total body detoxification
Ginger
acts as an antidote for nausea
reduces inflammation – arthritis – headaches
stimulates circulation
inhibits rhinovirus – a cause of the common cold
fights salmonella
reduces gas and intestinal pain

Horseradish Root
fights cancer
detoxifies the liver
relieves sinus pressure
treats urinary tract infections
reduces bloating
aids in muscle soreness
Onion
decrease risk of obesity, diabetes, and heart disease
promotes healthy hair and complexion
great source of vitamin C
reduce risk of colorectal and other intestinal cancers
improve mood and help with depression

Habanero Peppers
reduce risk of diabetes and obesity
great cancer fighter
reduces cholesterol and heart disease
lowers inflammation
Oregano Oil
treats foot or nail fungus
kills parasites or infection
minimizes sinus infection and cold symptoms
great for cleaning when mixed with lemon and vinegar

Tumeric
helps with chronic inflammation
reduces symptoms of Rheumatoid arthritis
improves mood and aids in depression
lowers blood glucose levels
inhibits cancer cell growth
has anti-aging properties
Echinacea (herb)
reduces acid reflux
decreases migrane symptoms
aid in genital herpes outbreaks
helps cure strep throat
reduces urinary tract infections
cures yeast infections

Raw Honey
cancer fighting properties
aids in nausea and upset stomach
natural cough suppressant
assists in blood sugar regulation
heals ulcers
good cholesterol regulator
It is not hard to see the benefits of these powerful antioxidants.  If you work them into your diet your will surely see and feel the difference.  In addition to these awesome foods, a green drink will work wonders for your overall health and well being.  If you enjoyed this article, then I assume that you like to know what is in your food and why it is good for you.  This book is the best book I have ever found for understanding the 'whys' about food.  If you have any questions about fitness or nutrition, email Jodi at jodi@healthywithjodi.com .