CFU
now browsing by tag
Urinary tract Info

:
Commonly also call bladder infections. There is a disturbance in the bacterial flora that protects the urinary track and anabiotic's lead to reoccurring infections.
Doubling probiotics such as L. Acidophilus is highly recommended. At least 20 billion CFU's. 50-100Billion CFU's would be more beneficial and HIGHLY recommended.
Acidity levels are too high in the body when the pH is disrupted there is fermentation of vaginal glycogen to lactic acid. Alkalinity is Key, must add more Green into the diet. ORGANIC EATING is SO Very IMPORTANT!!!
Eliminating of dairy, yeast, and soy products are recommended to rebalance pH. Limiting grains, sugar, caffeine, and alcohol, and refined carbohydrates.
At least 64 oz water a day. Decaffeinated tea counts as water. Eliminate food allergens. Allergy Blood work is your best Road map to gut and immune support and healing.  Blood Tests are available and easy!
Recommended foods:
Use healthy cooking oil such as olive oil (don't heat olive oil) or coconut oil.
Eat Less red meats and more lean meats such as fish, but no soy.
High fiber foods include beans root vegetables such as yams or sweet potatoes and psyllium husk.
Antioxidant rich foods including vegetables like bell peppers and squash.
**Fruit in the morning including cranberries, blueberries,and cherries. If you're going to drink juice make sure that it is unsweetened. Please eat your fruit, better for you unless you are juicing. Best for digestion if fruit is first thing in the morning and by itself or for your first snack, eaten alone.**
Recommended Vitamins:
Probiotics and digestive enzymes ALWAYS!! Double if taking antibiotics!
Multi Vitamin
Vit D: 2000-4000 IU
Fish oils 1000mg and or Flax seed, 3x a day. Could go up to 6000mg
Super Greens
Amino Acids
Vit C: 1000mg a day
Grape seed oil 100-300mg
Magnesium 200-300mg 3x a day
Zinc: 30mg a day
Recommended Botanicals:
Cranberry
Aloe Vera: up to 32oz per day
Gotu Kola is great extract tea to help balance pH. 60-120mg
Uva Ursi ( upland cranberry or bearberry) is a powerful antiseptic herb.
Dried leaves or tea: 1.5-4.0 (1-2 tsp)
Goldenseal herb has antimicrobial agents. Dried root or tea: 1-2g
Other herbs that are recommended: green tea, cats claw, milk thistle, and reishi mushroom.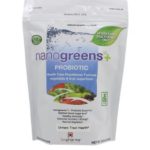 NanoGreens Plus Probiotic
BioPharma Scientific
300grams $54.95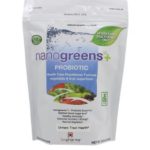 What makes nanogreens + probiotics different?
*Green powder mixed with DE111 Probiotic
*UTI Health Support
*Pouch Form -> Nitrogen Flushed
*5 Billion CFU dose after 2+ years
*DE111 Probiotic does not require special storage conditions like many other probiotics.
*Oral administration of Bacillus Subtilis DE111 helps digest and convert sugars and fats, and helps maintain glucose, cholesterol and triglyceride levels in the blood.
Vegan
Vegetarian
Gluten Free
All Natural
Non-GMO
Probiotic
Kid Friendly
How To Enjoy: Mix one scoop of nanogreens + probiotic with 6-8 oz of cold water, milk or juice. For best results, use shaker cup. Children under 12 should take 1/2 serving.  Refrigerate after opening.
Servings Per Container: 30
Serving Size: 10g (1 scoop)
Amount Per Serving
Calories … 45
Calories from Fat … 10
Total Fat … 1g
Total Carbohydrate … 7g
Dietary Fiber … 2g
Sugar … 2g
Protein … 2g
Vitamin A … 2500IU
(as Beta Carotene)
Vitamin C … 30mg
Sodium … 20mg
Potassium … 130mg
DE111®
Bacillus subtilis … 5 billion CFU
Greens Blend … 2250mg
(Proprietary)
Organic Barley Grass Juice, Spiruline, Chlorella
Phytonutrient Blend … 360mg
(Proprietary)
Green Tea Extract, Silybin (from Milk Thistle), Grape Seed Extract, Blueberry, Cranberry, Raspberry, Tart Cherry, Pine Bark Extract, Organic Broccoli, Tomato, Organic Carrot, Organic Spinach, Organic Kale, Bilberry, Elderberry, Pomegranate, Blackberry
Quercetin/Rutin … 100mg
50/50
Organic Rice Bran Soluble … 2081mg
Raspberry Extract … 50mg
(20% Ellagic Acid)
Organic Aloe Vera Powder Extract … 30mg
(100:1 freeze dried)
Fruit & Vegetable Blend … 930mg
(Proprietary) (freeze-dried, low temperature dried)
Organic Apple, Organic Carrot, Organic Mango, Organic Lemon, Organic Sweet Potato, Organic Peach, Organic Parsley, Organic Kale, Organic Broccoli, Organic Spinach, Organic Leek, Organic Cabbage, Beet, Organic Cranberry (Quinic Acid 6%)
Organic Acerola Cherry Powder … 175mg
(17.5% AscorbiC Acid)
Green Tea Extract, White Tea Extract … 100mg
(decaffeinated 50% Polyphenol)
Polygonum Cuspidatum Extract … 70mg
(15% Resveratrol)
Oat Beta Glucan … 1500mg
Cinnamon Blend … 50mg
(Proprietary)
cinnamon Extract 8%, Organic Cinnamon Bark Powder
Milk Thistle … 50mg
(20% Silymarin)
Marigold Extract … 50mg
(5% Lutein with Zeaxanthin)
Dunaliella Salina Extract … 100mg
(Natural Carotenoids)
Enzymes … 40mg
(Plant-based)
Alpha Amylase, Bromelain, Cellulase, Galactosidase, Glucoamylase, Hemicellulase, Lipase, Papain, Protease
Lecithin … 1000mg
(non GMO)
Lycopene Extract-10% … 25mg
(from tomato)
Organic Lemon Peel Powder … 25mg
Organic Quinoa Sprout … 90mg
Artichoke Extract … 20mg
(5% Cynarin)
Organic Atlantic Kelp Powder … 20mg
(laminaria Digitata, 0.4% Iodine)
Stevia Leaf Crystals … 200mg
(Stevia Rebaudiana)
Other Ingredients: Natural Flavors (Plant Based), Citric Acid, Soy Phospholipds.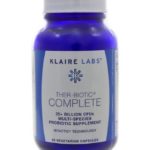 Probiotics in A Nutshell…
The human gut contains 10x more bacteria than all the human cells in the body. 400 known species equaling 100trillion in the intestinal tract.
Probiotics are ESSENTIAL for normal digestive, endocrine, and immunological functions of the bowel. They are therapeutic for treatment of variety of gastrointestinal and systemic disorders. Definitely needed if your gall bladder or spleen has been removed.
Goal is to have an 80 to 20% ratio of good bateria verses harmful bacteria.
In general, 1 billion CFU's (colony forming units) is REQUIRED to deliver to the intestines. You can safely take up to 450 billion for patients with IBS, and even 200 billion following liver transplant.
Do they need to be refrigerated? It is recommended it maximizes freshness. Probiotics that have micro encapsulated with fatty acids are the only exception. Probiotics sold in health stores are often not and have about 30-50% less viable microorganisms that they claim on their label.
Probiotics live in the absence of oxygen. Dark Glass bottles are recommended. Moisture also kills micro organisms, keep in a cool dark place.
Deliver systems are important because we want the absorption to happen in the intestines not the stomach. Stomach acid plays apart in breakdowns and absorption.
The use of antibiotics feeds bacteria growth so it is important to double amounts during infectious times or if you are put on antibiotics or have heavily used them in the past.
It is important to have B complex vitamins, especially B12, folates, and Vitamin K for probiotics absorption.
When do you take them? Everyone is different but generally between meals or bed time is ideal so food or stomach acid isn't interfering with absorption.
Prebiotics are carbohydrates that are indigestible by the human intestine and selectively stimulate the activity and growth of certain bacteria in the COLON. Most are chains of 2-9 sugar molecules (oligosaccharides). They are commonly found in chicory, asparagus, artichoke, onions, leeks, garlic, and human breast milk. If you want to use food as medicine, consume those veggies. They should pass through the small intestine to the colon.
There are different strains of probiotics that are more beneficial to your health issues which is why not guessing is important, research is good, but science based research is what professionals do. Knowing your source and trusting your health care practitioner to make the best recommendations for you. They may cost a little more, but why waste money and time guessing when you don't have to?
Gut health leads to immune health. If you want to power your body, supplementation is necessary.