boost energy
now browsing by tag
Do you struggle with Depression or know someone who does? Tired of being pushed the drug route? Want to heal your body naturally?  Try a few of these herbs.  You  can take them in combinations in tea form or supplement form.  If you need help deciphering what you think you need first, let me help you sort it out before you spend extra money trying to experiement on your own.
Herbs for depression
Rhodiola rosea
Rhodiola rosea (Crassulaceae) is a perennial plant that grows in cold, alpine regions of the Northern Hemisphere. Its roots contain a sap that has long been used to improve physical and mental endurance, relieve symptoms of anxiety and stress, and even lift mood and alleviate depression symptoms. This is why it is considered to be an adaptogen, a natural substance that helps normalize the body's response to stress, and maintain optimal homeostasis by balancing the immune system and endocrine hormones (http://cms.herbalgram.org/herbclip/342/review45139.html).
Numerous scientific studies, including research conducted and compiled by Dr. Zakir Ramazanov, a former Soviet soldier-turned-doctor, has revealed that rhodiola rosea can be safely used to reduce recovery time after workouts, improve attention span and memory, improve physical fitness and performance, enhance psychomotor function, and alleviate depression and anxiety (http://rhodiolarosea.org/rhodiola-benefits/).
100mg of Rhodila a day (Dr.Weil.com)
Learn more: http://www.naturalnews.com/035463_depression_herbs_remedies.html#ixzz3zjQgnxzR
St. John's Wort
St. John's Wort (Hypericum perforatum), a plant native to temperate and subtropical regions of the world, has long been used in many cultures to treat depression. Numerous research studies, including a 2008 study published as part of the Cochrane Systematic Review, have found that St. John's Wort is at least as effective as standard antidepressant drugs at treating mild to moderate depressive disorders, but with few potentially harmful side effects (http://www.sciencedaily.com/releases/2008/10/081007192435.htm).
When taken as a whole extract, St. John's Wort has also been shown to help naturally alleviate sleep disorders, promote relaxation, and boost energy levels in such a way that avoids the "spikes" and "plunges" typically associated with consumption of caffeine and other stimulants. St. John's Wort is considered to be a safe, inexpensive herbal remedy that can help promote improved overall mental health.
Learn more: http://www.naturalnews.com/035463_depression_herbs_remedies.html#ixzz3zjSFGRPF
Camu Camu
Camu Camu (Myrciaria dubia) is a tropical rainforest plant whose berries have the highest known levels of natural vitamin C in the world. The plant's fruit, which is naturally tangy and sweet, contains a host of nutrients, including vitamin C, that fight the negative effects of the herpes virus, promote immune health, alleviate inflammation, and fight bacteria and viruses. Camu Camu also has adaptogenic properties that normalize bodily processes during stress, and help relieve symptoms of depression.
In his Clinician's Handbook of Natural Healing, Dr. Gary Null, Ph.D., critically-acclaimed nutritionist and researcher, lists Camu Camu as the second most potent known plant for containing natural antidepressant compounds — and best of all, eating camu camu has absolutely no know negative side effects
Therapeutic Ranges for Vit C falls between 3000-5000mg day
Learn more: http://www.naturalnews.com/035463_depression_herbs_remedies.html#ixzz3zjSTNQ4d
Ashwagandha
Ashwagandha (Withania somnifera), an Indian plant that has long been used in Ayurvedic medicine, contains powerful adaptogenic compounds that are known to relieve symptoms of anxiety and depression. The plant is also known to help fight degenerative brain conditions like Alzheimer's and Parkinson's, as well as inhibit the growth and spread of cancer cells.
Several studies, including one published in the journal Phytomedicine back in 2000, have found that ashwagandha works as well as, or better than, antidepressant drugs at relieving anxiety and treating depression symptoms. And ashwagandha naturally prevents stress-induced free radical damage without causing harmful side effects (http://www.lef.org/magazine/mag2006/jun2006_report_ashwa_01.htm).
Ashwaganda can be up to 6000mg a day, suggesting to be taken in 3 doses divided.
Learn more: http://www.naturalnews.com/035463_depression_herbs_remedies.html#ixzz3zjSWnAz2
Maca
Maca (Lepidium meyenii), also known as "Peruvian ginseng," is a root vegetable that is packed with amino acids, phytonutrients, vitamins, and minerals. Like the other herbs mentioned, it has long been used in traditional medicine to increase energy and stamina, enhance libido, and boost the immune, adrenal, and endocrine systems.
In a 2008 study published in the journal Menopause, researchers found that maca helps reduce anxiety and depression symptoms in women with menopause (http://drtorihudson.com). And in a 2006 study published in the journal BMC Complementary and Alternative Medicine, researchers found that maca clearly exhibits general antidepressant activity in all people when consumed.
Maca can be 500-2000mg a day. (macaextract.net)
Learn more: http://www.naturalnews.com/035463_depression_herbs_remedies.html#ixzz3zjSfMG5m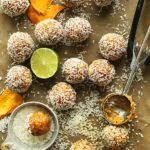 Mango Energy Bites
Vegan, GF, Refined Sugar Free
Happily serves 15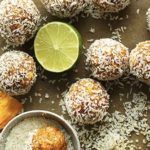 ALL ORGANIC INGREDIENTS
1 1/4 Cup walnuts or cashews
1 Cup firmly packed dried unsweetened mango
10 soaked medjool dates, pitted
2 TBSP hemp seeds
1/3 Cup unsweetened finely shredded coconut
1 lime and zest
Dash Sea salt
Preheat oven to 350.
Add dried mango to a mixing bowl and cover with warm water (don't skip this step or they'll be too tough to blend).
Let soak for 5-7 minutes, or until soft and pliable, but not too soggy.
Drain and lay on a towel and pat off excess moisture. Set aside.
Add nuts to a food processor and mix into a fine meal. Set aside.
Add dates and soaked mango to the food processor and mix until a rough paste/sticky dough forms.
Add nut meal, hemp seeds, shredded coconut, lime zest, and sea salt. Mix until it forms a moldable dough.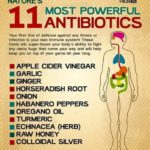 Are you tired of getting sick?  Antioxidants could be the answer…
Antioxidants have been around since the beginning of time. We often hear about them on commercials, or talk shows. Most people don't realize that the food that we eat or don't eat will make the difference in our overall health. The benefits of antioxidants can be found in plant based diets, fruits and vegetables, nuts, and antioxidant vitamins.  Many antioxidant rich foods are called super foods.  This article is a great way to understand what foods will arm your body with the defenses that it needs to fight off sickness and infection. We will dive into the health benefits of the top 10 antioxidant rich foods. You should definitely add these to your diet.
| | |
| --- | --- |
| Keywords: | Description: |
| antioxidants |  A substance that reduces damage due to oxygen, such as that caused by free radicals. Well-known antioxidants include enzymes and other substances, such as vitamin C, vitamin E, and beta carotene, which are capable of counteracting the damaging effects of oxidation. Antioxidants are also commonly added to food products such as vegetable oils and prepared foods to prevent or delay their deterioration from the action of air. Antioxidants may possibly reduce the risks of cancer. Antioxidants clearly slow the progression of age-related macular degeneration. |
| oxidative stress |  reflects an imbalance between the systemic manifestation of reactive oxygen species and a biological system's ability to readily detoxify the reactive intermediates or to repair the resulting damage. Disturbances in the normal redox state of cells can cause toxic effects through the production of peroxides and free radicals that damage all components of the cell, including proteins, lipids, and DNA. |
| free radical formation |  Free radicals are atoms or groups of atoms with an odd (unpaired) number of electrons and can be formed when oxygen interacts with certain molecules. Once formed these highly reactive radicals can start a chain reaction, like dominoes. Their chief danger comes from the damage they can do when they react with important cellular components such as DNA, or the cell membrane. Cells may function poorly or die if this occurs. To prevent free radical damage the body has a defense system of antioxidants. |
| oxygen radical absorbance capacity | ORAC stands for Oxygen Radical Absorbance Capacity. It's a lab test that attempts to quantify the "total antioxidant capacity" (TAC) of a food by placing a sample of the food in a test tube, along with certain molecules that generate free radical activity and certain other molecules that are vulnerable to oxidation . After a while, they measure how well the sample protected the vulnerable molecules from oxidation by the free radicals. The less free radical damage there is, the higher the antioxidant capacity of the test substance. There are actually a handful of different tests designed to measure total antioxidant capacity in this way, but the ORAC is probably the best known and most popular |
| inflammation | Inflammation and Antioxidants, |
Apple Cider Vinegar

lowers cholesterol
boost energy
reduces cramping and lactic acid
helps bad breath
controls blood sugar
supports heart health
whitens teeth

Garlic
boost immune system function/fights infection
aids in cancer prevention
fights inflammation
promotes total body detoxification
Ginger
acts as an antidote for nausea
reduces inflammation – arthritis – headaches
stimulates circulation
inhibits rhinovirus – a cause of the common cold
fights salmonella
reduces gas and intestinal pain

Horseradish Root
fights cancer
detoxifies the liver
relieves sinus pressure
treats urinary tract infections
reduces bloating
aids in muscle soreness
Onion
decrease risk of obesity, diabetes, and heart disease
promotes healthy hair and complexion
great source of vitamin C
reduce risk of colorectal and other intestinal cancers
improve mood and help with depression

Habanero Peppers
reduce risk of diabetes and obesity
great cancer fighter
reduces cholesterol and heart disease
lowers inflammation
Oregano Oil
treats foot or nail fungus
kills parasites or infection
minimizes sinus infection and cold symptoms
great for cleaning when mixed with lemon and vinegar

Tumeric
helps with chronic inflammation
reduces symptoms of Rheumatoid arthritis
improves mood and aids in depression
lowers blood glucose levels
inhibits cancer cell growth
has anti-aging properties
Echinacea (herb)
reduces acid reflux
decreases migrane symptoms
aid in genital herpes outbreaks
helps cure strep throat
reduces urinary tract infections
cures yeast infections

Raw Honey
cancer fighting properties
aids in nausea and upset stomach
natural cough suppressant
assists in blood sugar regulation
heals ulcers
good cholesterol regulator
It is not hard to see the benefits of these powerful antioxidants.  If you work them into your diet your will surely see and feel the difference.  In addition to these awesome foods, a green drink will work wonders for your overall health and well being.  If you enjoyed this article, then I assume that you like to know what is in your food and why it is good for you.  This book is the best book I have ever found for understanding the 'whys' about food.  If you have any questions about fitness or nutrition, email Jodi at jodi@healthywithjodi.com .