agents
now browsing by tag
Who understands auto immune disorders and how they affects us and our loved ones?  Here is a brief overview of what it is and a link if you want to research correct information further.
When an intruder invades your body—like a cold virus or bacteria on a thorn that pricks your skin—your immune system protects you. It tries to identify, kill, and eliminate the invaders that might hurt you. But sometimes problems with your immune system cause it to mistake your body's own healthy cells as invaders and then repeatedly attacks them. This is called an autoimmune disease. ("Autoimmune" means immunity against the self.)
Autoimmune diseases can affect almost any part of the body, including the heart, brain, nerves, muscles, skin, eyes, joints, lungs, kidneys, glands, the digestive tract, and blood vessels. The classic sign of an autoimmune disease is inflammation, which can cause redness, heat, pain, and swelling. How an autoimmune disease affects you depends on what part of the body is targeted. If the disease affects the joints, as in rheumatoid arthritis, you might have joint pain, stiffness, and loss of function. If it affects the thyroid, as in Graves' disease and thyroiditis, it might cause tiredness, weight gain, and muscle aches. If it attacks the skin, as it does in scleroderma/systemic sclerosis, vitiligo, and systemic lupus erythematosus (SLE), it can cause rashes, blisters, and color changes.
Many autoimmune diseases don't restrict themselves to one part of the body. For example, SLE can affect the skin, joints, kidneys, heart, nerves, blood vessels, and more. Type 1 diabetes can affect your glands, eyes, kidneys, muscles, and more.
KEY WORDS
Acquired immune system. The part of the immune system that develops as a person grows. It employs antibodies and immune cells to fight harmful substances.
Antibody. A special protein produced by the body's immune system that recognizes and helps fight infectious agents and other foreign substances that invade the body.
Antigen. A foreign substance that triggers the production of antibodies when it is introduced into the body.
Autoimmune disease. A disease that results when the immune system mistakenly attacks the body's own tissues.
Corticosteroids. Potent anti-inflammatory hormones that are made naturally in the body or synthetically (man-made) for use as drugs. They are also called glucocorticoids. The most commonly prescribed drug of this type is prednisone.
Diabetes, type 1. A condition in which the immune system destroys insulin-producing cells of the pancreas, making it impossible for the body to use glucose (blood sugar) for energy. Type 1 diabetes usually occurs in children and young adults.
Graves' disease. An autoimmune disease of the thyroid gland that results in the overproduction of thyroid hormone. This causes such symptoms as nervousness, heat intolerance, heart palpitations, and unexplained weight loss.
Immune system. A complex network of specialized cells and organs that work together to defend the body against attacks by foreign invaders, such as bacteria and viruses.
Thyroiditis. An inflammation of the thyroid gland that causes the gland to become underactive. This results in symptoms such as fatigue, weakness, weight gain, cold intolerance, and muscle aches.
Vitiligo. A disorder in which the immune system destroys pigment-making cells called melanocytes. This results in white patches of skin on different parts of the body.
The National Institutes of Health (NIH)—The Nation's Medical Research Agency—includes 27 Institutes and Centers and is a component of the U.S. Department of Health and Human Services. It is the primary Federal agency for conducting and supporting basic, clinical, and translational medical research, and it investigates the causes, treatments, and cures for both common and rare diseases. For more information about NIH visit:
https://www.niams.nih.gov/Health_Info/
GI Guard PM
Protocol for life balance
60 capsules $32.00
Maintains Healthy Mucosal Integrity
-With PepZin GI®, Melatonin, L-Tryptophan & B Vitamins
-Nighttime GI Support*
-A Dietary Supplement
-Vegetarian/Vegan
GI Guard™ PM is a nutritional formula with PepZin GI®, Melatonin, amino acids, and B Vitamins designed to help maintain the strength and integrity of the gastrointestinal mucosal barrier.* GI Guard™ PM features PepZin GI®, which has been shown in clinical studies to promote a healthy stomach lining and to support proper gut repair processes.* Melatonin, a potent free radical scavenger, is known to exist at high levels in the gut, where it exerts its protective effects against oxidative stress throughout the gastrointestinal tract.* Melatonin also helps support healthy gastric pH levels, normal pepsin production in the stomach, and helps to regulate proper intestinal motility.* B Vitamins and Amino Acids, such as L-Tryptophan are necessary for Melatonin synthesis.
Servings Per Container: 30
As a dietary supplement, take 1-2 capsules 30 to 60 minutes before bedtime, or take as directed by your healthcare practitioner.
Serving Size: 2 Veg Capsules
Amount Per Serving
Vitamin B-6 … 25mg 
(from Pyridoxine HCl)
Vitamin B-12 … 50mcg 
(as Cyanocobalamin)
Folic Acid … 800mcg
Zinc … 14mg 
(from PepZin GI®)
PepZin GI® … 75mg 
(Zinc-L-Carnosine Complex)
L-Carnosine … 57mg 
(from PepZin GI®)
Melatonin … 6mg
L-Tryptophan … 200mg
L-Methionine … 100mg
Trimethylglycine … 100mg 
(TMG)
Taurine … 100mg
Other Ingredients: Cellulose Powder, Cellulose (capsule), Silica and Magnesium Stearate (vegetable source).
Not manufactured with wheat, gluten, soy, milk, egg, fish, shellfish or tree nut ingredients. Produced in a GMP facility that processes other ingredients containing these allergens. CAUTIONS/INTERACTIONS: Do not drive or use machinery for 4 to 5 hours after taking melatonin. Theoretically, concomitant use of melatonin with alcohol, benzodiazepines, or other sedative drugs might cause additive sedation. Melatonin may interact with anticoagulant/anti-platelet medications, antidepressants, anti-hypertensives, anti-diabetes drugs, anti-neoplastic agents and other drugs. If you are taking any prescription medications or if you have glaucoma, consult your healthcare practitioner before using this product.
Urinary tract Info

:
Commonly also call bladder infections. There is a disturbance in the bacterial flora that protects the urinary track and anabiotic's lead to reoccurring infections.
Doubling probiotics such as L. Acidophilus is highly recommended. At least 20 billion CFU's. 50-100Billion CFU's would be more beneficial and HIGHLY recommended.
Acidity levels are too high in the body when the pH is disrupted there is fermentation of vaginal glycogen to lactic acid. Alkalinity is Key, must add more Green into the diet. ORGANIC EATING is SO Very IMPORTANT!!!
Eliminating of dairy, yeast, and soy products are recommended to rebalance pH. Limiting grains, sugar, caffeine, and alcohol, and refined carbohydrates.
At least 64 oz water a day. Decaffeinated tea counts as water. Eliminate food allergens. Allergy Blood work is your best Road map to gut and immune support and healing.  Blood Tests are available and easy!
Recommended foods:
Use healthy cooking oil such as olive oil (don't heat olive oil) or coconut oil.
Eat Less red meats and more lean meats such as fish, but no soy.
High fiber foods include beans root vegetables such as yams or sweet potatoes and psyllium husk.
Antioxidant rich foods including vegetables like bell peppers and squash.
**Fruit in the morning including cranberries, blueberries,and cherries. If you're going to drink juice make sure that it is unsweetened. Please eat your fruit, better for you unless you are juicing. Best for digestion if fruit is first thing in the morning and by itself or for your first snack, eaten alone.**
Recommended Vitamins:
Probiotics and digestive enzymes ALWAYS!! Double if taking antibiotics!
Multi Vitamin
Vit D: 2000-4000 IU
Fish oils 1000mg and or Flax seed, 3x a day. Could go up to 6000mg
Super Greens
Amino Acids
Vit C: 1000mg a day
Grape seed oil 100-300mg
Magnesium 200-300mg 3x a day
Zinc: 30mg a day
Recommended Botanicals:
Cranberry
Aloe Vera: up to 32oz per day
Gotu Kola is great extract tea to help balance pH. 60-120mg
Uva Ursi ( upland cranberry or bearberry) is a powerful antiseptic herb.
Dried leaves or tea: 1.5-4.0 (1-2 tsp)
Goldenseal herb has antimicrobial agents. Dried root or tea: 1-2g
Other herbs that are recommended: green tea, cats claw, milk thistle, and reishi mushroom.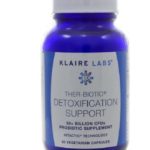 Ther-Biotic Detox Support
Klair Labs
60 capsules
$53.95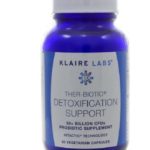 High-potency, 50+ billion CFUs.
Ther-Biotic Detoxification Support delivers large amounts of specific 
probiotics to the intestinal tract to complement detoxification protocols such 
as broad-spectrum antibiotics, anti-fungal/anti-microbial medications, or heavy 
metal chelating agents that can compromise friendly flora. Toxins and metabolic 
by-products generated during use of these agents can exacerbate intestinal 
dysbiosis and disturb the healthy balance of intestinal flora.
Ther-Biotic Detoxification Support provides two colonizing Lactobacillus and 
one endogenous Bifidobacterium probiotic species that can support the body's 
natural detoxification process by metabolizing or reducing the uptake of toxins 
in the gut thereby facilitating the elimination of toxins and by-products from 
the intestinal tract. Formulated with 50+ billion CFUs per capsule, Ther- 
Biotic Detoxification Support uses our proprietary InTactic technology to 
ensure maximum delivery of live microorganisms throughout the intestinal tract. 
Once a healthy balance of intestinal flora is achieved, use of Ther-Biotic 
Complete or Vital-10 is recommended for daily maintenance. This product is 
often suitable for individuals adhering to the Specific Carbohydrate Diet (SCD) 
program.*
FUNCTIONS OF PROBIOTIC STRAINS IN THER-BIOTIC DETOXIFICATION SUPPORT
Lactobacilllus rhamnosus
• Favorably enhances innate and acquired immunity
• Modulates immune tolerance and inhibits production of the proinflammatory 
cytokines
• Outstanding adherence to colon epithelial cell lines
• Suppresses the internalization of pathogenic Escherichia coli
Bifidobacterium bifidum
• Colonizes the large intestine and vaginal tract controlling yeast populations
• Competes with pathogens for nutrients and attachment sites
• Produces acetic & lactic acids, lowering colonic pH and inhibiting pathogens
• Suppresses total & antigen-specific IgE production
• Promotes IgA response to C. difficile toxin A
Lactobacillus casei
• Makes a number of proline-specific peptidases enabling efficient break down 
of casein, casein-derived polypeptides, and gluten
• Beneficially modulates cells associated with innate immune responses
• Enhances the number of IgA-producing cells
• Decreases the secretion of proinflammatory cytokines
Servings Per Container: 60
As a dietary supplement, take one (1) capsule daily or as directed by a physician.
Serving Size: 1 Capsule
Amount Per Serving
Probiotic Blend … 285mg
Lactobacillus rhamnosus … 20+ billion CFUs
Lactobacillus casei … 20+ billion CFUs
Bifidobacterium bifidum … 10+ billion CFUs
Other Ingredients: Vegetarian capsule (hydroxypropyl methylcellulose, water), 
InTactic proprietary polysaccharide complex, and L-leucine.
*Contains InTactic polysaccharide complex that may not be suitable for strict
adherence with SCD protocols.