Get it on Amazon
now browsing by category
Why Bentonite Clay?EAFA2F87-D874-442C-A557-AE0E3EC1BE2E
Clean body and a clean mind.
It is a powerful ADSORBER of Environmental pollutions that are found in our intestines.  It can effectively remove infections, and bind endotoxins, Aflatoxins (found in Peanut butter and some Legumes) so they cannot be reabsorbed into the body.
A true cleansing program requires Bentonite clay to help clean the waters of the body, clean the bile, and clear the Digestive tract.
It promotes wound healing and provides healing in the GI tract.
Clay can also be used on the skin to draw out impurities.
Call me if you are interested in cleansing and clearing the immune system, digestive system, and want to start your healing process.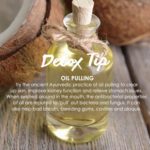 Ever heard of Oil Pulling?  Do you have cavities?  What happens when you leave that bacteria in your mouth?  It grows and creates more expensive dental work down the road.  If your mouth is less than healthy, that bacteria travels to your gut and can grown there as well, disturbing our gut microbiome.
An easy at home remedy is oil pulling. Most of us have coconut oil in our cupboards, so pull it out, put some in a small jar and put it in your bathroom!  You use 1 TBSP and swish it around for as long as you can up to 10 minutes.  Spit it out and rinse.  Pretty dang simple!
Since that coconut oil is in your bathroom now, you can use it as lotion. You can use it to take off your eye makeup.  You can use it on burns (curling iron or sunburns).  You can use it for massage oil.  You can take it when you get a pedicure and have your technician use that instead of their chemically laden lotions.  Oh the Possibilities!!
If you are interested in learning more, call me!  I'd love to help you get help make your health a priority in your life.  Invest in health, not healthcare!

https://draxe.com/oil-pulling-coconut-oil/
Cooking class today was on Air fryers.  We learned several things, fast and easy.  What's also important is the quality of your cookware.  Try to avoid Teflon and heavy metals, so here is the link that I found that is used with stainless steel.


I try and use as many different recipes with some of the same foods so there is no waste.  I got an 8 pack of zucchini and squash from Costco and we made Fried zucchini sticks, zucchini hot pockets, fried zucchini cheese sticks, Stuff bell peppers with egg and zucchini, and acorn squash with chicken sausage and zucchini.  There are many ways to change up recipes so you don't get tired or bored with the same foods.  Herbs and Spices are the zest of life! I love watching everyone at class be amazed how Sea Salt can make or break a recipe.
Join us at Family Fusion for my next class or schedule your own.  It can be a dinner party, themed, family cook night or date night for couples.  Topics are WHATEVER you want to learn, so just let me know how we can get you cooking fast and easy and Healthy with Jodi.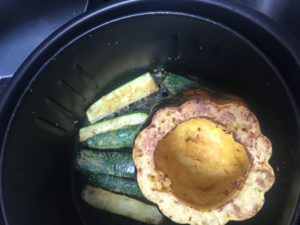 Air fried Zucchini with Nutritional Yeast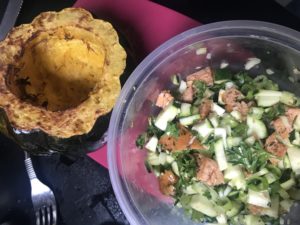 Acorn Squash stuff with Chicken Sausage, zucchini, parsley, green onion, sea salt, garlic, minced onion and Avocado oil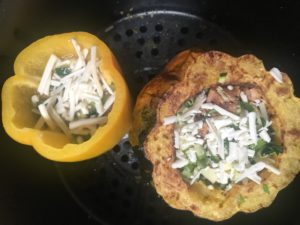 Same green mix, added dairy free cheese and an egg to the yellow bell pepper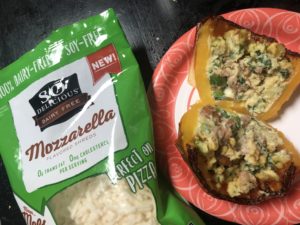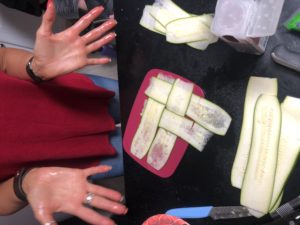 Sliced zucchini sprayed with avocado oil and sprinkled with sea salt. Added same green mixture, topped with vegan coconut cheese.  Melts surprisingly well, and EVERYONE liked it!!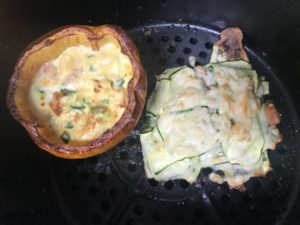 And after all that cooking, this is the end result of how much waste there is.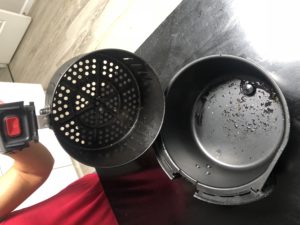 Easy Clean up!  Wipe with a paper towel, run it under hot soak your water and your ready to go for the next round.