Dairy Free, Gluten Free
Happily serves 6-8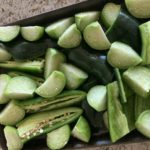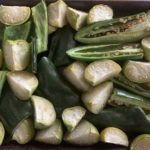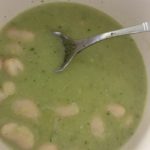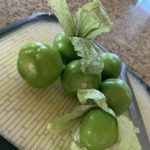 ALL ORGANIC INGREDIENTS
2 Poblano peppers
4 Cups Bone Broth
2 Cups tomatillos (outer husk removed)
2 Green onion stalks
1-2 Jalapeños
2 TBSP Avocado oil
4 Garlic Cloves
1⁄2 Yellow Onion
2 Cups White or butter beans (rinsed + drained)
Himalayan Sea salt
Black pepper, to taste
Handful Cilantro
Optional:
Coconut Cheese
1 Cup Salsa
Hatch Green chili
TOPPING INGREDIENTS
Lime juice
Cubed Avocado
Cucumber Salsa
Rinse and drain beans good if you are using canned beans.
Put whole poblano peppers, tomatillos, and jalapeños on baking stone, broil on high about 5-7 minutes.
The tomatillos will likely take longer, so remove peppers if it's cooking uneven. Turn peppers half way through.
Add oil, garlic, and onion to a cast iron skillet.
Sauté, stirring frequently, until soft, translucent and slightly browned, about 4 minutes.
Remove peppers and tomatillos from oven. Cover for 3 minutes to steam and soften so you remove skin, core, and seeds from poblano and jalapeños and any stems from the tomatillos. (Personally I leave the seeds and skins on, this keeps it a "whole" food.)
Add peppers to a vitamix with the garlic and onion.
Purée until semi-fine consistency, a little chunky is ok.
Add mixture back to pot over medium heat.
Add Bone broth, beans, and stir.
Bring to a simmer, then cover, reduce heat to low and continuing simmering about 15 minutes.