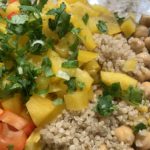 Gluten Free, Vegan
Happily Serves 2
ALL ORGANIC INGREDIENTS
1 Red Bell Pepper
1 Yellow Bell Pepper
1 Cup Chick Peas
1/2 Cup Quinoa + (1 Cup Bone/veggie Broth to cook Quinoa)
1 Green Onion
1 Garlic Clove
1 handful Cilantro
2 TBSP Avocado Oil
2 TBSP Lemon Juice
1-2 tsp Sea Salt
Rinse Quinoa. Cook according to Package. I use 1:1 ratio and cook about 10 minutes so it's not "mushy" and still has a crunchy texture.
Rinse beans if you are using canned.
Cut garlic, let sit 5-10 minutes
Wash, cut onion, cilantro, and bell peppers.
Toss all ingredients together, eat chilled.