sucrose
now browsing by tag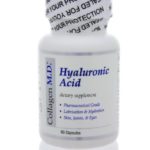 HyaluronicAcid Dietary Supplement
Collagen M.D.
60 capsules $27.95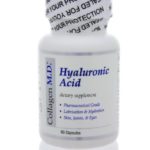 HyaluronicAcid supports and promotes
healthy  skin, functioning as a tissue lubricant
and is known as nature's moisturizer.
With age, Hyaluronic Acid levels decline
in the body and HA dietary supplementation
provides nutritional support for connective
tissue, cartilage, joint, skin and eye health.
Hyaluronic Acid works synergistically
with collagen Type I, II, and III to help
support skin, connective tissue, cartilage
and joint health.
Servings Per Container: 30
As a dietary supplement, take 1 capsule twice
daily on an empty stomach. Wait 20 minutes
before eating. Do not mix with other protein
liquids or protein supplements for optimal
nutritional beneft.
Serving Size: 2 capsules
Amount Per Serving:
Hyaluronic Acid … 100mg
Other Ingredients: 
Microcrystalline Cellulose, Magnesium Stearate, 
Kosher Gelatin Capsule.
Collagen M.D.® products are free from gluten, 
dairy, sucrose, starch, yeast, wheat, corn and
cholesterol.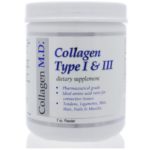 Collagen I and III Dietary Supplement
Collagen M.D.
7oz $18.95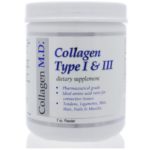 Collagen Type I & III together account for 90%
of the collagen present in the dermis with up to
60-80% for Collagen Type I and 15-20% for
Collagen Type III. This collection of fibers is
responsible for maintaining the structure and
resistance of tissues and constitutes a dynamic
network which anchors the skin in the deeper
layers, thereby creating a support base for the
skin. In addition to its architectural properties,
collagen also regulates the activity of fibroblasts,
playing a role in their migration, proliferation and
differentiation, and in their adhesion to various
elements of the extracellular matrix.
Collagen Type I & III are the main components
of hair, nails, ligaments, tendons, muscles, gums,
teeth, bones, blood vessels and eyes.
In 6oz of water or juice, blend 2 scoops of powder (over 35 years old) or 1 scoop (under 35 years old) or as directed by your physician. Use juice containing Vitamin C or take with a Vitamin C supplement for maximum collagen support.
For optimal nutritional benefits, take on an empty stomach and wait 20 minutes before eating
Do not add to milk or other protein dinks/powders as this will decrease the benefits. May be take with other vitamins and minerals.
Collagen Type I & II …6.6g
Collagen Type I and III protein peptides 
derived from 100% pure bovine collagen.
Contains no gluten, dairy sucrose, starch, yeast, wheat, corn, cholesterol, fat, additives, colorings, flavorings or preservatives.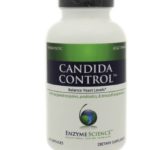 Candida Control
Enzyme Science
$34.50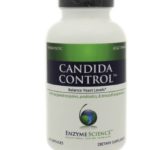 Candida Control™ includes two enzymes for maintaining normal yeast production.* The enzyme cellulase breaks down the cell wall of candida, while protease removes the toxins expelled during cell death.* This combination may ease discomforts common to cleansing (die-off).* Broccoli Seed extract, as well as beneficial microflora (probiotics), work together to support healthy detoxification.* Enzyme Sciences exclusive Thera-blend™ enzymes are effective throughout the entire digestive system, thereby ensuring complete digestion.* When formulated for therapeutic purposes, Thera-blend enzymes are customized for optimal performance throughout the entire body.
Servings Per Container: 42
Take 2 capsules three times per day on an empty stomach (1/2 hour before or 2 hours after a meal). More may be taken as directed by your healthcare practitioner.*
Serving Size: 2 capsules
Amount Per Serving
Cellulase Thera-blend™ … 70, 000CU
Protease Thera-Blend™ … 230, 000HUT
Broccoli Seed Extract … 40mg
Probiotic Blend … 1 Billion CFU
Bacillus subtilis, l.rhamnosus, l.casei, L.acidophilus, L.plantarum, L.bulgaricus, L.salivarius, L.paracasei
Other Ingredients: 100% vegetarian capsule (cellulose, water)
Contains NO: Dairy, egg, preservatives, salt, sucrose, soy, wheat, yeast, nuts, corn, gluten, casein, potato, rice, artificial colors or flavors
Contraindications: Candida Control should not be taken with any timed released medications that use cellulose as its time-release mechanism. Keep closed in dry place; avoid excessive heat.