gum
now browsing by tag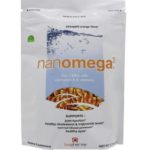 NanOmega3 Pineapple Orange
BioPharma Scientific.
$46.65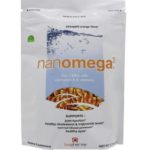 HEALTH PROFESSIONAL FORMULA
1000 IU of Vitamin D
Good Source of Fiber, Pineapple Orange
SuperFood SOLUTION™. NanOmega3™
Heart, Brain & Vision SuperFoodlifesDHA™.
HEALTHY BRAIN, EYES, HEART
SuperSorb® DELIVERY
DIETARY SUPPLEMENT
NET WT. 12.7 OZ (360g)
More Info:
Omega-3s are essential for fatty acids (EFAs) for supporting:
* heart health
* joint health
* healthy skin
* maintenance of normal blood lipids
* healthy brain function
* healthy eyes (retina)
* immune health
* general health and wellness
Truly a breakthrough functional food formula, NanOmega3 provides essential fatty acids (EFAs) from both:
-ALA, alpha-linolenic acid, from specially stabilized, organic MeadowPure™ golden flaxseed and
-DHA oil (lifesDHA™ from Martek) derived from plant marine algae, with
-Synergistic vitamins E, D3, folic acid, B6 and B12.
Supplemental Facts:
SuperSorb® is BioPharma Scientifics registered name for its enhanced delivery systems wherein highly bioavailable forms of micronutrient and microencapsulation are utilized to help maximize nutrient absorption.
In order to ensure correct usage of BioPharmas high potency formulas, BioPharma sells only through licensed healthcare practitioners.
Servings Per Container: 30
SUGGESTED USE:
Mix one [1] scoop (12 g) with 6-8 ounces of cold water, juice or milk to taste. Shake or blend briskly. Enjoy one (1) to two (2) times a day unless otherwise directed by your health professional. Children under 12 take 1/2 serving. NanOmega3 is scientifically formulated to taste great with BioPharmas entire SuperFood Solution™ line. For a wealth of SuperFood Smoothie/Shake recipes, ask your health professional for a copy of The SuperFood Solution™ Users Guide.
Refrigerate after opening.
Benefit:
YES:
*Great tasting, instant mixing
*Made with organic flax
*Vegan & non GMO
*Low net carb
*Low peroxide value (pv)
*Fortified with Vitamins D, E, & B
NO:
*Fishy tastes, smells or toxins
*Fish oil "burps"
*Animal or fish products
*Eggs, dairy, wheat, yeast, soy, gluten
*Artificial flavors, MSG, or glutamate peptides
Serving Size: 12g (1 scoop)
Amount Per Serving
Calories …57
Calories from fat …122
Total Fat …2.5g / 4% DV
Saturated Fat …Total Carbohydrate …7g / 2% DV
Dietary Fiber …2.5g / 10% DV
Sugars …1g
Protein …1g
Vitamin D3 …1000 IU / 250% DV
(cholecalciferol)
Vitamin E …30 IU / 100% DV
(d-alpha tocopherol succinate)
Vitamin B6 …1mg / 50% DV
(as pyridoxal-5-phosphate)
Vitamin B9 …2000mcg / 50% DV
(as folic acid)
Vitamin B12 …85.5mcg / 1, 425% DV
(as cyanocobalamin)
Calcium …21mg / 2% DV
Iron …425mcg / 2% DV
Magnesium …22mg / 5% DV
Sodium …5mg / <1% DV
Potassium …36mg / 1% DV
Total Omega-3 …1100mg #
Omega-3/DHA …100mg #
Omega-3/Linolenic Acid …1000mg #
Omega-6 …300mg #
Lignans …50mg #
Turmeric …70mg #
Stevia Leaf Crystals …70mg #
(stevia rebaudiana)
* Percent Daily Values are based on a 2, 000 calorie diet.
# Daily Value not established.
OTHER INGREDIENTS: Meadow Pure™ Omega-3 Ultra Golden Flax™ with Marteks DHA oil derived from marine algae, Natural Flavors (plant based), Rice Bran Soluble fiber*, Vitafiber™ (isomalto-oligosaccharides from non-GMO corn and/or potato starch), Rice Malto-dexrin*, Xanthan Gum, Natural Curcumin Color (plant based).
*Organic ingredients
IMPORTANT:
Best if stored in cool, dark conditions. After each use close tightly and refrigerate immediately. Contains an oxygen absorbent packet to preserve freshness.
Pregnant and nursing mothers, anyone taking prescription medications, or prior to any surgical procedures, inform their healthcare practitioner and/or pharmacist before taking this or any other dietary supplement.
AR-Encap
Comprehensive joint support
Thorne Research
$46.90
Bromelain, Meriva® (curcumin phytosome), and Boswellia help maintain a healthy cytokine balance throughout the body*
Bromelain helps promote healing after trauma*
Glucosamine and MSM provide proven joint support*
Helps maintain healthy joint mobility*
Can provide relief from occasional aches and soreness*
AR-Encap is a comprehensive joint support formula that goes beyond simple glucosamine supplementation.* This formula supplies 1, 500 mg of glucosamine sulfate (suggested use – 4 capsules twice daily), which is the amount used in the majority of studies – in combination with joint-supporting nutrients and botanicals.*
In a study of healthy subjects with mild knee soreness, bromelain supplementation resulted in significant improvement with both 200-mg and 400-mg daily doses.1* Joint mobility was also improved.*
Curcumin, the principal polyphenol in the Indian spice turmeric, exerts antioxidant effects.* Curcumin Phytosome is a compound containing curcumin and phosphatidylcholine. This compound has significantly better absorption than ordinary curcumin and helps maintain a healthy cytokine balance throughout the body.*
Glucosamine provides significant joint support, as evidenced by numerous clinical studies. Methyl sulfonyl methane (MSM), also known as dimethyl sulfone and methyl sulfone, is an organic, sulfur-containing compound that occurs naturally in a variety of plants, and provides additional joint support.
Boswellia appears to inhibit the activity of lipoxygenase enzymes, thus promoting a healthy cytokine balance throughout the body.* A study of curcumin and boswellia found significant support of normal joint mobility in the group taking the botanical formula.2*
Walker AF, et al. Phytomedicine 2002;9:681-686.
Kizhakkedath R. Mol Med Rep 2013;8:1542-1548.
Servings Per Container: 60
Take 4 capsules one to two times daily or as recommended by a health-care practitioner.
Serving Size: Four Capsules
Amount Per Serving
Chloride … 87mg
(from Glucosamine Sulfate Potassium Chloride complex)
Potassium … 98mg
(from Glucosamine Sulfate Potassium Chloride complex)
Methyl Sulfonyl Methane … 850mg
(MSM)
Glucosamine Sulfate … 750mg
(as Glucosamine Sulfate Potassium Chloride complex)
Indian Frankincense extract … 350mg
(gum) (Boswellia serrata)
Curcumin Phytosome* … 250mg
(Curcuma longa extract (root) / Phosphatidylcholine complex)
Bromelain** … 200mg
Other Ingredients: Hypromellose (derived from cellulose) capsule, Leucine, Silicon Dioxide.
Contains ingredients derived from shellfish (glucosamine sulfate = crab and/or shrimp) and soy (phytosome).
*This product uses Indena S.p.A.s curcumin phytosome (Meriva®). Meriva is a registered trademark of Indena S.p.A.
**Bromelain is derived from the pineapple plant (Ananas comosus).
Boswellia standardized to Beta Boswellic Acids 20%.