cup pecans
now browsing by tag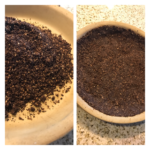 Triple Raw Chocolate Cheesecake
Vegan, GF, Refined sugar free
Happily serves 8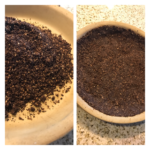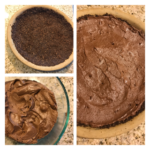 ALL ORGANIC INGREDIENTS
CRUST
1 cup pecans, ground (or mixture of pecans and walnuts)
3 medjool dates, soaked
1 tbsp maple syrup or coconut nectar
1/2 cup raw cacao powder
FILLING
8oz Vegan cream cheese
1/2 cup raw cocoa butter, melted
1/2 cup maple syrup or coconut nectar
1/2 cup water
1/2 cup raw cacao powder
2 tsp vanilla extract
CHOCOLATE GANACHE TOPPING
1/4 cup coconut oil, melted
1/4 cup raw cocoa butter melted
3 tbsp maple syrup or coconut palm syrup or coconut nectar
5 tsp raw cacao powder
1 tsp vanilla extract
Mix all the crust ingredients together in a food processor until crumbly and just starting to stick together. Press the mixture into the bottom of an 8 inch dish. Keep in the fridge while you make the filling.
Blend cream cheese with the melted cocoa butter, water and maple syrup until smooth and creamy. Then add in the cacao and vanilla, blend well. Spoon the mixture on to the base and smooth down evenly. Put in the freezer while you make the ganache topping. If you do not have the crust cold it will be hard to spread.
Stir maple syrup, cacao and vanilla into the melted oils until well combined and glossy. Let cool slightly but not so much that it starts to harden. Pour over the cheesecake, place in the fridge to set. Best if refrigerated for 4 hours or overnight before serving. I put mine in the freezer, cover to preserve.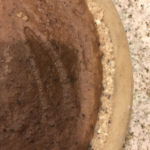 Raw Pumpkin Pie Recipe
Happily serves 8
Raw ,Vegan, Paleo, GF (Gluten Free
All organic ingredients
Crust
1 cup soaked dates 
1 cup pecans 
I cup walnuts (can use sub cashews or almonds) 
Optional: 1/4 cup figs 
1/8 teaspoon of Himalayan salt
To make the crust:
Add the nuts to the food processor and blend until they are like a rough flower then add the dates and salt.  Pulse together until it becomes a lumpy ball and then press into the bottom of a pie dish and refrigerate. 
Filling
1 baking pumpkin (about4-6cups) 
1 cup dates
4 TBSP softened coconut oil or coconut cream 
1/3 cup maple syrup (can sub coconut nectar)
1-4 TBSP Pumpkin pie spice (cinnamon, nutmeg, ginger and cloves)
To make the filling
Add pumpkin to the food processor until smooth. Add the other ingredients and process until smooth.  At this point you can transfer the filling to a high-powered blender and blend on the highest setting until It is smooth like the cooked version of pumpkin pie, or if you have a high-powered food processor you may blend it until smooth. Transfer the filling to your piecrust and let refrigerate for a few hours. 
You can used canned pumpkin, but fresh pumpkin is so much better tasting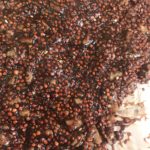 Quinoa Brittle
Vegan, Gluten free, Refined Sugar Free
Happily Serves 10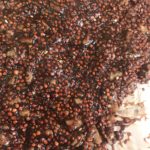 ALL ORGANIC INGREDIENTS 
3/4 Cup Tricolor uncooked quinoa
3/4 cup Pecans
2 TBSP Coconut sugar
1/2 tsp Pumpkin pie or allspice
2 TBSP Coconut oil
1/4 cup Blackstrap Molasses
1/4 cinnamon
Pinch of Himalayan sea salt
Stevia, if you desire it sweeter
Preheat oven to 325.
Line a baking sheet with parchment paper. (Cover all edges)
Combine quinoa, pecans, coconut sugar, salt, and cinnamon/spices in a bowl and set aside.
Over low to medium heat, add the coconut oil and black strap molasses (and optional Stevia). Stir until there is no visible separation.  Pour over the dry ingredients, combine and coat evenly,  spread on a parchment lined baking sheet with a metal spoon.
Try to get it as even as possible or the edges will burn in the center won't crisp up.
Bake for 15 minutes and turn the pan around to ensure even baking and Browning. Back 5 to 10 minutes more and watch carefully so it does not burn. The edges will get crisp and caramelized, and the color will be uniformly deep golden brown in color.
Let it cool completely before breaking it into serving pieces.   You can store leftovers in a sealed container at room temperature for a week, or in the freezer for up to one month.