B12
now browsing by tag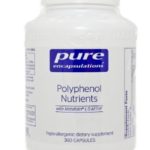 Polyphenol Nutrients
Pure Encapsulations
120 capsules $48.80
360 capsules $82.10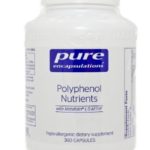 Now with Metafolin® L-5-MTHF Powerful polyphenol-rich multivitamin and multimineral formula with additional protection factors *Packed with flavonoids and phenolic compounds from a unique blend of olive fruit, grape seed, pomegranate, green tea, quercetin and blueberry, this formula offers powerful overall cellular protection. It also contains the protective nutrients alpha lipoic acid, NAC, inositol and choline to complement the neural, cognitive, cardiovascular, liver and skin health properties of this diverse profile. Furthermore, Polyphenol Nutrients provides the advanced mineral delivery systems and active vitamin cofactors found in Nutrient 950® and UltraNutrient® for optimal bioavailability and utilization. As part of a well-balanced diet that is low in saturated fat and cholesterol, folic acid, vitamin B6 and vitamin B12 may reduce the risk of vascular disease.† †FDA evaluated the above claim and found that while it is known that diets low in saturated fats and cholesterol reduce the risk of heart disease and other vascular diseases, the evidence in support of the above claim is inconclusive. Polyphenol Nutrients is a nutrient dense multivitamin and mineral formula enhanced with an exceptional combination of polyphenols and specialized compounds for extensive physiological protection.
Servings Per Container: 30
Take 4–6 capsules per day, in divided doses, with meals.
Serving Size: 6 vegetable capsules
Amount Per Serving
vitamin A … 7, 500IU 
(as beta carotene)
vitamin C … 500mg 
(as ascorbic acid)
vitamin D … 800IU 
(as cholecalciferol)(D3)
vitamin E … 100IU 
(as d-alpha tocopherol succinate)
thiamin … 50mg 
(as thiamin HCl)(B1)
riboflavin … 25mg 
(vitamin B2)
niacin … 75mg 
(as niacin and 67% niacinamide)
vitamin B6 … 12.5mg 
(as pyridoxine HCl)
folate … 800mcg 
(as Metafolin®, L-5-MTHF)
vitamin B12 … 500mcg 
(as methylcobalamin)
biotin … 800mcg
pantothenic acid … 50mg 
(as calcium pantothenate)(B5)
calcium … 300mg 
(as calcium citrate)
iodine … 200mcg 
(as potassium iodide)
magnesium … 150mg 
(as magnesium citrate)
zinc … 15mg 
(as zinc picolinate)
selenium … 200mcg 
(as selenomethionine)
copper … 2mg 
(as copper glycinate)
manganese … 5mg 
(as manganese aspartate)
chromium … 100mcg 
(as chromium polynicotinate)
molybdenum … 100mcg 
(as molybdenum aspartate)
potassium … 99mg 
(as potassium aspartate)
boron … 2mg 
(as boron glycinate)
vanadium … 100mcg 
(as vanadium aspartate)
ascorbyl palmitate … 120mg 
(fat-soluble vitamin C)
riboflavin 5phosphate … 12.5mg 
(activated B2)
pyridoxal 5 phosphate … 12.5mg 
(activated B6)
mixed carotenoids … 425mcg 
(as lutein, lycopene, zeaxanthin)
n-acetyl-l-cysteine … 100mg 
(free-form)
choline bitartrate … 100mg
inositol … 125mg
alpha lipoic acid … 100mg 
(thioctic acid)
MacularSynergy Complex
lutein … 6mg
zeaxanthin … 1mg
CellHealth Polyphenols
quercetin … 50mg
blueberry extract … 100mg
(Vaccinium angustifolium)(fruit)
(standardized to contain 1.5% anthocyanins)1.5 mg.
olive extract … 50mg
(Olea europaea l.)(fruit)
(standardized to provide 1% hydroxytyrosol)
pomegranate extract … 100mg
(Punica granatum l.)(fruit)
(standardized to contain 5% ellagic acid)5 mg.
grape extract … 50mg
(Vitis vinifera)(seed)
(standardized to contain 92% polyphenols)
green tea extract … 100mg
(camellia sinensis)(leaf)
(standardized to contain 65% total tea catechins, 23% epigallocatechin (EGCG))
other ingredients: vegetarian capsule (cellulose, water)
If pregnant or lactating, consult your physician before taking this product. In rare cases, alpha lipoic acid may cause skin rash or hypoglycemia. Individuals who are sensitive may experience heartburn. Rare side effects of NAC may include nausea, vomiting, headache, dry mouth, dizziness, or abdominal pain. Large doses of choline may cause nausea, diarrhea or dizziness.
Polyphenol nutrients contains vitamin E and grape seed extract which may react with blood thinning and other heart medications. Green tea extract may interfere with the absorption and effectiveness of a number of medications including certain heart, blood thinning, antidiarrheal, and cold or hay fever medications. Consult your physician for more information.
FloraGlo lutein is a registered trademark of Kemin Industries, Inc. Zeaxanthin is sourced from OPTISHARP™ brand. OPTISHARP™ is a trademark of DSM Nutritional Products, Inc. Metafolin® is a registered Trademark of Merck KGaA, Darmstadt, Germany.
If you missed the Local education night here is a few things we discussed:
Muscle building with Plant Protein
*How do you support a body on a plant based diet without eating meat?
Earth is the ultimate prism. Every green plant captures a different wavelength of light and energy from the sun. A collection of juices from sea plants, field grasses and garden vegetables will alkalize your body, build up your blood, and cleanse your cells.
What is a Carbohydrate? Fruit, vegetable, starch, grain, pasta
What is a Protein? Animal meat, dairy
What is a Fat? Nut, seed or oil
How Much do we need daily? Age/Gender/Health History
Carbs: Weight loss must be under 50g a day, aim for no more than 30g of carbs at a meal and 8g of sugars within those carbs. Think higher fiber foods.
Protein: 1g per 1kg body weight (think about half your body weight)
Fat: 25-30% daily calories can come from the pure sources of healthy fats.
***Ratios are different for everyone and Should be evaluated by a Certified Health Professional or Holistic Professional based on your health history.***
What are Amino Acids? What do they do?
Assists with the stabilization or recovery of muscle strength, endurance, and volume
Helps keep body tissues firm
Helps minimize body fat
May support a weight loss regimen
Aid in normalizing protein synthesis
If the essential amino acids are not present in the daily diet the body will break down existing proteins in order to supply the body with the missing amino acids.
Essential Amino Acids:
Cannot be produced in our body and thus must be consumed in our diets. The essential amino acids humans cannot synthesize are:
Phenylalanine, valine, threonine, tryptophan, methionine, leucine, isoleucine, lysine, and histidine. (Arginine is mostly required in young children and not as important as adults)
Non-Essential Amino Acids: These can be synthesized by the body.
Proteins drive ALL functions of the various organs of the human body.
Alanine (from pyruvic acid)
Arginine (from glutamic acid)
Asparagine (from aspartic acid)
Aspartic Acid (from oxaloacetic acid)
Cysteine
Glutamic Acid (from oxoglutaric acid)
Glutamine (from glutamic acid)
Glycine (from serine and threonine)
Proline (from glutamic acid)
Serine (from glucose)
Tyrosine (from phenylalanine)
If you fail to obtain even just one out of the essential amino acids, your body's proteins so not complete and the body is forced to steal from bones and elsewhere to create metabolic processes in your body. Also, unlike fats and carbohydrates, your body does not store excess supplies of amino acids for later use – you need a regular supply of them everyday.
Foods with amino acids include animal and vegetable sources. Most of the animal sources such as meat, eggs and milk are considered to be "complete protein sources" meaning that these contain all the essential amino acids that your body needs.
Vegetables are also good amino acid food sources but most of them do not usually contain all essential aminos.
Amino Acid Deficiency and Supplementation
Many people who are sick, fatigued, or trying weight loss programs, vegetarians or Vegans consume insufficient amounts of protein. Thus, supplementation of amino acids has been increasingly necessary. B6 and B12 are the most common of deficiencies when not consuming animal protein.
Non Meat Forms of Amino Acids: Think SEA LIFE!
*How can I combat muscle fatigue or just plain being tired all the time?
More GREEN foods create energy in the body! How do plants grow? They need sun, water, rest, minerals and vitamins, and time.
Antioxidant Rich foods: EAT FROM THE RAINBOW!
RED: Lycopene
YELLOW/ORANGE: Beta Carotene & Beta Crytoxanthin
BLUE/PURPLE: Anthocyanins
GREEN: Chlorophyll
GREEN FOOD BASICS:
*Green foods have a high content of chlorophyll due to porphyrin rings.
* Chlorophyll and heme units of red blood cells are virtually identical except the center molecule
* Chlorophyll-magnesium
* Heme-Iron
* Heme units are the building blocks for red blood cells
* Therefore, all green foods help the body to create new blood.
*How do we use food as medicine so we can fuel the body, heal and repair?
Basic Weight management Strategies and Lifestyle Strategies
1-Adequate ATP
2-Nutrient Density-Organic Foods. **A MUST!!!**
3-Balance-60-80% Alkalizing (pH Balance)
4-Moderation-Limited Refined Sugar
5-Calorie Control=Calorie Restriction
6-Variety= Seasonal Eating VS Emotional Eating
Refer to www.healthywithjodi.com for my Sweet 16 Eating Healthy Guidelines and how to achieve balance.
Definitions and menu DeCoding:
Vegan: A strict vegetarian who consumes no products from an animal, such as meat eggs or dairy products or stains from using animal products such as the leather.
Vegetarian: does not eat or believe in eating meat, fish, Fowl or any food drive from animals such as eggs or cheese. Uses fruits, vegetables, and grains for food sources.
Paleo: consume vegetables, fruits, nuts, lean meats, no grains, no processed foods.
Pescatarians: do not eat any land animals or birds such as beef pork chicken or turkey. Will eat fish and other seafood such as shrimp and clams. They do eat fruits, vegetables, beans, greens and nuts.
Lacto vegetarian: includes vegetables and dairy products such as milk, cheese, yogurt, butter, ghee, cream, Keefer but excludes eggs.
Food Catagories: Do you now what you are eating and how to combine them? (Just a few listed below)
Whole Grain, Gluten
Tamari, Coconut Aminos, Soy Sauce
Flax Seed, Chia Seed, hemp hearts, Tahini
Hummus, lentils, Tofu, beans
Nut Meat, Nut Milk, Quinoa
Micro greens, Sprouts
Spices: parts of the plant other than the leafy bit such as the root, stem, Bulb, bark or seeds ex: cinnamon, cloves, ginger and pepper.
Herbs: come from the leafy and green part of the plant. Ex: Basil, oregano, rosemary, Parsley, mint.
Spices and herbs add MAJOR nutrients to your meals, you can achieve therapeutic ranges when you use ORGANIC spices/herbs daily. Www.superfoodly.com
*What do I pair together to equal complete protein meal?
A nut or seed plus a legume equals a complete Protein.
BASIC PROTEIN NUTRITION INFO:**Even though you are worried about getting enough protein, you need to watch the Carbohydrate content of your meal. **
1/2 cup beans: average 7g protein Black, 7g protein garbanzo (20g carbs) 120 cal
1 small sweet potato: Not a nightshade 2g protein (22g carbs) 95 cal
1/2 cup yam: 2g protein (22g carb) ROOT Vegetable 95 cal
1/2 cup lentils (Legumes): average 9g protein (20g carb) 7g fiber
1/4cup Quinoa equals a cup cooked: 6g protein (29g carbs) 160 cal.
HAS ALL 9 ESSENTIAL AA
1 TBSP or 1/8cup nuts: walnuts: 2g protein (1g carb) 90cal
1 TBSP seeds: flax seeds: 3g protein (7g carb) 60 cal
1/2 cup brown rice: 5g protein (23g carbs) 150 cal
1/2 cup Black Rice: 10 LESS carbs than brown rice
4oz Tofu: 9g protein (3g carbs) 90cal
1/2 cup Soy beans: 14g (9g carbs) 150 cal
1 cup Avocado: balanced Meal!!! 3g protein (11g carbs) 7g fiber 22g fat 250 cal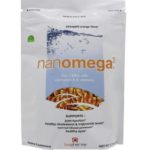 NanOmega3 Pineapple Orange
BioPharma Scientific.
$46.65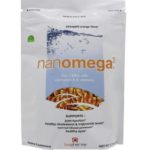 HEALTH PROFESSIONAL FORMULA
1000 IU of Vitamin D
Good Source of Fiber, Pineapple Orange
SuperFood SOLUTION™. NanOmega3™
Heart, Brain & Vision SuperFoodlifesDHA™.
HEALTHY BRAIN, EYES, HEART
SuperSorb® DELIVERY
DIETARY SUPPLEMENT
NET WT. 12.7 OZ (360g)
More Info:
Omega-3s are essential for fatty acids (EFAs) for supporting:
* heart health
* joint health
* healthy skin
* maintenance of normal blood lipids
* healthy brain function
* healthy eyes (retina)
* immune health
* general health and wellness
Truly a breakthrough functional food formula, NanOmega3 provides essential fatty acids (EFAs) from both:
-ALA, alpha-linolenic acid, from specially stabilized, organic MeadowPure™ golden flaxseed and
-DHA oil (lifesDHA™ from Martek) derived from plant marine algae, with
-Synergistic vitamins E, D3, folic acid, B6 and B12.
Supplemental Facts:
SuperSorb® is BioPharma Scientifics registered name for its enhanced delivery systems wherein highly bioavailable forms of micronutrient and microencapsulation are utilized to help maximize nutrient absorption.
In order to ensure correct usage of BioPharmas high potency formulas, BioPharma sells only through licensed healthcare practitioners.
Servings Per Container: 30
SUGGESTED USE:
Mix one [1] scoop (12 g) with 6-8 ounces of cold water, juice or milk to taste. Shake or blend briskly. Enjoy one (1) to two (2) times a day unless otherwise directed by your health professional. Children under 12 take 1/2 serving. NanOmega3 is scientifically formulated to taste great with BioPharmas entire SuperFood Solution™ line. For a wealth of SuperFood Smoothie/Shake recipes, ask your health professional for a copy of The SuperFood Solution™ Users Guide.
Refrigerate after opening.
Benefit:
YES:
*Great tasting, instant mixing
*Made with organic flax
*Vegan & non GMO
*Low net carb
*Low peroxide value (pv)
*Fortified with Vitamins D, E, & B
NO:
*Fishy tastes, smells or toxins
*Fish oil "burps"
*Animal or fish products
*Eggs, dairy, wheat, yeast, soy, gluten
*Artificial flavors, MSG, or glutamate peptides
Serving Size: 12g (1 scoop)
Amount Per Serving
Calories …57
Calories from fat …122
Total Fat …2.5g / 4% DV
Saturated Fat …Total Carbohydrate …7g / 2% DV
Dietary Fiber …2.5g / 10% DV
Sugars …1g
Protein …1g
Vitamin D3 …1000 IU / 250% DV
(cholecalciferol)
Vitamin E …30 IU / 100% DV
(d-alpha tocopherol succinate)
Vitamin B6 …1mg / 50% DV
(as pyridoxal-5-phosphate)
Vitamin B9 …2000mcg / 50% DV
(as folic acid)
Vitamin B12 …85.5mcg / 1, 425% DV
(as cyanocobalamin)
Calcium …21mg / 2% DV
Iron …425mcg / 2% DV
Magnesium …22mg / 5% DV
Sodium …5mg / <1% DV
Potassium …36mg / 1% DV
Total Omega-3 …1100mg #
Omega-3/DHA …100mg #
Omega-3/Linolenic Acid …1000mg #
Omega-6 …300mg #
Lignans …50mg #
Turmeric …70mg #
Stevia Leaf Crystals …70mg #
(stevia rebaudiana)
* Percent Daily Values are based on a 2, 000 calorie diet.
# Daily Value not established.
OTHER INGREDIENTS: Meadow Pure™ Omega-3 Ultra Golden Flax™ with Marteks DHA oil derived from marine algae, Natural Flavors (plant based), Rice Bran Soluble fiber*, Vitafiber™ (isomalto-oligosaccharides from non-GMO corn and/or potato starch), Rice Malto-dexrin*, Xanthan Gum, Natural Curcumin Color (plant based).
*Organic ingredients
IMPORTANT:
Best if stored in cool, dark conditions. After each use close tightly and refrigerate immediately. Contains an oxygen absorbent packet to preserve freshness.
Pregnant and nursing mothers, anyone taking prescription medications, or prior to any surgical procedures, inform their healthcare practitioner and/or pharmacist before taking this or any other dietary supplement.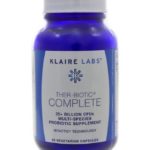 Probiotics in A Nutshell…
The human gut contains 10x more bacteria than all the human cells in the body. 400 known species equaling 100trillion in the intestinal tract.
Probiotics are ESSENTIAL for normal digestive, endocrine, and immunological functions of the bowel. They are therapeutic for treatment of variety of gastrointestinal and systemic disorders. Definitely needed if your gall bladder or spleen has been removed.
Goal is to have an 80 to 20% ratio of good bateria verses harmful bacteria.
In general, 1 billion CFU's (colony forming units) is REQUIRED to deliver to the intestines. You can safely take up to 450 billion for patients with IBS, and even 200 billion following liver transplant.
Do they need to be refrigerated? It is recommended it maximizes freshness. Probiotics that have micro encapsulated with fatty acids are the only exception. Probiotics sold in health stores are often not and have about 30-50% less viable microorganisms that they claim on their label.
Probiotics live in the absence of oxygen. Dark Glass bottles are recommended. Moisture also kills micro organisms, keep in a cool dark place.
Deliver systems are important because we want the absorption to happen in the intestines not the stomach. Stomach acid plays apart in breakdowns and absorption.
The use of antibiotics feeds bacteria growth so it is important to double amounts during infectious times or if you are put on antibiotics or have heavily used them in the past.
It is important to have B complex vitamins, especially B12, folates, and Vitamin K for probiotics absorption.
When do you take them? Everyone is different but generally between meals or bed time is ideal so food or stomach acid isn't interfering with absorption.
Prebiotics are carbohydrates that are indigestible by the human intestine and selectively stimulate the activity and growth of certain bacteria in the COLON. Most are chains of 2-9 sugar molecules (oligosaccharides). They are commonly found in chicory, asparagus, artichoke, onions, leeks, garlic, and human breast milk. If you want to use food as medicine, consume those veggies. They should pass through the small intestine to the colon.
There are different strains of probiotics that are more beneficial to your health issues which is why not guessing is important, research is good, but science based research is what professionals do. Knowing your source and trusting your health care practitioner to make the best recommendations for you. They may cost a little more, but why waste money and time guessing when you don't have to?
Gut health leads to immune health. If you want to power your body, supplementation is necessary.