intestinal flora
now browsing by tag
Turmeric Curcumin 1000mg
Patient One MediNutritionals
60 capsules $21.25
Promotes normal inflammatory response while also supporting joint, immune, gastrointestinal, and cardiovascular function
Promotes immune system function
* Supports brain and joint health
* Promotes healthy liver, gall bladder and digestive function
* Free radical scavenging properties
* Supports cardiovascular function
* Black pepper included for enhanced absorption
Unique Properties
Curcumin, a polyphenol nutrient found in the spice turmeric (Curcuma longa), has beneficial effects for nearly every organ system in the body. Used for its medicinal effects for centuries and extensively studied, Curcumin has been shown to help maintain the bodys normal inflammatory response while also supporting joint, liver, gastrointestinal, and cardiovascular function. To enhance the normally poor bioavailability of curcumin, our potent formula also contains black pepper extract that promotes rapid absorption of nutrients from the gastrointestinal tract.
Key Ingredients
Turmeric (Curcuma longa)
Patient One Turmeric Curcumin combines the benefits of both whole Turmeric root and Turmeric extract (standardized to 95% curcuminoids), along with black pepper extract for enhanced absorption.
Curcumin is the orange pigment in turmeric (the primary ingredient in curry) and has been studied for its effective therapeutic outcomes acting as an antioxidant, anti-inflammatory, antispasmodic, anticoagulant, immuno-modulatory activities and even in wound healing. Research suggests support for joint, eye, GI tract, liver, prostate and nerve health.
Curcumin supports production of B and T cells which is useful for promoting proper immune function. It also supports production of bile and enzymes that digest sugars and fats. This helps to maintain cholesterol levels within normal range. Turmeric supports intestinal flora and the mucus membranes of the body, including those of the digestive tract. As such, it may be beneficial after a course of antibiotics and for those with unbalanced intestinal flora. It also helps protect the stomach against excess acid and is used for its soothing effect on the mucosa of the gut.
Black Pepper Extract (as BioPerine®)
It has been found that the therapeutic effectiveness of curcumin is often limited due to its poor absorption from the GI tract. When taken orally only traces appear in the blood, whereas most of the dose is excreted though the feces. Our formula includes BioPerine®, a patented extract derived from the common black pepper fruit that contains the alkaloid piperine. Black pepper has been shown to enhance the bioavailability and promote absorption of curcumin both in pre-clinical studies and in studies on human volunteers.
Research
* Several studies have illustrated curcumins hepatoprotective effects, leading researchers to suggest its use in protecting the liver from exogenous insults from environmental toxins.
Servings Per Container: 60
Take 1 capsule daily, preferably with a meal, or as directed by a qualified healthcare professional.
Serving Size: 1 capsule
Amount Per Serving
Turmeric Complex Proprietary Blend … 1000mg
Turmeric (Curcuma longa) (root) and Turmeric Extract (Curcuma longa) (root) (Standardized to contain 95% Curcuminoids) 
BioPerine® Black Pepper Extract … 5mg
(Piper nigrum) (fruit) (Standardized to contain 95% piperine)
Other Ingredients: vegetable cellulose (capsule), rice powder, l-leucine
This product is free of milk, egg, fish, peanuts, crustacean shellfish (lobster, crab, shrimp), soybeans, tree nuts, wheat, yeast, gluten, corn, sugar, and artificial sweeteners, flavors, colors and preservatives. This product is free of ingredients derived from genetically modified organisms (GMOs).
BioPerine® is a registered trademark and patented product of Sabinsa Corporation
References
* Shoba G, Joy D, Joseph T, et al. Influence of piperine on the pharmacokinetics of curcumin in animals and human volunteers. Planta Med 1998 May;64(4):353-56. [PMID: 9619120]
* Jagetia GC, Aggarwal BB. "Spicing up" of the immune system by curcumin. J Clin Immunol. 2007 Jan;27(1):19-35. [PMID: 17211725]
* Funk JL, Oyarzo JN, Frye JB, et al. Turmeric extracts containing curcuminoids prevent experimental rheumatoid arthritis. J Nat Prod. 2006 Mar;69(3):351-55. [PMID: 16562833]
* Jurenka JS. Anti-inflammatory properties of curcumin, a major constituent of Curcuma longa: a review of preclinical and clinical research. Altern Med Rev. 2009 Jun;14(2):141-53. [PMID: 19594223]
* Ng T, et al. Am J Epidemiol. 2006;164:898-906.
* Sun AY, Wang Q, Simonyi A, et al. Botanical phenolics and brain health. Neuromolecular Med. 2008;10(4):259-74. [PMID: 19191039]
* Neelofar K, Shreaz S, Rimple B, et al. Curcumin as a promising anticandidal of clinical interest. Can J Microbiol. 2011 Mar;57(3):204-10. [PMID: 21358761]
* Epstein J, Docena G, MacDonald TT, et al. Curcumin suppresses p38 mitogen-activated protein kinase activation, reduces IL-1beta and matrix metalloproteinase-3 and enhances IL-10 in the mucosa of children and adults with inflammatory bowel disease. Br J Nutr. 2010 Mar;103(6):824-32. [PMID: 19878610]
* Ukil A, Maity S, Karmakar S, et al. Curcumin, the major component of food flavour turmeric, reduces mucosal injury in trinitrobenzene sulphonic acid-induced colitis. Br J Pharmacol. 2003 May;139(2):209-18. [PMID: 12770926]
* Holt PR, Katz S, Kirshoff R. Curcumin therapy in inflammatory bowel disease: a pilot study. Dig Dis Sci. 2005 Nov;50(11):2191-93. [PMID:16240238]
* Lal B, Kapoor AK, Asthana OP, et al. Efficacy of curcumin in the management of chronic anterior uveitis. Phytother Res. 1999 Jun;13(4):318-22. [PMID: 10404539]
* Xie L, Li XK, Takahara S. Curcumin has bright prospects for the treatment of multiple sclerosis. Int Immunopharmacol . 2011 Mar;11(3):323-30. [20828641]
* Martins CV, da Silva DL, Neres AT, et al. Curcumin as a promising antifungal of clinical interest. J Antimicrob Chemother. 2009 Feb;63(2):337-39. [PMID: 19038979]
* Mythri RB, Harish G, Dubey SK, et al. Glutamoyl diester of the dietary polyphenol curcumin offers improved protection against peroxynitrite-mediated nitrosative stress and damage of brain mitochondria in vitro: implications for Parkinsons disease. Mol Cell Biochem. 2011 Jan;347(1-2):135-43. [PMID: 20972609]
* Ravindran J, Prasad S, Aggarwal BB. Curcumin and cancer cells: how many ways can curry kill tumor cells selectively? AAPS J . 2009 Sep;11(3):495-510. [PMID: 9619120]
* Goel A, Aggarwal BB. Curcumin, the golden spice from Indian saffron, is a chemosensitizer and radiosensitizer for tumors and chemoprotector and radioprotector for normal organs. Nutr Cancer. 2010 Oct;62(7):919-30. [PMID: 20924967]
* Choi H, Chun YS, Shin YJ, et al. Curcumin attenuates cytochrome P450 induction in response to 2, 3, 7, 8-tetrachlorodibenzo-p-dioxin by ROS- dependently degrading AhR and ARNT. Cancer Sci. 2008 Dec;99(12):2518-24. [PMID: 19018768]
* Zhang, Dong Wei, Chuang Fang Huang, Chang Fu Yang, Ren Zuo Liu, Ji Feng Wang, Jian Zhao Niu, and Dieter Bromme. "Antifibrotic Effects of Curcumin Are Associated with over Expression of Cathespins K and L in Bleomycin Treated Mice and Human Fibroblasts." Respiratory Research. Respiratory Research, 2011.
* Davis, J. Mark. "Curcumin Effects on Inflammation and Performance Recovery following Eccentric Exercise-induced Muscle Damage." Am J Physiol Regul Integr Comp Physiol. American Physiological Society, 2007.
* Karlstetter, Marcus, Elena Lippe, Yana Walczak, Chistoph Moehle, Alexander Aslanidis, Myriam Mirza, and Thomas Langmann. "Curcumin Is a Potent Modulator of Microglial Gene Expression and Migration." Journal of Neuroinflammation. Journal of Neuroinflammation, 2011.
Warnings
If pregnant, nursing, have gall stones or gall bladder disease, consult your healthcare practitioner before taking this product. Individuals taking medication, especially blood thinners or cancer treatment, should discuss potential interactions with their healthcare practitioner. Discontinue use and consult doctor if any adverse reactions occur.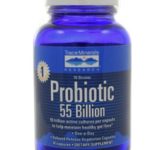 Probiotic 55 Billion
Trace Mineral Research
30 capsules
$38.99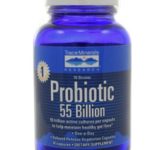 Probiotic 55 Billion is formulated with 10 strains of viable organisms including 11 billion Bifidobacterium CFUs‡ and 44 billion Lactobacillus CFUs‡, the bacteria most dominantly found in the large and small intestines. It's a well known fact that intestinal flora often decreases as we get older. Decreased intestinal flora can cause your digestive system to function incorrectly, allowing important nutrients your body needs to pass through the digestive system without being broken down and absorbed.† Therefore, taking a probiotic like Probiotic 55 Billion daily can help your body maintain a healthy functioning digestive system.*
Servings Per Container: 30
Take 1 capsule daily on an empty stomach. Refrigerate after opening to best preserve bacteria potency.
Serving Size: 1 capsule
Amount Per Serving
Probiotic … 55 Billion CFUs‡ 
Proprietary Blend … 307mg
Lactobacillus acidophilus, Bifidobacterium bifidum, Lactobacillus rhamnosus, Bifidobacterium breve, Bifidobacterium longum, Lactobacillus casei, Lactobacillus plantarum, Bifidobacterium lactis, Lactobacillus bulgaricus, Lactobacillus salivarius.
Fructooligosaccharide … 33mg
Other Ingredients: Stearic acid, hypromellose.
‡Colony Forming Units (CFUs).
Allergen Info: contains traces of milk & soy; contains <10 ppm gluten.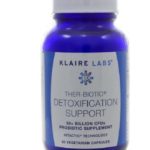 Ther-Biotic Detox Support
Klair Labs
60 capsules
$53.95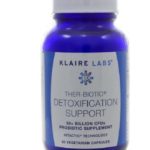 High-potency, 50+ billion CFUs.
Ther-Biotic Detoxification Support delivers large amounts of specific 
probiotics to the intestinal tract to complement detoxification protocols such 
as broad-spectrum antibiotics, anti-fungal/anti-microbial medications, or heavy 
metal chelating agents that can compromise friendly flora. Toxins and metabolic 
by-products generated during use of these agents can exacerbate intestinal 
dysbiosis and disturb the healthy balance of intestinal flora.
Ther-Biotic Detoxification Support provides two colonizing Lactobacillus and 
one endogenous Bifidobacterium probiotic species that can support the body's 
natural detoxification process by metabolizing or reducing the uptake of toxins 
in the gut thereby facilitating the elimination of toxins and by-products from 
the intestinal tract. Formulated with 50+ billion CFUs per capsule, Ther- 
Biotic Detoxification Support uses our proprietary InTactic technology to 
ensure maximum delivery of live microorganisms throughout the intestinal tract. 
Once a healthy balance of intestinal flora is achieved, use of Ther-Biotic 
Complete or Vital-10 is recommended for daily maintenance. This product is 
often suitable for individuals adhering to the Specific Carbohydrate Diet (SCD) 
program.*
FUNCTIONS OF PROBIOTIC STRAINS IN THER-BIOTIC DETOXIFICATION SUPPORT
Lactobacilllus rhamnosus
• Favorably enhances innate and acquired immunity
• Modulates immune tolerance and inhibits production of the proinflammatory 
cytokines
• Outstanding adherence to colon epithelial cell lines
• Suppresses the internalization of pathogenic Escherichia coli
Bifidobacterium bifidum
• Colonizes the large intestine and vaginal tract controlling yeast populations
• Competes with pathogens for nutrients and attachment sites
• Produces acetic & lactic acids, lowering colonic pH and inhibiting pathogens
• Suppresses total & antigen-specific IgE production
• Promotes IgA response to C. difficile toxin A
Lactobacillus casei
• Makes a number of proline-specific peptidases enabling efficient break down 
of casein, casein-derived polypeptides, and gluten
• Beneficially modulates cells associated with innate immune responses
• Enhances the number of IgA-producing cells
• Decreases the secretion of proinflammatory cytokines
Servings Per Container: 60
As a dietary supplement, take one (1) capsule daily or as directed by a physician.
Serving Size: 1 Capsule
Amount Per Serving
Probiotic Blend … 285mg
Lactobacillus rhamnosus … 20+ billion CFUs
Lactobacillus casei … 20+ billion CFUs
Bifidobacterium bifidum … 10+ billion CFUs
Other Ingredients: Vegetarian capsule (hydroxypropyl methylcellulose, water), 
InTactic proprietary polysaccharide complex, and L-leucine.
*Contains InTactic polysaccharide complex that may not be suitable for strict
adherence with SCD protocols.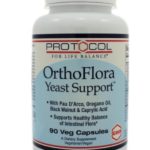 OrthoFlora Yeast Support
Protocol for Life Balance
90 Capsules $22.00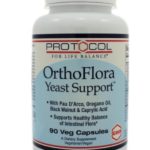 With Pau D'Arco, Oregano Oil, Black Walnut & Caprylic Acid
-Supports Healthy Balance of Intestinal Flora*
-A Dietary Supplement
-Vegetarian / Vegan
OrthoFlora Yeast Support™ is a unique formula with nutritional and traditional herbal ingredients that may help to support a healthy balance of intestinal flora.* Candida albicans is a naturally occurring yeast that typically resides in the gut as part of the normal gut flora. It is well known that a proper composition of intestinal organisms is critical to healthy digestive and immune system function, as well as for the support of proper detoxification processes.* Although OrthoFlora Yeast Support™ is not meant to clear Candida albicans from the gut, it can help to support a healthy balance of intestinal flora, a healthy immune system, proper detoxification, and overall digestive well-being.
Servings Per Container: 45
As a dietary supplement, take 2 capsules twice daily with food or as directed by your healthcare practitioner.
Serving Size: 2 Veg Capsules
Amount Per Serving
Calories … 10 
Calories from Fat … 5 
Total Fat … 0.5g
Saturated Fat … 0.5g
Trans Fat … 0g 
Total Carbohydrate … 1g
Biotin … 2mg (2, 000 mcg)
Magnesium … 45mg
(from Magnesium Caprylate)
Caprylic Acid … 500mg 
(from Magnesium Caprylate)
Pau D … 300mg
Black Walnut … 300mg 
(Juglans nigra L.)(Hull)
Oregano Oil Powder … 200mg 
(Origanum vulgare)(min. 1.75% Volatiles)
Other Ingredients: Cellulose (capsule), Garlic (bulb), Olive Leaf, Cat's Claw Root, Wormwood Herb, Silica, Magnesium Stearate (vegetable source) and Cellulose Powder.
Contains tree nut (walnut hulls).
Not manufactured with wheat, gluten, soy, milk, egg, fish or shellfish ingredients.
Produced in a GMP facility that processes other ingredients containing these allergens.
CAUTIONS AND INTERACTIONS: Ingredients in this product may interact with hormonal medications such as insulin. If you are taking medications or if you are pregnant/nursing, consult your healthcare practitioner prior to use. May cause mild transient gastrointestinal discomfort.