oxidative stress
now browsing by tag
GI Guard PM
Protocol for life balance
60 capsules $32.00
Maintains Healthy Mucosal Integrity
-With PepZin GI®, Melatonin, L-Tryptophan & B Vitamins
-Nighttime GI Support*
-A Dietary Supplement
-Vegetarian/Vegan
GI Guard™ PM is a nutritional formula with PepZin GI®, Melatonin, amino acids, and B Vitamins designed to help maintain the strength and integrity of the gastrointestinal mucosal barrier.* GI Guard™ PM features PepZin GI®, which has been shown in clinical studies to promote a healthy stomach lining and to support proper gut repair processes.* Melatonin, a potent free radical scavenger, is known to exist at high levels in the gut, where it exerts its protective effects against oxidative stress throughout the gastrointestinal tract.* Melatonin also helps support healthy gastric pH levels, normal pepsin production in the stomach, and helps to regulate proper intestinal motility.* B Vitamins and Amino Acids, such as L-Tryptophan are necessary for Melatonin synthesis.
Servings Per Container: 30
As a dietary supplement, take 1-2 capsules 30 to 60 minutes before bedtime, or take as directed by your healthcare practitioner.
Serving Size: 2 Veg Capsules
Amount Per Serving
Vitamin B-6 … 25mg 
(from Pyridoxine HCl)
Vitamin B-12 … 50mcg 
(as Cyanocobalamin)
Folic Acid … 800mcg
Zinc … 14mg 
(from PepZin GI®)
PepZin GI® … 75mg 
(Zinc-L-Carnosine Complex)
L-Carnosine … 57mg 
(from PepZin GI®)
Melatonin … 6mg
L-Tryptophan … 200mg
L-Methionine … 100mg
Trimethylglycine … 100mg 
(TMG)
Taurine … 100mg
Other Ingredients: Cellulose Powder, Cellulose (capsule), Silica and Magnesium Stearate (vegetable source).
Not manufactured with wheat, gluten, soy, milk, egg, fish, shellfish or tree nut ingredients. Produced in a GMP facility that processes other ingredients containing these allergens. CAUTIONS/INTERACTIONS: Do not drive or use machinery for 4 to 5 hours after taking melatonin. Theoretically, concomitant use of melatonin with alcohol, benzodiazepines, or other sedative drugs might cause additive sedation. Melatonin may interact with anticoagulant/anti-platelet medications, antidepressants, anti-hypertensives, anti-diabetes drugs, anti-neoplastic agents and other drugs. If you are taking any prescription medications or if you have glaucoma, consult your healthcare practitioner before using this product.
Selenium Health Benefits and the Best sources
Do you have an under active Thyroid? Are you getting the vitamins and minerals needed to support the process?  Here is some info on why Selenium is important to the process.  Soaking your nuts and seeds for best absorption will help your already stressed out body.
Antioxidant Protection
Selenium is required for the proper activity of a group of enzymes called glutathione peroxidases. (sometimes abbreviated "GPO" or "GPx" for a glutathione peroxidase enzyme.) These enzymes play a key role in the body's detoxification system and they also provide protection against oxidative stress. (Oxidative stress is physiological circumstance in which there is excessive risk of oxygen-related damage to the body.) Of the eight known glutathione peroxidase enzymes, five of them require selenium.
In addition to the activity of glutathione peroxidase, selenium-containing enzymes are involved in recycling of vitamin C from its spent form back to its active one, allowing for greater antioxidant protection.
Support Normal Thyroid Function
A selenium-containing enzyme is responsible for transforming a less active thyroid hormone called T4 into the more active T3. As you'll see below in the Relationship with Other Nutrients section, selenium and iodine work together to keep thyroid function strong and consistent.
Like the antioxidant protection issue, this is not just an esoteric concern. Researchers have been able to induce problems with the thyroid gland in just two months of a low-selenium diet.
Probably, if you've read about food sources of selenium, you've read about Brazil nuts as a strong source of the mineral. Depending on where they are grown, this is likely to be true—one ounce of Brazil nuts may contain as much as 10 times the Dietary Reference Intake (DRI) recommendation for selenium intake.
Other exceptionally selenium-rich foods include oysters, clams, liver, and kidney. Each of these foods is likely to contain double to triple the DRI in a serving.
Fish and shellfish make up an outsized proportion of our excellent and very good sources. After these come other animal meats, many of which fall in the very good category. Close behind are whole grains and seeds, both of which are well-represented in our good selenium sources category.
http://whfoods.org/genpage.php?tname=newtip&dbid=144&utm_source=daily_click&utm_medium=email&utm_campaign=daily_email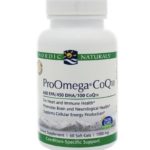 ProOmega-CoQ10 1000mg
Nordic Naturals
60 softgels $38.95
120 softgels $69.95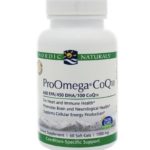 -Double-strength EPA+DHA for more omega-3s in fewer soft gels plus 100mg 
ubiquinone-form CoQ10
-Synergistic heart support
-Promotes brain and neurological health
ProOmega CoQ10 provides the same powerful EPA+DHA formula as our ProOmega, with 
the added heart health benefits of CoQ10. This formula helps supply the heart 
with the ATP it needs, and protects heart tissue from oxidative stress and 
damage.
Servings Per Container: 30
Two soft gels daily, with food, or as directed by your health care professional or pharmacist.
Serving Size: 2 soft gels
Amount Per Serving: 
Calories …20
Calories from Fat …18
Total Fat …2.0g
Saturated Fat …0.1g
Trans Fat …0g
Coenzyme Q10 …100mg
Total Omega-3s …1280mg
EPA …650mg
(Eicosapentaenoic Acid)
DHA …450mg
(Docosahexaenoic Acid) 
Other Omega-3s …180mg
Ingredients: purified deep sea fish oil (from anchovies and sardines), soft gel 
capsule (gelatin, glycerin, purified water, caramel color, natural lemon flavor), coenzyme Q10, beeswax, d-alpha tocopherol, rosemary extract (a natural 
preservative)
No gluten, milk derivatives, or artificial colors or flavors. Non-GMO.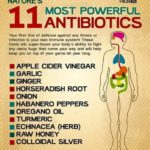 Are you tired of getting sick?  Antioxidants could be the answer…
Antioxidants have been around since the beginning of time. We often hear about them on commercials, or talk shows. Most people don't realize that the food that we eat or don't eat will make the difference in our overall health. The benefits of antioxidants can be found in plant based diets, fruits and vegetables, nuts, and antioxidant vitamins.  Many antioxidant rich foods are called super foods.  This article is a great way to understand what foods will arm your body with the defenses that it needs to fight off sickness and infection. We will dive into the health benefits of the top 10 antioxidant rich foods. You should definitely add these to your diet.
| | |
| --- | --- |
| Keywords: | Description: |
| antioxidants |  A substance that reduces damage due to oxygen, such as that caused by free radicals. Well-known antioxidants include enzymes and other substances, such as vitamin C, vitamin E, and beta carotene, which are capable of counteracting the damaging effects of oxidation. Antioxidants are also commonly added to food products such as vegetable oils and prepared foods to prevent or delay their deterioration from the action of air. Antioxidants may possibly reduce the risks of cancer. Antioxidants clearly slow the progression of age-related macular degeneration. |
| oxidative stress |  reflects an imbalance between the systemic manifestation of reactive oxygen species and a biological system's ability to readily detoxify the reactive intermediates or to repair the resulting damage. Disturbances in the normal redox state of cells can cause toxic effects through the production of peroxides and free radicals that damage all components of the cell, including proteins, lipids, and DNA. |
| free radical formation |  Free radicals are atoms or groups of atoms with an odd (unpaired) number of electrons and can be formed when oxygen interacts with certain molecules. Once formed these highly reactive radicals can start a chain reaction, like dominoes. Their chief danger comes from the damage they can do when they react with important cellular components such as DNA, or the cell membrane. Cells may function poorly or die if this occurs. To prevent free radical damage the body has a defense system of antioxidants. |
| oxygen radical absorbance capacity | ORAC stands for Oxygen Radical Absorbance Capacity. It's a lab test that attempts to quantify the "total antioxidant capacity" (TAC) of a food by placing a sample of the food in a test tube, along with certain molecules that generate free radical activity and certain other molecules that are vulnerable to oxidation . After a while, they measure how well the sample protected the vulnerable molecules from oxidation by the free radicals. The less free radical damage there is, the higher the antioxidant capacity of the test substance. There are actually a handful of different tests designed to measure total antioxidant capacity in this way, but the ORAC is probably the best known and most popular |
| inflammation | Inflammation and Antioxidants, |
Apple Cider Vinegar

lowers cholesterol
boost energy
reduces cramping and lactic acid
helps bad breath
controls blood sugar
supports heart health
whitens teeth

Garlic
boost immune system function/fights infection
aids in cancer prevention
fights inflammation
promotes total body detoxification
Ginger
acts as an antidote for nausea
reduces inflammation – arthritis – headaches
stimulates circulation
inhibits rhinovirus – a cause of the common cold
fights salmonella
reduces gas and intestinal pain

Horseradish Root
fights cancer
detoxifies the liver
relieves sinus pressure
treats urinary tract infections
reduces bloating
aids in muscle soreness
Onion
decrease risk of obesity, diabetes, and heart disease
promotes healthy hair and complexion
great source of vitamin C
reduce risk of colorectal and other intestinal cancers
improve mood and help with depression

Habanero Peppers
reduce risk of diabetes and obesity
great cancer fighter
reduces cholesterol and heart disease
lowers inflammation
Oregano Oil
treats foot or nail fungus
kills parasites or infection
minimizes sinus infection and cold symptoms
great for cleaning when mixed with lemon and vinegar

Tumeric
helps with chronic inflammation
reduces symptoms of Rheumatoid arthritis
improves mood and aids in depression
lowers blood glucose levels
inhibits cancer cell growth
has anti-aging properties
Echinacea (herb)
reduces acid reflux
decreases migrane symptoms
aid in genital herpes outbreaks
helps cure strep throat
reduces urinary tract infections
cures yeast infections

Raw Honey
cancer fighting properties
aids in nausea and upset stomach
natural cough suppressant
assists in blood sugar regulation
heals ulcers
good cholesterol regulator
It is not hard to see the benefits of these powerful antioxidants.  If you work them into your diet your will surely see and feel the difference.  In addition to these awesome foods, a green drink will work wonders for your overall health and well being.  If you enjoyed this article, then I assume that you like to know what is in your food and why it is good for you.  This book is the best book I have ever found for understanding the 'whys' about food.  If you have any questions about fitness or nutrition, email Jodi at jodi@healthywithjodi.com .