gall bladder
now browsing by tag
Turmeric Curcumin 1000mg
Patient One MediNutritionals
60 capsules $21.25
Promotes normal inflammatory response while also supporting joint, immune, gastrointestinal, and cardiovascular function
Promotes immune system function
* Supports brain and joint health
* Promotes healthy liver, gall bladder and digestive function
* Free radical scavenging properties
* Supports cardiovascular function
* Black pepper included for enhanced absorption
Unique Properties
Curcumin, a polyphenol nutrient found in the spice turmeric (Curcuma longa), has beneficial effects for nearly every organ system in the body. Used for its medicinal effects for centuries and extensively studied, Curcumin has been shown to help maintain the bodys normal inflammatory response while also supporting joint, liver, gastrointestinal, and cardiovascular function. To enhance the normally poor bioavailability of curcumin, our potent formula also contains black pepper extract that promotes rapid absorption of nutrients from the gastrointestinal tract.
Key Ingredients
Turmeric (Curcuma longa)
Patient One Turmeric Curcumin combines the benefits of both whole Turmeric root and Turmeric extract (standardized to 95% curcuminoids), along with black pepper extract for enhanced absorption.
Curcumin is the orange pigment in turmeric (the primary ingredient in curry) and has been studied for its effective therapeutic outcomes acting as an antioxidant, anti-inflammatory, antispasmodic, anticoagulant, immuno-modulatory activities and even in wound healing. Research suggests support for joint, eye, GI tract, liver, prostate and nerve health.
Curcumin supports production of B and T cells which is useful for promoting proper immune function. It also supports production of bile and enzymes that digest sugars and fats. This helps to maintain cholesterol levels within normal range. Turmeric supports intestinal flora and the mucus membranes of the body, including those of the digestive tract. As such, it may be beneficial after a course of antibiotics and for those with unbalanced intestinal flora. It also helps protect the stomach against excess acid and is used for its soothing effect on the mucosa of the gut.
Black Pepper Extract (as BioPerine®)
It has been found that the therapeutic effectiveness of curcumin is often limited due to its poor absorption from the GI tract. When taken orally only traces appear in the blood, whereas most of the dose is excreted though the feces. Our formula includes BioPerine®, a patented extract derived from the common black pepper fruit that contains the alkaloid piperine. Black pepper has been shown to enhance the bioavailability and promote absorption of curcumin both in pre-clinical studies and in studies on human volunteers.
Research
* Several studies have illustrated curcumins hepatoprotective effects, leading researchers to suggest its use in protecting the liver from exogenous insults from environmental toxins.
Servings Per Container: 60
Take 1 capsule daily, preferably with a meal, or as directed by a qualified healthcare professional.
Serving Size: 1 capsule
Amount Per Serving
Turmeric Complex Proprietary Blend … 1000mg
Turmeric (Curcuma longa) (root) and Turmeric Extract (Curcuma longa) (root) (Standardized to contain 95% Curcuminoids) 
BioPerine® Black Pepper Extract … 5mg
(Piper nigrum) (fruit) (Standardized to contain 95% piperine)
Other Ingredients: vegetable cellulose (capsule), rice powder, l-leucine
This product is free of milk, egg, fish, peanuts, crustacean shellfish (lobster, crab, shrimp), soybeans, tree nuts, wheat, yeast, gluten, corn, sugar, and artificial sweeteners, flavors, colors and preservatives. This product is free of ingredients derived from genetically modified organisms (GMOs).
BioPerine® is a registered trademark and patented product of Sabinsa Corporation
References
* Shoba G, Joy D, Joseph T, et al. Influence of piperine on the pharmacokinetics of curcumin in animals and human volunteers. Planta Med 1998 May;64(4):353-56. [PMID: 9619120]
* Jagetia GC, Aggarwal BB. "Spicing up" of the immune system by curcumin. J Clin Immunol. 2007 Jan;27(1):19-35. [PMID: 17211725]
* Funk JL, Oyarzo JN, Frye JB, et al. Turmeric extracts containing curcuminoids prevent experimental rheumatoid arthritis. J Nat Prod. 2006 Mar;69(3):351-55. [PMID: 16562833]
* Jurenka JS. Anti-inflammatory properties of curcumin, a major constituent of Curcuma longa: a review of preclinical and clinical research. Altern Med Rev. 2009 Jun;14(2):141-53. [PMID: 19594223]
* Ng T, et al. Am J Epidemiol. 2006;164:898-906.
* Sun AY, Wang Q, Simonyi A, et al. Botanical phenolics and brain health. Neuromolecular Med. 2008;10(4):259-74. [PMID: 19191039]
* Neelofar K, Shreaz S, Rimple B, et al. Curcumin as a promising anticandidal of clinical interest. Can J Microbiol. 2011 Mar;57(3):204-10. [PMID: 21358761]
* Epstein J, Docena G, MacDonald TT, et al. Curcumin suppresses p38 mitogen-activated protein kinase activation, reduces IL-1beta and matrix metalloproteinase-3 and enhances IL-10 in the mucosa of children and adults with inflammatory bowel disease. Br J Nutr. 2010 Mar;103(6):824-32. [PMID: 19878610]
* Ukil A, Maity S, Karmakar S, et al. Curcumin, the major component of food flavour turmeric, reduces mucosal injury in trinitrobenzene sulphonic acid-induced colitis. Br J Pharmacol. 2003 May;139(2):209-18. [PMID: 12770926]
* Holt PR, Katz S, Kirshoff R. Curcumin therapy in inflammatory bowel disease: a pilot study. Dig Dis Sci. 2005 Nov;50(11):2191-93. [PMID:16240238]
* Lal B, Kapoor AK, Asthana OP, et al. Efficacy of curcumin in the management of chronic anterior uveitis. Phytother Res. 1999 Jun;13(4):318-22. [PMID: 10404539]
* Xie L, Li XK, Takahara S. Curcumin has bright prospects for the treatment of multiple sclerosis. Int Immunopharmacol . 2011 Mar;11(3):323-30. [20828641]
* Martins CV, da Silva DL, Neres AT, et al. Curcumin as a promising antifungal of clinical interest. J Antimicrob Chemother. 2009 Feb;63(2):337-39. [PMID: 19038979]
* Mythri RB, Harish G, Dubey SK, et al. Glutamoyl diester of the dietary polyphenol curcumin offers improved protection against peroxynitrite-mediated nitrosative stress and damage of brain mitochondria in vitro: implications for Parkinsons disease. Mol Cell Biochem. 2011 Jan;347(1-2):135-43. [PMID: 20972609]
* Ravindran J, Prasad S, Aggarwal BB. Curcumin and cancer cells: how many ways can curry kill tumor cells selectively? AAPS J . 2009 Sep;11(3):495-510. [PMID: 9619120]
* Goel A, Aggarwal BB. Curcumin, the golden spice from Indian saffron, is a chemosensitizer and radiosensitizer for tumors and chemoprotector and radioprotector for normal organs. Nutr Cancer. 2010 Oct;62(7):919-30. [PMID: 20924967]
* Choi H, Chun YS, Shin YJ, et al. Curcumin attenuates cytochrome P450 induction in response to 2, 3, 7, 8-tetrachlorodibenzo-p-dioxin by ROS- dependently degrading AhR and ARNT. Cancer Sci. 2008 Dec;99(12):2518-24. [PMID: 19018768]
* Zhang, Dong Wei, Chuang Fang Huang, Chang Fu Yang, Ren Zuo Liu, Ji Feng Wang, Jian Zhao Niu, and Dieter Bromme. "Antifibrotic Effects of Curcumin Are Associated with over Expression of Cathespins K and L in Bleomycin Treated Mice and Human Fibroblasts." Respiratory Research. Respiratory Research, 2011.
* Davis, J. Mark. "Curcumin Effects on Inflammation and Performance Recovery following Eccentric Exercise-induced Muscle Damage." Am J Physiol Regul Integr Comp Physiol. American Physiological Society, 2007.
* Karlstetter, Marcus, Elena Lippe, Yana Walczak, Chistoph Moehle, Alexander Aslanidis, Myriam Mirza, and Thomas Langmann. "Curcumin Is a Potent Modulator of Microglial Gene Expression and Migration." Journal of Neuroinflammation. Journal of Neuroinflammation, 2011.
Warnings
If pregnant, nursing, have gall stones or gall bladder disease, consult your healthcare practitioner before taking this product. Individuals taking medication, especially blood thinners or cancer treatment, should discuss potential interactions with their healthcare practitioner. Discontinue use and consult doctor if any adverse reactions occur.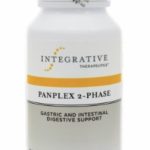 Digestive Enzymes
Panplex-2 Phase   Integrative Therapeutics
60 count $15.20     180 count $43.40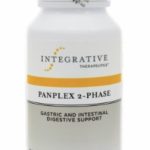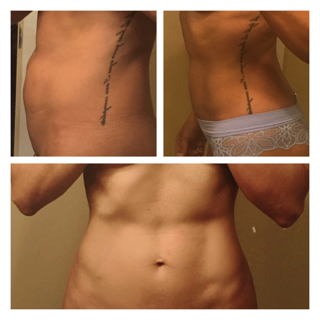 Are you functioning without a Gall Bladder?  Have you had it removed or any other parts missing due to surgery? Yes, you can live without them, but it hinders your health.  Each organ has a specific roll, and we MUST supplement to help our bodies do what it should naturally.  Especially as we age, we lose 50% HCL every decade, then lose the ability to make more the next decade of our lives.  This is one reason why it's harder to loss weight as we get older.  Our body simply can't do it without help.  This is a picture of a current client who started taking digestive enzymes and in a few short days she began to process the food she was eating.  No more "food babies" as I have heard it referred to as, the bloat and pain become so much less.
Panplex 2-Phase is a dual-action formula that provides support for both the gastric and intestinal phases of digestion.† This dual-phase supplement provides support for more complete digestion in both the stomach and intestinal tract. Panplex 2-Phase combines pancreatic enzymes with hydrochloric acid and pepsin for healthy digestion support.† Phase I gastric support includes hydrochloric acid and pepsin.† Phase II intestinal support includes pancreatin and bile salts in a delayed-release matrix designed to protect against deactivation of enzymes by stomach acids.
Servings Per Container: 90
Take 1 or 2 tablets three times daily with meals, or as recommended by your healthcare professional.
Do not chew. Not recommended for use if peptic ulcer, gastritis or heartburn is present.
Serving Size: 2 Tablets
Amount Per Serving
PHASE I
Betaine HCl … 320mg
Pepsin … 220mg 
(Concentrate)
L-Glutamic Acid HCl … 200mg
PHASE II
Pancreatin USP … 168mg    
(6X Concentrate)
Amylase (25, 200 USP units)
Protease (25, 200 USP units)
Lipase (2, 016 USP units)
Ox Bile Extract … 130mg
Other Ingredients: dicalcium phosphate, modified cellulose, stearic acid, calcium carbonate, cellulose, cottonseed oil, magnesium stearate, and silicon dioxide.
This Product Does Not Contain
-artificial coloring
-artificial flavoring
-corn
-dairy products
-gluten
-preservatives
-salt
-soy
-sugar
-yeast-wheat
-this product contains natural ingredients; color variations are normal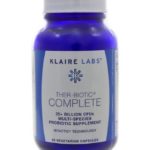 Probiotics in A Nutshell…
The human gut contains 10x more bacteria than all the human cells in the body. 400 known species equaling 100trillion in the intestinal tract.
Probiotics are ESSENTIAL for normal digestive, endocrine, and immunological functions of the bowel. They are therapeutic for treatment of variety of gastrointestinal and systemic disorders. Definitely needed if your gall bladder or spleen has been removed.
Goal is to have an 80 to 20% ratio of good bateria verses harmful bacteria.
In general, 1 billion CFU's (colony forming units) is REQUIRED to deliver to the intestines. You can safely take up to 450 billion for patients with IBS, and even 200 billion following liver transplant.
Do they need to be refrigerated? It is recommended it maximizes freshness. Probiotics that have micro encapsulated with fatty acids are the only exception. Probiotics sold in health stores are often not and have about 30-50% less viable microorganisms that they claim on their label.
Probiotics live in the absence of oxygen. Dark Glass bottles are recommended. Moisture also kills micro organisms, keep in a cool dark place.
Deliver systems are important because we want the absorption to happen in the intestines not the stomach. Stomach acid plays apart in breakdowns and absorption.
The use of antibiotics feeds bacteria growth so it is important to double amounts during infectious times or if you are put on antibiotics or have heavily used them in the past.
It is important to have B complex vitamins, especially B12, folates, and Vitamin K for probiotics absorption.
When do you take them? Everyone is different but generally between meals or bed time is ideal so food or stomach acid isn't interfering with absorption.
Prebiotics are carbohydrates that are indigestible by the human intestine and selectively stimulate the activity and growth of certain bacteria in the COLON. Most are chains of 2-9 sugar molecules (oligosaccharides). They are commonly found in chicory, asparagus, artichoke, onions, leeks, garlic, and human breast milk. If you want to use food as medicine, consume those veggies. They should pass through the small intestine to the colon.
There are different strains of probiotics that are more beneficial to your health issues which is why not guessing is important, research is good, but science based research is what professionals do. Knowing your source and trusting your health care practitioner to make the best recommendations for you. They may cost a little more, but why waste money and time guessing when you don't have to?
Gut health leads to immune health. If you want to power your body, supplementation is necessary.