Cellulase
now browsing by tag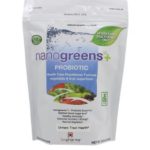 NanoGreens Plus Probiotic
BioPharma Scientific
300grams $54.95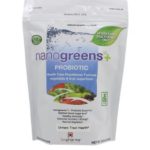 What makes nanogreens + probiotics different?
*Green powder mixed with DE111 Probiotic
*UTI Health Support
*Pouch Form -> Nitrogen Flushed
*5 Billion CFU dose after 2+ years
*DE111 Probiotic does not require special storage conditions like many other probiotics.
*Oral administration of Bacillus Subtilis DE111 helps digest and convert sugars and fats, and helps maintain glucose, cholesterol and triglyceride levels in the blood.
Vegan
Vegetarian
Gluten Free
All Natural
Non-GMO
Probiotic
Kid Friendly
How To Enjoy: Mix one scoop of nanogreens + probiotic with 6-8 oz of cold water, milk or juice. For best results, use shaker cup. Children under 12 should take 1/2 serving.  Refrigerate after opening.
Servings Per Container: 30
Serving Size: 10g (1 scoop)
Amount Per Serving
Calories … 45
Calories from Fat … 10
Total Fat … 1g
Total Carbohydrate … 7g
Dietary Fiber … 2g
Sugar … 2g
Protein … 2g
Vitamin A … 2500IU
(as Beta Carotene)
Vitamin C … 30mg
Sodium … 20mg
Potassium … 130mg
DE111®
Bacillus subtilis … 5 billion CFU
Greens Blend … 2250mg
(Proprietary)
Organic Barley Grass Juice, Spiruline, Chlorella
Phytonutrient Blend … 360mg
(Proprietary)
Green Tea Extract, Silybin (from Milk Thistle), Grape Seed Extract, Blueberry, Cranberry, Raspberry, Tart Cherry, Pine Bark Extract, Organic Broccoli, Tomato, Organic Carrot, Organic Spinach, Organic Kale, Bilberry, Elderberry, Pomegranate, Blackberry
Quercetin/Rutin … 100mg
50/50
Organic Rice Bran Soluble … 2081mg
Raspberry Extract … 50mg
(20% Ellagic Acid)
Organic Aloe Vera Powder Extract … 30mg
(100:1 freeze dried)
Fruit & Vegetable Blend … 930mg
(Proprietary) (freeze-dried, low temperature dried)
Organic Apple, Organic Carrot, Organic Mango, Organic Lemon, Organic Sweet Potato, Organic Peach, Organic Parsley, Organic Kale, Organic Broccoli, Organic Spinach, Organic Leek, Organic Cabbage, Beet, Organic Cranberry (Quinic Acid 6%)
Organic Acerola Cherry Powder … 175mg
(17.5% AscorbiC Acid)
Green Tea Extract, White Tea Extract … 100mg
(decaffeinated 50% Polyphenol)
Polygonum Cuspidatum Extract … 70mg
(15% Resveratrol)
Oat Beta Glucan … 1500mg
Cinnamon Blend … 50mg
(Proprietary)
cinnamon Extract 8%, Organic Cinnamon Bark Powder
Milk Thistle … 50mg
(20% Silymarin)
Marigold Extract … 50mg
(5% Lutein with Zeaxanthin)
Dunaliella Salina Extract … 100mg
(Natural Carotenoids)
Enzymes … 40mg
(Plant-based)
Alpha Amylase, Bromelain, Cellulase, Galactosidase, Glucoamylase, Hemicellulase, Lipase, Papain, Protease
Lecithin … 1000mg
(non GMO)
Lycopene Extract-10% … 25mg
(from tomato)
Organic Lemon Peel Powder … 25mg
Organic Quinoa Sprout … 90mg
Artichoke Extract … 20mg
(5% Cynarin)
Organic Atlantic Kelp Powder … 20mg
(laminaria Digitata, 0.4% Iodine)
Stevia Leaf Crystals … 200mg
(Stevia Rebaudiana)
Other Ingredients: Natural Flavors (Plant Based), Citric Acid, Soy Phospholipds.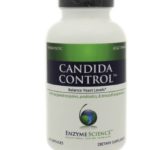 Candida Control
Enzyme Science
$34.50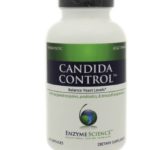 Candida Control™ includes two enzymes for maintaining normal yeast production.* The enzyme cellulase breaks down the cell wall of candida, while protease removes the toxins expelled during cell death.* This combination may ease discomforts common to cleansing (die-off).* Broccoli Seed extract, as well as beneficial microflora (probiotics), work together to support healthy detoxification.* Enzyme Sciences exclusive Thera-blend™ enzymes are effective throughout the entire digestive system, thereby ensuring complete digestion.* When formulated for therapeutic purposes, Thera-blend enzymes are customized for optimal performance throughout the entire body.
Servings Per Container: 42
Take 2 capsules three times per day on an empty stomach (1/2 hour before or 2 hours after a meal). More may be taken as directed by your healthcare practitioner.*
Serving Size: 2 capsules
Amount Per Serving
Cellulase Thera-blend™ … 70, 000CU
Protease Thera-Blend™ … 230, 000HUT
Broccoli Seed Extract … 40mg
Probiotic Blend … 1 Billion CFU
Bacillus subtilis, l.rhamnosus, l.casei, L.acidophilus, L.plantarum, L.bulgaricus, L.salivarius, L.paracasei
Other Ingredients: 100% vegetarian capsule (cellulose, water)
Contains NO: Dairy, egg, preservatives, salt, sucrose, soy, wheat, yeast, nuts, corn, gluten, casein, potato, rice, artificial colors or flavors
Contraindications: Candida Control should not be taken with any timed released medications that use cellulose as its time-release mechanism. Keep closed in dry place; avoid excessive heat.