TBSP onion
now browsing by tag
Artichoke Green Chili Hummus
Vegan, Paleo, GF
Happily serves 4
ALL ORGANIC INGREDIENTS
2 Cups Butter Beans
1/2-1 Cup Artichoke (with about 1/4 cup juice)
1-2 TBSP Hemp Seed oil
1/2 Cup Hatch Green chili
1 TBSP Sea Salt
1 TBSP Garlic, Fresh or dried
1 TBSP Onion Flakes
1 TBSP Coconut Aminos
1 TBSP Lime juice
Optional: Red Pepper Flakes, mixed in or sprinkled on top
MIx all Ingredients in food processor until smooth.
1/2 cup serving size served with Veggies.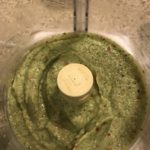 Zucchini Hummus
GF, Vegan, Sugar free
Happily serves 6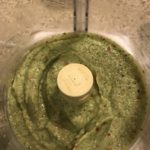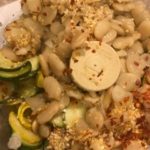 All organic ingredients
3 cups Butter beans, drained and rinsed
2 cups yellow and/or green squash
1 Tbsp olive oil or avocado oil
2 garlic cloves, or 1/2 Tbsp minced garlic
1/2 TBSP onion flakes
Himalayan sea salt to taste
Red pepper flakes (optional) or Cheyenne pepper
Cut garlic and let sit 5-10 minutes.
Steam sliced zucchini about 3-5 minutes.
Combine all ingredients in food processor and blend well.
1/2-3/4 cup is a perfect serving size, dip celery or cucumbers for perfect well combined meal.