adrenal glands
now browsing by tag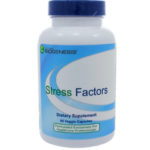 Need Help unwinding?  Having trouble sleeping?  Too Stressed Out?  Digestion issues due to anxiety?  This is a great formula to help support the adrenal glands and help your liver regulate hormones.
Contact me if you'd like to stop guessing at your local health food store and start supporting your body with nutraceuticals.
Stress Factors
Nutra BioGenesis
60 Capsules $34.39
Stress Factors is a blend of nutrients and amino acids intended to provide nutritional support for a healthy parasympathetic response.
Servings Per Container: 60
Use only as directed. Take 1 capsule up to six times per day or as directed by your healthcare practitioner.
Serving Size: 1 capsule
Amount Per Serving:
Vitamin B6 … 4.5mg
(from pyridoxal-5-phosphate)
L-theanine … 100mg
Hops … 185mg
(strobile)(Humulus lupulus)
Passion flower … 85mg
(Passiflora incarnata) (aerial extract) (20:1)
Inositol … 50mg
GABA … 25mg
(gamma-aminobutyric acid)
5-HTP … 12.5mg
(from Griffonia simplicifolia) (seed extract)
Lithium orotate complex … 5mg
(9% lithium)
Other Ingredients: Vegetable cellulose capsule, cellulose, rice bran extract
Stressed? Pretty typical these days, so why not support the adrenal glands?  Instead of reaching for another cup of coffee, educate yourself on how to feel better naturally, the way the body intended.  There are several formulations out there, I can help you find the right herb/vitamin combination that stimulates your glands to help control cortisol levels. Here are a few of my favorites….
Herbs for Anxiety
Not looking to use Conventional Drugs to help ease Anxiety?  Try some of these herbs.
Licorice Root contains a natural hormone alternative to cortisone, which can help the body handle stressful situations, and can help to normalize blood sugar levels as well as your adrenal glands, providing you with the energy necessary to deal with the stressful situation at hand. Some claim licorice stimulates cranial and cerebrospinal fluid, thereby calming the mind.As a soothing tonic, drink it warm as in a tea.
Kava Kava, an herb from the South Pacific, is a powerful muscle relaxer and analgesic. Kava Kava is also effective at treating depression and anxiety associated with menopause. http://www.care2.com/greenliving/5-herbs-that-reduce-stress-and-anxiety.html#ixzz3zjWfhIxL
Valerian
Some herbal supplements reduce anxiety without making you sleepy (such as L-theanine), while others are sedatives. Valerian (Valeriana officinalis) is squarely in the second category. It is a sleep aid, for insomnia. It contains sedative compounds; the German government has approved it as a treatment for sleep problems.
Valerian smells kind of nasty, so most people take it as a capsule or tincture, rather than a tea. If you want to try it, take it in the evening—not before you go to work! Valerian is often combined with other sedative herbs such as hops, chamomile, and lemon balm.
Hops
Yes, it's in beer, but you won't get the tranquilizing benefits of the bitter herb hops (Humulus lupulus)from a brew. The sedative compound in hops is a volatile oil, so you get it in extracts and tinctures—and as aromatherapy in hops pillows.
"It's very bitter, so you don't see it in tea much, unless combined with chamomile or mint," says Blumenthal. Hops is often used as a sedative, to promote sleep, often with another herb, valerian. Note: Don't take sedative herbs if you are taking a prescription tranquilizer or sedative, and let your doctor know any supplements you are taking.
Chamomile
If you have a jittery moment, a cuppa chamomile tea might help calm you down. Some compounds in chamomile (Matricaria recutita) bind to the same brain receptors as drugs like Valium.
You can also take it as a supplement, typically standardized to contain 1.2% apigenin (an active ingredient), along with dried chamomile flowers. In one study at the University of Pennsylvania Medical Center, in Philadelphia, patients with generalized anxiety disorder (GAD) who took chamomile supplements for eight weeks had a significant decrease in anxiety symptoms compared to patients taking placebo.
Passion Flower
The University of Maryland Medical Center states that passionflower has shown in a few studies to work as well as some of the benzodiazepine medications that are usually prescribed for treating anxiety.
A four-week double-blind study, for example, compared passionflower with oxazepam. Results showed oxazepam worked more quickly, but by the end of the study period, both treatments were shown to be equally effective. Bonus—side effects like daytime drowsiness were fewer with passionflower.
A second study also showed that passionflower helped ease symptoms like anxiety, irritability, agitation, and depression in participants going through withdrawal from an opiate drug addiction.
Dosage: Try one cup of passionflower tea three times daily, 45 drops of liquid extract daily, or about 90 mg/day.
Lavendar
A 2010 multi-center, a double-blind randomized study of lavender oil compared to anti-anxiety medication lorazepam found that both were effective against generalized and persistent anxiety. Bonus — lavender had no sedative side effects.
"Since lavender oil showed no sedative effects," researchers stated, it could be an effective and "well-tolerated alternative to benzodiazepines" to treat generalized anxiety. An earlier 2000 study found similar results.
Dosage: Try about 80 mg/day of the supplement, or use the oil as an aromatherapy solution.
Lemon Balm
Though usually found in combination with other herbs, lemon balm also has anti-anxiety powers on its own.
Research published in 2004, for instance, gave participants a single dose of lemon balm extract (300 mg or 600 mg) or a placebo, then measured their mood after one hour. The higher dose resulted in reduced stress and improved calmness and alertness. Even the lower dose helped participants do math problems more quickly.
Dosage: Use in aromatherapy, try 300-500 mg of dried lemon balm three times daily, 60 drops daily, or 1/4 to 1 teaspoon of dried lemon balm herb in hot water for a tea four times daily.
Ashwagandha
A 2012 double-blind, placebo-controlled study gave participants either placebo or a capsule containing 300 mg of high-concentration full-spectrum ashwagandha extract, twice a day. The study lasted for 60 days. Those taking the ashwagandha showed significant improvements. Even the levels of the stress hormone cortisol were substantially reduced in those taking the extract. And there were no serious side effects.
In an earlier 2000 study, ashwagandha had anxiety-relieving effects similar to those of lorazepam.
Dosage: Typical dosage is 300 mg standardized to at least one to five percent withanolides, once or twice a day.
L-Theanine
This one isn't really a herb — it's a water-soluble amino acid,  but it's gotten such good research behind it, we had to include it here. It's found mainly in green tea and black tea and is also available as a supplement.
Studies have found that it acts directly on the brain, helping to reduce stress and anxiety—without causing drowsiness.
Research from 2008, for example, found that those participants taking 50 mg of L-theanine a day had a greater increase in alpha (relaxed brain waves) activity than those who took a placebo.
An earlier 1998 study found that 200 mg a day leads to increased alpha brain waves and a relaxed, yet alert, a state of mind.
A later 2011 study found that it was also associated with reduced anxiety, and was well tolerated and safe for participants.
Dosage: A typical cup of black tea contains only about 25 mg of l-theanine and green tea only about 8 mg. While a cup of tea may be calming, if you want more potent effects, try a supplement, about 200 mg a day.