Rutabaga Parsnip Soup
Vegan, Gluten Free
Happily serves 4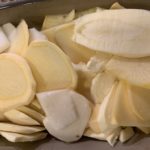 ALL ORGANIC INGREDIENTS
1 Cup Yellow Squash
2 Garlic Cloves
1 Cup Rutabaga
1 Cup Parsnip
1 Cup Turnip
1 Yellow onion
1 Can (14oz) Coconut Cream
1 Cup Vegetable or Bone broth
½ tsp Nutmeg
1 tsp Thyme
1 tsp Sea salt
½ tsp Black or White pepper
Cut garlic and let sit 5-10 mins.
Cube/dice squash, parsnip, turnip and rutabaga.
Spray with coconut oil and airfry 10-15 minutes or until desired texture.
Sauté onion and garlic until soft and caramelized.
Shake the coconut cream before opening, then add the coconut cream and broth.
Remove roasted veggies from airfryer and blend all of the above in a food processor or vitamix until smooth.