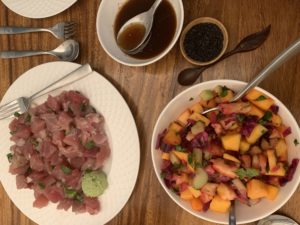 Vegan, Gluten Free
Happily Serves 12 (2 TBSP serving size)
ALL ORGANIC INGREDIENTS
1/3 cup Ketchup (link below for Jodi's homemade ketchup)
1/3 cup Brown Coconut Sugar or Monk Fruit
1/4 Cup Coconut Aminos
1/4 Cup Pineapple Juice
2 TBSP Avocado Oil
4 Garlic Cloves
1 tsp Fresh Ginger or powder
1 tsp Coconut Vinegar
2 TBSP Chili Garlic Sauce
Grate garlic or chop to a very fine mince, set aside.
Peel fresh ginger then grate. You can use powder as well.
Place all ingredients into a pan and stir well.
Bring to a boil, stir constantly until thickened and reduced, about 5 minutes.
Can be used as a marinade or brushed on while grilling or baking.
RECIPE research credit:
© Michele Hall