Gluten Free, Vegan
Happily serves 6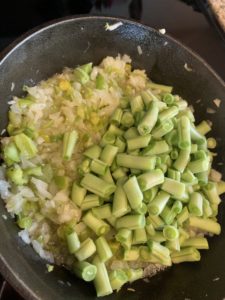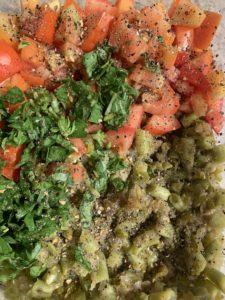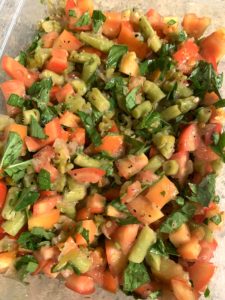 ALL ORGANIC INGREDIENTS
2 Cups Green Beans
2 Cups Cauliflower Rice
1/2-1 Yellow onion
4 Small Peppers
3 oz Lemon Juice
3 oz Avocado Oil
4 Heirloom Tomatoes (or roma)
Handful Basil
2 Garlic Cloves
1/4 tsp Black pepper
3/4 tsp Sea Salt
Cut garlic, let rest at least 5 mins.
Cook the cauliflower rice in the convection oven for 8 mins.
Trim green beans and chop into bite size pieces.
Chop onion and peppers.
Add oil, onion, peppers to cast iron skillet, saute until translucent. Add chopped garlic (fresh is best)
Add green beans. Cook over low to medium heat no longer than 7 minutes. You want them still slightly crunchy, not soft.
Add all ingredients together.
Chop basil and mix in and garnish if desire