Cheesy Zucchini Egg Cups
Gluten Free, Paleo
Happily Serves 2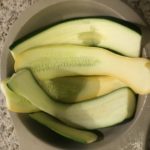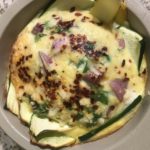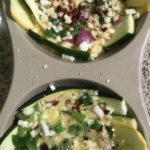 ALL ORGANIC INGREDIENTS
1 Yellow Squash
1 Zucchini
4 Eggs
1/4 Cup Green Onions
1/4 Red Onions
1 Garlic clove
Himalayan Sea Salt
Cracked Black Pepper
1/2 Cup Vegan Cheese
Optional: Red Pepper Flakes
Press garlic clove, let sit 5 minutes.
Chop onions and Cilantro.
Slice zucchini/squash in desired thickness.
Spray Stoneware pan with coconut or avocado oil.
Line cups with zucchini, sprinkle with sea salt.
Mix eggs & veggies and pour into cups.
Optional to top with red pepper flakes and cheese.
Bake at 400 for 25-30 minutes.