Spicy Korean BBQ Zucchini Chick Pea Pasta
Vegan, Gluten Free, Grain Free
Happily serves 2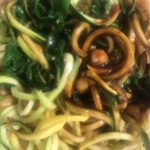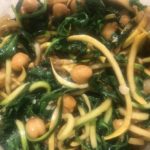 ALL ORGANIC INGREDIENTS
1 Zucchini
1 Yellow Squash
1 Cup Garbanzo Beans (chick peas) or sub your favorite bean
1 Handful Arugula
2-4 TBSP Korean BBQ Sauce
1 TBSP Avocado Oil
Sea Salt to taste
Spiralize squash and zucchini
Rinse Beans well
Quick steam Arugula in one TBSP Avocado oil in a cast iron skillet. Add minced garlic and minced onion if desired. Remove from heat when it turns bright green.
Add all ingredients together and toss well.
Serve hot or cold. If you don't do raw veggies well, Quick steam the zucchini 1-3 minutes in the skillet as well.