maintenance
now browsing by tag
HPA Axis: Daytime Maintenance
Gaia Herbs/Professional Solutions
60 capsules $30
120 capsules $50
Promotes a health response to stress*
Maintaining a healthy stress response is necessary for overall health and wellbeing. Supporting the systems that aid the body in reacting and normalizing as stress occurs is critical in maintaining a healthy response to stress. Adrenal Health Daily Support provides nourishment to the adrenals, with a unique combination of pure and potent extracts.
Servings Per Container: 60 Serving Size: 2 Capsules
Adults take 2 capsules 2 times daily after meals or as directed by your health care provider.
Amount Per Serving:
Calories … 10
Siberian Rhodiola root extract+ … 120mg
(Rhodiola rosea)(6mg Rosavins)
Holy Basil leaf Supercritical extract+ … 90mg
(Ocimum sanctum)(3.86mg total Eugenols)
Proprietary Extract Blend … 520mg
Wild Oats milky seed fresh** (Avena sativa), Holy Basil leaf** (Ocimum sanctum), Schisandra berry+ (Schisandra chinensis), Ashwagandha root+ (Withania somnifera)
Other Ingredients: Vegetable glycerin, water, capsule (vegetable cellulose) and olive oil
** = Certified Organic Ingredient
+ = Ecologically Harvested
Not recommended during pregnancy or nursing without consulting your health care provider prior to use. Rhodiola should not be taken by individuals with bipolar disorder.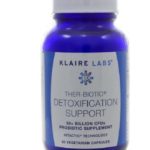 Ther-Biotic Detox Support
Klair Labs
60 capsules
$53.95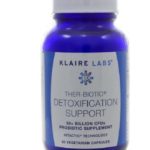 High-potency, 50+ billion CFUs.
Ther-Biotic Detoxification Support delivers large amounts of specific 
probiotics to the intestinal tract to complement detoxification protocols such 
as broad-spectrum antibiotics, anti-fungal/anti-microbial medications, or heavy 
metal chelating agents that can compromise friendly flora. Toxins and metabolic 
by-products generated during use of these agents can exacerbate intestinal 
dysbiosis and disturb the healthy balance of intestinal flora.
Ther-Biotic Detoxification Support provides two colonizing Lactobacillus and 
one endogenous Bifidobacterium probiotic species that can support the body's 
natural detoxification process by metabolizing or reducing the uptake of toxins 
in the gut thereby facilitating the elimination of toxins and by-products from 
the intestinal tract. Formulated with 50+ billion CFUs per capsule, Ther- 
Biotic Detoxification Support uses our proprietary InTactic technology to 
ensure maximum delivery of live microorganisms throughout the intestinal tract. 
Once a healthy balance of intestinal flora is achieved, use of Ther-Biotic 
Complete or Vital-10 is recommended for daily maintenance. This product is 
often suitable for individuals adhering to the Specific Carbohydrate Diet (SCD) 
program.*
FUNCTIONS OF PROBIOTIC STRAINS IN THER-BIOTIC DETOXIFICATION SUPPORT
Lactobacilllus rhamnosus
• Favorably enhances innate and acquired immunity
• Modulates immune tolerance and inhibits production of the proinflammatory 
cytokines
• Outstanding adherence to colon epithelial cell lines
• Suppresses the internalization of pathogenic Escherichia coli
Bifidobacterium bifidum
• Colonizes the large intestine and vaginal tract controlling yeast populations
• Competes with pathogens for nutrients and attachment sites
• Produces acetic & lactic acids, lowering colonic pH and inhibiting pathogens
• Suppresses total & antigen-specific IgE production
• Promotes IgA response to C. difficile toxin A
Lactobacillus casei
• Makes a number of proline-specific peptidases enabling efficient break down 
of casein, casein-derived polypeptides, and gluten
• Beneficially modulates cells associated with innate immune responses
• Enhances the number of IgA-producing cells
• Decreases the secretion of proinflammatory cytokines
Servings Per Container: 60
As a dietary supplement, take one (1) capsule daily or as directed by a physician.
Serving Size: 1 Capsule
Amount Per Serving
Probiotic Blend … 285mg
Lactobacillus rhamnosus … 20+ billion CFUs
Lactobacillus casei … 20+ billion CFUs
Bifidobacterium bifidum … 10+ billion CFUs
Other Ingredients: Vegetarian capsule (hydroxypropyl methylcellulose, water), 
InTactic proprietary polysaccharide complex, and L-leucine.
*Contains InTactic polysaccharide complex that may not be suitable for strict
adherence with SCD protocols.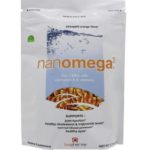 NanOmega3 Pineapple Orange
BioPharma Scientific.
$46.65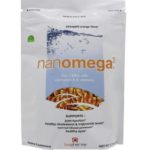 HEALTH PROFESSIONAL FORMULA
1000 IU of Vitamin D
Good Source of Fiber, Pineapple Orange
SuperFood SOLUTION™. NanOmega3™
Heart, Brain & Vision SuperFoodlifesDHA™.
HEALTHY BRAIN, EYES, HEART
SuperSorb® DELIVERY
DIETARY SUPPLEMENT
NET WT. 12.7 OZ (360g)
More Info:
Omega-3s are essential for fatty acids (EFAs) for supporting:
* heart health
* joint health
* healthy skin
* maintenance of normal blood lipids
* healthy brain function
* healthy eyes (retina)
* immune health
* general health and wellness
Truly a breakthrough functional food formula, NanOmega3 provides essential fatty acids (EFAs) from both:
-ALA, alpha-linolenic acid, from specially stabilized, organic MeadowPure™ golden flaxseed and
-DHA oil (lifesDHA™ from Martek) derived from plant marine algae, with
-Synergistic vitamins E, D3, folic acid, B6 and B12.
Supplemental Facts:
SuperSorb® is BioPharma Scientifics registered name for its enhanced delivery systems wherein highly bioavailable forms of micronutrient and microencapsulation are utilized to help maximize nutrient absorption.
In order to ensure correct usage of BioPharmas high potency formulas, BioPharma sells only through licensed healthcare practitioners.
Servings Per Container: 30
SUGGESTED USE:
Mix one [1] scoop (12 g) with 6-8 ounces of cold water, juice or milk to taste. Shake or blend briskly. Enjoy one (1) to two (2) times a day unless otherwise directed by your health professional. Children under 12 take 1/2 serving. NanOmega3 is scientifically formulated to taste great with BioPharmas entire SuperFood Solution™ line. For a wealth of SuperFood Smoothie/Shake recipes, ask your health professional for a copy of The SuperFood Solution™ Users Guide.
Refrigerate after opening.
Benefit:
YES:
*Great tasting, instant mixing
*Made with organic flax
*Vegan & non GMO
*Low net carb
*Low peroxide value (pv)
*Fortified with Vitamins D, E, & B
NO:
*Fishy tastes, smells or toxins
*Fish oil "burps"
*Animal or fish products
*Eggs, dairy, wheat, yeast, soy, gluten
*Artificial flavors, MSG, or glutamate peptides
Serving Size: 12g (1 scoop)
Amount Per Serving
Calories …57
Calories from fat …122
Total Fat …2.5g / 4% DV
Saturated Fat …Total Carbohydrate …7g / 2% DV
Dietary Fiber …2.5g / 10% DV
Sugars …1g
Protein …1g
Vitamin D3 …1000 IU / 250% DV
(cholecalciferol)
Vitamin E …30 IU / 100% DV
(d-alpha tocopherol succinate)
Vitamin B6 …1mg / 50% DV
(as pyridoxal-5-phosphate)
Vitamin B9 …2000mcg / 50% DV
(as folic acid)
Vitamin B12 …85.5mcg / 1, 425% DV
(as cyanocobalamin)
Calcium …21mg / 2% DV
Iron …425mcg / 2% DV
Magnesium …22mg / 5% DV
Sodium …5mg / <1% DV
Potassium …36mg / 1% DV
Total Omega-3 …1100mg #
Omega-3/DHA …100mg #
Omega-3/Linolenic Acid …1000mg #
Omega-6 …300mg #
Lignans …50mg #
Turmeric …70mg #
Stevia Leaf Crystals …70mg #
(stevia rebaudiana)
* Percent Daily Values are based on a 2, 000 calorie diet.
# Daily Value not established.
OTHER INGREDIENTS: Meadow Pure™ Omega-3 Ultra Golden Flax™ with Marteks DHA oil derived from marine algae, Natural Flavors (plant based), Rice Bran Soluble fiber*, Vitafiber™ (isomalto-oligosaccharides from non-GMO corn and/or potato starch), Rice Malto-dexrin*, Xanthan Gum, Natural Curcumin Color (plant based).
*Organic ingredients
IMPORTANT:
Best if stored in cool, dark conditions. After each use close tightly and refrigerate immediately. Contains an oxygen absorbent packet to preserve freshness.
Pregnant and nursing mothers, anyone taking prescription medications, or prior to any surgical procedures, inform their healthcare practitioner and/or pharmacist before taking this or any other dietary supplement.