intestinal tract
now browsing by tag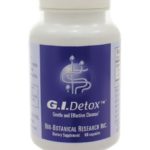 G.I. Detox (With Pyrophyllite Clay)
Bio-Botanical Research
60 capsules $31.50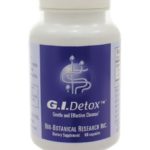 Removal of debris and toxins from the intestinal tract is an important part of any comprehensive cleansing program. G.I. Detox™ contains both pyrophyllite healing clay and activated charcoal for a simple and well tolerated cleansing regime.
-Removes Debris, Toxins and Accumulated Waste 
-Excellent Support when used with the Bioclear® Program
-Assists in "Mop Up" Phase of Biofilm Treatment
General Cleansing for Adults: For twice monthly use: 1 – 2 capsules with a large glass of water 3 times daily taken between meals, for 3 days. During use of G.I. Detox eat a diet high in leafy greens and low in refined carbohydrates. A minimum of 64 ounces of water a day should be taken. Take 1 – 2 hours apart from other supplements or medications. When using G.I. Detox™ during a course of Biocidin® or Olivirex®, resume these at a lower dosage and gradually increase to the recommended levels again as the effects will be more powerful after the colon is cleansed.
Servings Per Container: 60
Serving Size: 1 capsule
Amount Per Serving
Proprietary Herbal Blend … 750mg
Pyrophyllite Clay 562mg
Activated Charcoal 188mg
Other Ingredients: Cellulose and water
Contains no allergens such as dairy, wheat, gluten, sugar, soy, preservatives, animal products, artificial flavorings or colorings.
For "mop-up" of die off reactions take 1 – 2 capsules of  GI Detox™ 1 hour apart from Biocidin®, Olivirex® or other medications. Discontinue use should adverse reactions occur. Not intended for use during pregnancy.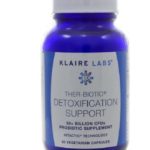 Ther-Biotic Detox Support
Klair Labs
60 capsules
$53.95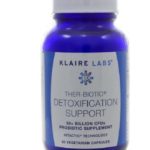 High-potency, 50+ billion CFUs.
Ther-Biotic Detoxification Support delivers large amounts of specific 
probiotics to the intestinal tract to complement detoxification protocols such 
as broad-spectrum antibiotics, anti-fungal/anti-microbial medications, or heavy 
metal chelating agents that can compromise friendly flora. Toxins and metabolic 
by-products generated during use of these agents can exacerbate intestinal 
dysbiosis and disturb the healthy balance of intestinal flora.
Ther-Biotic Detoxification Support provides two colonizing Lactobacillus and 
one endogenous Bifidobacterium probiotic species that can support the body's 
natural detoxification process by metabolizing or reducing the uptake of toxins 
in the gut thereby facilitating the elimination of toxins and by-products from 
the intestinal tract. Formulated with 50+ billion CFUs per capsule, Ther- 
Biotic Detoxification Support uses our proprietary InTactic technology to 
ensure maximum delivery of live microorganisms throughout the intestinal tract. 
Once a healthy balance of intestinal flora is achieved, use of Ther-Biotic 
Complete or Vital-10 is recommended for daily maintenance. This product is 
often suitable for individuals adhering to the Specific Carbohydrate Diet (SCD) 
program.*
FUNCTIONS OF PROBIOTIC STRAINS IN THER-BIOTIC DETOXIFICATION SUPPORT
Lactobacilllus rhamnosus
• Favorably enhances innate and acquired immunity
• Modulates immune tolerance and inhibits production of the proinflammatory 
cytokines
• Outstanding adherence to colon epithelial cell lines
• Suppresses the internalization of pathogenic Escherichia coli
Bifidobacterium bifidum
• Colonizes the large intestine and vaginal tract controlling yeast populations
• Competes with pathogens for nutrients and attachment sites
• Produces acetic & lactic acids, lowering colonic pH and inhibiting pathogens
• Suppresses total & antigen-specific IgE production
• Promotes IgA response to C. difficile toxin A
Lactobacillus casei
• Makes a number of proline-specific peptidases enabling efficient break down 
of casein, casein-derived polypeptides, and gluten
• Beneficially modulates cells associated with innate immune responses
• Enhances the number of IgA-producing cells
• Decreases the secretion of proinflammatory cytokines
Servings Per Container: 60
As a dietary supplement, take one (1) capsule daily or as directed by a physician.
Serving Size: 1 Capsule
Amount Per Serving
Probiotic Blend … 285mg
Lactobacillus rhamnosus … 20+ billion CFUs
Lactobacillus casei … 20+ billion CFUs
Bifidobacterium bifidum … 10+ billion CFUs
Other Ingredients: Vegetarian capsule (hydroxypropyl methylcellulose, water), 
InTactic proprietary polysaccharide complex, and L-leucine.
*Contains InTactic polysaccharide complex that may not be suitable for strict
adherence with SCD protocols.
Which Probiotic is best for you? Here is one of my favorites, but remember everyone is different…
There are several blends and strains depending on your individual ailments.  Let me help you choose the right one to help rebalance your gut flora…remember you need to be an 80% to 20% ratio to make your gut happy and healthy.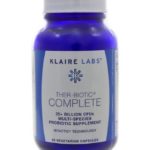 Ther-Biotic Complete
Klair Labs
60 capsules $42.90
120 capsules $79.95
This high-potency, hypoallergenic blend of 12 certified probiotic species offers the most complete spectrum of microorganisms in the Klaire line. Ther-Biotic® Complete is a unique combination of colonizing and transient strains providing broad coverage to support a healthy balance of microflora across the entire gastrointestinal tract. Scientifically formulated with a full spectrum of synergistic and complementary species, Ther-Biotic® Complete is designed for individuals who require significantly higher amounts of several different types of probiotic species to help support intestinal health. Formulated with 25+ billion CFUs per capsule, Ther-Biotic® Complete uses our proprietary InTactic® technology to ensure maximum delivery of live microorganisms throughout the intestinal tract.
FUNCTIONS OF PROBIOTIC STRAINS IN THER-BIOTIC® COMPLETE
• Produce lactic acid, hydrogen peroxide, and other compounds naturally antagonistic to pathogenic bacteria, yeast and viruses
• Interfere with binding of pathogens to the intestinal mucosa
• Compete with pathogenic organisms for nutrients
• Produce short-chain fatty acids (acetate, propionate, and butyrate) that nourish the colon
• Support innate and acquired immune defense mechanisms
• Reduce production of proinflammatory cytokines
• Improve immunological gut barrier function
• Synthesize vitamin K and B vitamins
• Produce lactase enzyme that helps digest the milk sugar lactose
• Support activity of detoxifying enzymes and removal of ammonia and phenol 
• Produce analogs of the DPP-IV enzyme that break down opioid peptides
Servings Per Container: 60
As a dietary supplement take one capsule daily or as directed by a healthcare practitioner.
Serving Size: 1 Capsule
Amount Per Serving
Probiotic Blend … 280mg
(25+ billion CFUs) in a base of inulin (derived from chicory root)
Lactobacillus rhamnosus 6.0+ billion CFUs
Bifidobacterium bifidum 5.0+ billion CFUs
Lactobacillus acidophilus 3.0+ billion CFUs
Lactobacillus casei 2.5+ billion CFUs
Lactobacillus plantarum 2.0+ billion CFUs
Lactobacillus salivarius 2.0+ billion CFUs
Bifidobacterium longum 1.0+ billion CFUs
Streptococcus thermophilus 1.0+ billion CFUs
Lactobacillus bulgaricus 1.0+ billion CFUs
Lactobacillus paracasei 0.5+ billion CFUs
Bifidobacterium lactis 0.5+ billion CFUs
Bifidobacterium breve 0.5+ billion CFUs
Other Ingredients: Vegetarian capsule (hydroxypropyl methylcellulose, water), InTactic® proprietary polysaccharide complex, and L-leucine.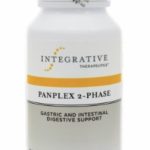 Digestive Enzymes
Panplex-2 Phase   Integrative Therapeutics
60 count $15.20     180 count $43.40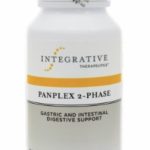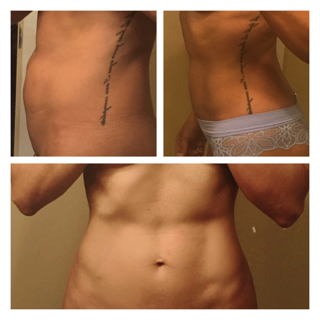 Are you functioning without a Gall Bladder?  Have you had it removed or any other parts missing due to surgery? Yes, you can live without them, but it hinders your health.  Each organ has a specific roll, and we MUST supplement to help our bodies do what it should naturally.  Especially as we age, we lose 50% HCL every decade, then lose the ability to make more the next decade of our lives.  This is one reason why it's harder to loss weight as we get older.  Our body simply can't do it without help.  This is a picture of a current client who started taking digestive enzymes and in a few short days she began to process the food she was eating.  No more "food babies" as I have heard it referred to as, the bloat and pain become so much less.
Panplex 2-Phase is a dual-action formula that provides support for both the gastric and intestinal phases of digestion.† This dual-phase supplement provides support for more complete digestion in both the stomach and intestinal tract. Panplex 2-Phase combines pancreatic enzymes with hydrochloric acid and pepsin for healthy digestion support.† Phase I gastric support includes hydrochloric acid and pepsin.† Phase II intestinal support includes pancreatin and bile salts in a delayed-release matrix designed to protect against deactivation of enzymes by stomach acids.
Servings Per Container: 90
Take 1 or 2 tablets three times daily with meals, or as recommended by your healthcare professional.
Do not chew. Not recommended for use if peptic ulcer, gastritis or heartburn is present.
Serving Size: 2 Tablets
Amount Per Serving
PHASE I
Betaine HCl … 320mg
Pepsin … 220mg 
(Concentrate)
L-Glutamic Acid HCl … 200mg
PHASE II
Pancreatin USP … 168mg    
(6X Concentrate)
Amylase (25, 200 USP units)
Protease (25, 200 USP units)
Lipase (2, 016 USP units)
Ox Bile Extract … 130mg
Other Ingredients: dicalcium phosphate, modified cellulose, stearic acid, calcium carbonate, cellulose, cottonseed oil, magnesium stearate, and silicon dioxide.
This Product Does Not Contain
-artificial coloring
-artificial flavoring
-corn
-dairy products
-gluten
-preservatives
-salt
-soy
-sugar
-yeast-wheat
-this product contains natural ingredients; color variations are normal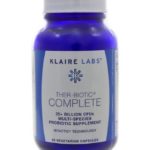 Probiotics in A Nutshell…
The human gut contains 10x more bacteria than all the human cells in the body. 400 known species equaling 100trillion in the intestinal tract.
Probiotics are ESSENTIAL for normal digestive, endocrine, and immunological functions of the bowel. They are therapeutic for treatment of variety of gastrointestinal and systemic disorders. Definitely needed if your gall bladder or spleen has been removed.
Goal is to have an 80 to 20% ratio of good bateria verses harmful bacteria.
In general, 1 billion CFU's (colony forming units) is REQUIRED to deliver to the intestines. You can safely take up to 450 billion for patients with IBS, and even 200 billion following liver transplant.
Do they need to be refrigerated? It is recommended it maximizes freshness. Probiotics that have micro encapsulated with fatty acids are the only exception. Probiotics sold in health stores are often not and have about 30-50% less viable microorganisms that they claim on their label.
Probiotics live in the absence of oxygen. Dark Glass bottles are recommended. Moisture also kills micro organisms, keep in a cool dark place.
Deliver systems are important because we want the absorption to happen in the intestines not the stomach. Stomach acid plays apart in breakdowns and absorption.
The use of antibiotics feeds bacteria growth so it is important to double amounts during infectious times or if you are put on antibiotics or have heavily used them in the past.
It is important to have B complex vitamins, especially B12, folates, and Vitamin K for probiotics absorption.
When do you take them? Everyone is different but generally between meals or bed time is ideal so food or stomach acid isn't interfering with absorption.
Prebiotics are carbohydrates that are indigestible by the human intestine and selectively stimulate the activity and growth of certain bacteria in the COLON. Most are chains of 2-9 sugar molecules (oligosaccharides). They are commonly found in chicory, asparagus, artichoke, onions, leeks, garlic, and human breast milk. If you want to use food as medicine, consume those veggies. They should pass through the small intestine to the colon.
There are different strains of probiotics that are more beneficial to your health issues which is why not guessing is important, research is good, but science based research is what professionals do. Knowing your source and trusting your health care practitioner to make the best recommendations for you. They may cost a little more, but why waste money and time guessing when you don't have to?
Gut health leads to immune health. If you want to power your body, supplementation is necessary.