Vegan, Gluten Free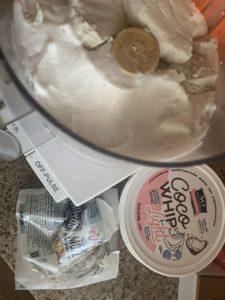 Happily serves 12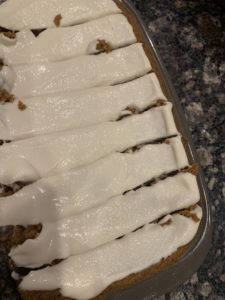 ALL ORGANIC INGREDIENTS
1 Cup Grated Carrots
3/4 Cup Coconut Brown sugar
1/3 Cup Monk Fruit
1/2 Cup Sunflower Oil
1/2 Cup Coconut Milk
2 tsp Apple Cider Vinegar
1 tsp Vanilla Extract
2 tsp Lemon Juice
1 Cup All-purpose Gluten Free Flour
1/2 Cup Almond Flour
2 tsp Baking Powder
1/2 tsp Baking Soda
1 1/2 tsp Ground cinnamon
1/2 tsp Ground Ginger
1/4 tsp ground Nutmeg
1/4 tsp Sea Salt
Preheat oven 350. Grease and flour a loaf pan.
Whisk together the coconut brown sugar, sugar, oil, coconut milk, apple cider vinegar, vanilla and lemon juice in a large bowl.
In a separate bowl, sift together the flours, baking powder, baking soda, cinnamon, ginger, nutmeg and sea salt.
Add the dry ingredients slowly into the wet ingredients and whisk gently until no lumps of flour remain.
Be careful not to over-beat the batter, that can make the cake tough.
Fold in grated carrots until well combined.
Pour the batter into the prepared tin, spread it level and bake for about an hour until a skewer inserted into the centre comes out clean.
Let the cake cool in the tin for about 20 minutes.
Cool completely before frosting.
Cream Cheese Frosting
1 Tub Coconut cool whip
8 oz Vegan Cream Cheese
1 TBSP Lemon Juice
2 TBSP Monk fruit or Swerve
1/2 tsp Cinnamon
Add all ingredients to food processor and blend well.
Spread over Cooled cake.