Gluten Free
Happily serves 15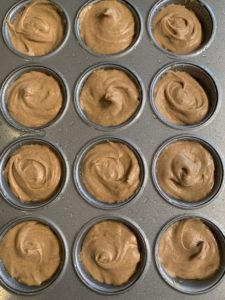 ALL ORGANIC INGREDIENTS
1/3 Cup Coconut sugar
1/3 Cup Butter or Ghee
1 tsp Cinnamon powder
1 Cup Coconut Milk
1 tsp Baking powder
1 Cup Gluten-free baking flour
Melt Butter, transfer to a bowl.
Then add in the sugar, coconut milk and cinnamon powder and stir.
Add in the flour and the baking powder and stir it well.
Spray the Mini Muffin pan with coconut or avocado oil.
Fill about 3/4 full.
Bake on 375 for about 12 minutes.
Cool 5 minutes or so before coating.
Coating
1/4 Cup Butter, melted
1 /2 Cup Monk Fruit
1 tsp Ground cinnamon
Coating the Churros:
Melt butter, transfer to separate bowl.
In a separate bowl, mix together sugar with the cinnamon.
Remove the churro bites from the pan. Dip each bite in the melted butter, and roll in the sugar-cinnamon mixture.