Pinto Bean Dip with a twist
Gluten free, Vegan
Happily serves 4-6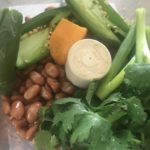 ALL ORGANIC INGREDIENTS
2 Cups Pinto Beans
2 Jalapeño
1 Serrano pepper
1 Habanero
2 Green onion stalks
Handful Cilantro
2 TBSP Lemon Juice
1 TBSP Avocado oil
2 TBSP Water
2 Garlic Cloves
Himalayan Sea Salt
Rinse and drain beans.
Blend chili peppers and lemon juice.
Add beans and remaining ingredients into the food processor and blend till smooth. You can add extra water to the consistency you want.
Lasts 3 days in the fridge and a month in the freezer.
*1/2 cup is a serving with 2 cups of veggies for a perfect combination meal for easy digestion.