Peach Cobbler
Gluten Free
Happily Serves 4-6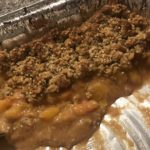 ALL ORGANIC INGREDIENTS
Filling
4 Cup Peaches
1/2 cup Coconut Sugar or Monk Fruit
2 tsp Cinnamon
1/3 Cup Quinoa flour
1 TBSP Cornstarch
Crumble
1 Cup Coconut Brown sugar or Monk Fruit
1 Cup Quinoa Flour
3/4 Cup Quinoa
1 1/2 tbsp Cinnamon
2/3 Cup Hemp seeds
1/2 tsp Pumpkin pie spice
1 Cup Walnuts or Pecans
3/4 Cup Butter
Preheat oven to 375F
Lightly spray a 9×13 pan with coconut oil.
Peel and slice the peaches.
Mix filling ingredients and place into baking dish.
In another bowl, mix together crumble ingredients except the butter.
Add the butter and mix with your hands or a fork, pressing the butter in to the dry mixture.
The mixture will begin to come together but still crumbly.
Add Crumble mix on top of filling mixture.
Bake about 45 minutes.
Top will be golden, fruit will be bubbling.