Coconut Lime Collagen Bites
Gluten Free, Dairy Free
Happily serves 12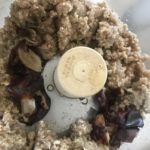 ALL ORGANIC INGREDIENTS
1 Cup Cashews
1/2 Almond Flour
1/3 Cup Collagen Powder
8 Dates
1/4 Cup Lime Juice
1 tsp Himalayan Sea Salt
1/2 Cup Shredded Coconut
Pit Dates. Soak 1-4 hours. Drain.
Soak Raw Cashews 4-8 hours, Rinse and drain.
Add everything but coconut flakes to the food processor.
Blend until smooth.
Check consistency, you may need to add some shredded coconut to adhere the dough.
Roll into balls, then roll into a bowl of shredded coconut flakes.
Keep frozen until you are ready to eat them.