Cleansing Cabbage Slaw
Vegan, Gluten Free
Happily Serves 6-8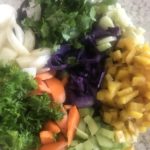 ALL ORGANIC INGREDIENTS
SALAD
3 Cups Cabbage
1 Fennel bulb
2 Celery stalks
1 Beet
2 Carrots
1/2 Cup Fresh Cilantro
1/2 Cup Parsley
2 TBSP Lemon juice
1 TBSP Apple Cider or Coconut Vinegar
DRESSING
1/2 Cup Tahini
3 TBSP Lemon juice
1 TBSP Coconut or Apple cider vinegar
2 TBSP Freshly minced Rosemary
4 Garlic Cloves
3 TBSP Coconut Aminos
about 1/3 cup ater to thin
Himalayan Sea Salt
Wash and dice cabbage. Steam for 5-7 mins, leaving it crunchy still. Set aside in a bowl in the fridge.
Wash and dice fennel, beets, and carrots. Quick steam them for about 5 minutes on the stovetop.
Wash and dice parsley and cilantro
Add all vegetables to a large mixing bowl and add lemon juice and apple cider vinegar. Toss to combine and set aside.
To make the dressing, add all ingredients (except water) to a medium bowl and blend well. Add water until a pourable dressing is achieved.
Add dressing to the slaw and toss thoroughly.