Purify Activated Coconut Charcoal
Enzyme Science
60 capsules $13.99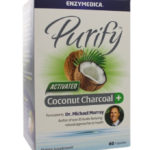 Purify™ Activated Charcoal+ assists the body's natural detoxification process by helping to both capture and eliminate unwanted toxins and other material.
Servings Per Container: 60
Take 1 capsule 2 times a day between meals with a glass of water. Activated Charcoal should be taken 1 hour before or after any medication.
Serving Size: One Capsule
Amount Per Serving
Charcoal … 225mg
(from coconut shells)
Ginger Extract … 25mg
(Zingiber Officiniale)(root)
Standardized to 5% Gingergols
Alpha Galactosidase … 50 GaIU
Other Ingredients: Vegetarian capsule