Detox & Digest GSF
Amazing Grass
210grams-30 servings: $29.99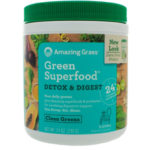 Amazing Grass® Green SuperFood Detox & Digest thoughtfully combines our farm fresh alkalizing greens with over 24 cleansing ingredients to help with the daily elimination of toxins and provide soothing digestive support.
Crafted with 1 billion probiotics and ACTAZIN Kiwifruit powder, harvested in the prime summer conditions of New Zealand and shown to increase the growth of 'good' bacteria in the gut. This natural blend helps aid digestion to help you feel amazing every day
Servings Per Container: 30
Add one scoop or one packet to 8 oz. or more of water, juice or smoothie.
Serving Size: one scoop (7g) or 1 Packet (7g)
Amount Per Serving
Calories … 25
Calories from fat … 0
Total Carbohydrate … 4g
Dietary Fiber … 2g
Sugars … <1g
Protein … 1g
Vitamin A … 1, 250IU
(as beta carotene)
Vitamin C … 11mg
Vitamin K … 34mcg
Calcium … 28mg
Iron … 1.2mg
Sodium … 10mg
Potassium … 100mg
Amazing Grass Green Food Blend … 4.1g
Organic Wheat Grass, Organic Barley Grass, Organic Alfalfa, Organic Spinach, Organic Spirulina, Organic Chlorella (cracked cell-wall), Organic Broccoli
Detoxifying Blend … 1.7g
Apple Pectin, Organic Lemon Peel, Organic Carrot, Organic Coconut Water, Organic Dandelion Root, Organic Beet Root, Organic Ginger Root, Organic Goji, Organic Açai, Organic Fennel Seed, Parsley Leaf, Organic Turmeric, Garlic Extract
Digestive Blend … 1.2g
F.O.S. (Fructooligosaccharide from Chicory Root), Organic Flax Seed, Organic Pineapple, L. Acidophilus (1 Billion CFU), Actazin™ Kiwi, Papaya Fruit, Licorice Root, Organic Quinoa, Chia Seed, Cardamom Seed, Organic Lemongrass, Organic Peppermint
Other Ingredients: Silica.
Allergen Statement: Contains tree nuts (Coconut)
All flavors used by Amazing Grass® are Organic Compliant, GMO Free, All Natural, Kosher, Pareve and Vegan.