BBQ Beef
Gluten Free
Happily serves 16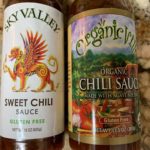 ALL ORGANIC INGREDIENTS
1 Boneless beef chuck roast (about 4 pounds)
3 TBSP Coconut oil, divided
2 Yellow Onions, chopped
1 Cup Ketchup
1 Cup Beef (Bone) broth
2/3 Cup Chili Sauce
1/4 Cup Apple Cider Vinegar
1/4 Cup Coconut Brown Sugar or Monk Fruit
3 TBSP Worcestershire Sauce
2 TBSP Mustard
2 TBSP Molasses
2 TBSP Lemon Juice
1 tsp Sea salt
1/4 tsp Cayenne Pepper
1/8 tsp Pepper
Optional: 1 TBSP Liquid Smoke
Chop onions.
In a Dutch oven, brown roast on all sides in 1 TBSP Coconut oil.
In a large saucepan, saute onions in 2 TBSP coconut oil until tender.
Add remaining ingredients, bring to a boil.
Reduce heat; simmer, uncovered, for about 15 minutes, stirring occasionally.
Pour over roast.
Cover and bake at 325° for 2 hours.
Turn the roast and bake for 2 more hours or until meat is very tender.
Remove roast; shred with a fork and return to sauce.