Gluten Free, Vegan
Happily Serves 8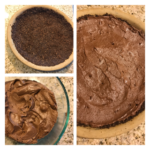 ALL ORGANIC INGREDIENTS
CRUST
1 Cup Pecans (or mixture of pecans and walnuts)
3 Dates
1 TBSP Maple syrup or Coconut nectar
1/2 Cup Raw Cacao powder
FILLING
8oz Vegan Cream cheese
1/2 Cup Raw cocoa butter
1/2 Cup Maple syrup or Coconut nectar
1/2 Cup Water
1/2 Cup Raw cacao powder
2 tsp Vanilla extract
CHOCOLATE GANACHE TOPPING
1/4 Cup Coconut oil
1/4 Cup Raw Cocoa butter
3 TBSP Maple syrup or Coconut nectar
5 tsp Raw Cacao
1 tsp Vanilla
Soak Dates 1-4 hours in distilled water. Drain the water and remove the pits.
Mix all the crust ingredients together in a food processor until crumbly and just starting to stick together.
Press the mixture into the bottom of an 8 inch dish.
Keep in the fridge while you make the filling.

Blend cream cheese w/the melted cocoa butter, water and maple syrup until smooth and creamy.
Add in the cacao and vanilla, blend well.
Spoon the mixture in the crust and smooth evenly.
Put in the freezer while you make the ganache topping.
If the crust isn't cold it will be hard to spread.

Stir maple syrup, cacao and vanilla into the melted oils until well combined and glossy.
Let cool slightly but not so much that it starts to harden.
Pour over the cheesecake, place in the fridge to set.
Best if refrigerated for 4 hours or overnight before serving