Spicy BBQ Meatballs and Veggies
Gluten Free
Happily serves 1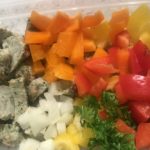 ALL ORGANIC INGREDIENTS
4-6 Chicken Meatballs
1/2 Red Bell Pepper
1/2 Yellow Bell Pepper
1/2 Orange Bell Pepper
1/4 Yellow sweet Onion
1 TBSP Parsley
1 Garlic Clove
2 TBSP Spicy Korean BBQ Sauce
Cut/press Garlic Clove, let sit for 5 minutes.
Cut meatballs in bite size pieces.
(4 for Women, 6 for Men, 3 for Kids) I used Costco Organic Meatball.
Wash and Chop Parsley.
Chop Onion.
Dice Bell Peppers.
Air fry or Bake/Roast peppers and meatballs for about 5-7 mins. You can eat the bell peppers raw if you don't want them warm.
Combine all ingredients with BBQ sauce (I got mine at Sprouts).
Serve warm or cold for leftovers.