Vegan, Gluten Free
Happily serves 10-12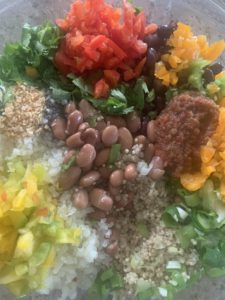 ALL ORGANIC INGREDIENTS
2 Cups Cauliflower Rice
1 Cup Quinoa
1 Cup Black Beans
1 Cup Pinto Beans
1 Red Bell Pepper
1 Orange Bell Pepper
1 Yellow Bell Pepper
2 Green Onion Stalks
Handful Cilantro
2 Jalapeños
2 Garlic Cloves or 1/2 TBSP minced Garlic
1/4 Cup Avocado oil
1/4 Cup Lime Juice
1/2 Cup Jodi's famous Salsa
1/2 TBSP Sea Salt
Cut Garlic and let sit.
Cook/steam cauliflower rice about 7 mins.
Rinse quinoa in a strainer. Cook Quinoa according to desired texture. (I do a ratio of 1.5 cup water/broth to 1 cup quinoa, then cook at a slow simmer for about 15 mins)
Cook beans in a pressure cooker or Rinse beans well if you are using a can. Drain water
Wash veggies well. Chop or dice
Combine all ingredients and stir well, chill and serve!