As we age, we lose precious hormones that regulate so many functions in our bodies.  It is the natural aging process, and nothing to be ashamed about.  Regulating and balancing should be an ongoing process as we reevaluate our health and periodic blood work.
Libido-M
Gaia Herbs/Professional Solutions
$28.99 60 capsules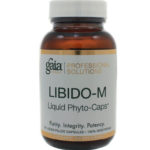 Libido – M*
Supports stamina & healthy libido*
A healthy libido is vital to an optimal quality of life. It can also be
reflective of heart health, as both depend on healthy blood flow. Gaia Herbs
Libido- M supports stamina and optimizes performance.* With botanicals such
as Maca, Tribulus, Horny Goat Weed, and Saw Palmetto, this formula nourishes
the male body and optimizes mens health and vitality
Servings Per Container: 20
Take 1 capsule 3 times daily between meals or as directed by your health care
provider.
Serving Size: Three Capsules
Amount Per Serving
Calories … 15
Proprietary Extract Blend … 1275 † Epimedium (Horny Goat Weed) herb +
(Epimedium grandiflorum) Tribulus fruit + (tribulus terrestris), Muira Puama
bark + (Ptychopetalum olacoides), Yohimbe bark + (Corynanthe yohimbe),
(Pthchopetalum olacoides) Yohimbe bark + (Corynanthe yohimbe), Sarsaperilla
root + (Simlax regelii), Maca root + (lepidium meyenii), Wild Oats milky seed
fresh (avena sativa), Fo-Ti root cured + (Polygonum multflorum), Saw Palmetto
berry Supercritical CO2 extract + (Serenoa repens)
Other Ingredients: Vegetable glycerin, capsule (vegetable cellulose