Butternut Squash Spaghetti w/Swiss Chard
Vegan, Grain Free, Gluten Free
Happily Feeds 2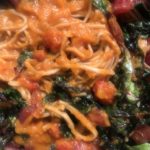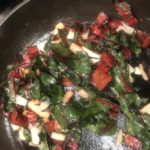 ALL ORGANIC INGREDIENTS
1 Cup Aduzuki Bean Spaghetti
1 Cup Butternut Squash Pasta Sauce
1 TBSP Avocado Oil
1 TBSP Coconut Oil
1 Garlic Clove
1/4 Yellow Onion
Himalayan Sea Salt
2 Cups Swiss Chard
Bring water to a boil, add pasta, cook about 5 mins, watch to not over cook.
Drain into a Colander.
Cut or press garlic, let sit 5 minutes.
In a cast iron skillet, heat 1 TBSP coconut oil, sauté chopped onion.
Wash the Swiss chard. Slice thin, cut off Stems and about sauté 2-3 minutes before adding greens.
Add greens, just as they release their dark green color, add pasta sauce. Simmer all together until pasta sauce is warm, probably only 1-2 minutes, slow stirring constantly.
Remove from heat, add noodles and avocado oil and salt and mix well.