cytokine production
now browsing by tag
BiotaGen
Klaire Labs
$22.95 5.3oz powder
Versatile prebiotic formula to optimize gut microflora, improve bowel function 
and support the immune system.
BiotaGen is a distinctive formulation of soluble dietary fiber with prebiotic 
activities that stimulates growth of colonic populations of beneficial bacteria 
and enhances gastrointestinal and systemic immune function in multiple ways. 
BiotaGen combines chicory inulin and oligofructose, highly effective 
prebiotics, with the immunomodulating actions of larch arabinogalactan and 
purified yeast beta-glucan.
Chicory-derived inulin and oligofructose are inulin-type fructans best known 
for their ability to sustain increases in populations of Bifidobacterium, 
Lactobacillus, and Eubacterium, an important butyrate-producing species 
indigenous to the bowel. By escaping digestion and absorption in the small 
intestine, inulin-type fructans arrive largely intact in the colon where they 
selectively feed beneficial gut microbiota. In addition, inulin-type fructans 
promote normal colon transit times, enhance absorption of calcium and 
magnesium, favorably modulate lipid levels, improve gut mucosal barrier and 
immune function, regulate intestinal epithelial cell growth, and reduce the 
number of potentially harmful bacterial species.
Arabinogalactan, a polysaccharide derived from the Western Larch tree, is a 
highly soluble dietary fiber that enhances immune function by promoting 
cytokine production and increasing the number of natural killer cells. 
Indigestible by human enzymes, arabinogalactan exerts prebiotic properties 
including the ability to selectively stimulate Lactobacillus species. 
Arabinogalactan is metabolized to short-chain fatty acids acetate, butyrate, 
and propionate and reduces ammonia production.
Beta-glucan, a glucose polysaccharide prebiotic fiber, has broad, beneficial 
effect on immune function through enhancement of monocytes, macrophages, and 
natural killer cells. Beta-glucan stimulates immune response to a wide spectrum 
of pathogens, including fungal (Candida albicans), Gram-positive 
(Staphylococcus aureus), and Gram-negative (Escherichia coli) microorganisms.
BiotaGen is recommended to nutritionally support optimal gastrointestinal 
function, promote populations of healthful colonic bacteria, and enhance 
gastrointestinal and systemic immune function. BiotaGen® works synergistically 
with probiotics to assure intestinal microflora balance. Available in both 
powder and vegetarian capsule form.
Servings Per Container: 30
1 to 2 scoops daily with food or as directed by a healthcare practitioner..
Serving Size: 1 Scoop (Approx. 1 teaspoon or 5 grams)
Amount Per Serving
Calories … 5g
Total Carbohydrate … 5g
Dietary Fiber … 4g
BiotaGen Prebiotic Blend … 5g
Inulin (derived from chicory root) Oligofructose (derived from chicory root) 
Beta-Glucan (purified from Saccharomyces cerevisiae) Larch Arabinogalactan 
(Larix occidentalis), dried water-soluble extract
Other Ingredients: None.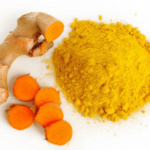 4 Key Ingredients For Improving Inflammation
Inflammation is the body's way of defending itself against disease and is a self-protective mechanism that can support the natural healing process. However, when the inflammation is chronic because of intrinsic and extrinsic factors, then this can leads to conditions where disease manifests. The good news is that there are various natural anti-inflammatories that can ease many of the chronic inflammatory conditions.
Below are a list of the key ingredients that can improve inflammation…
Curcumin. This is the active compound found in the Indian spice turmeric. Its curcuminoids can
reduce pain and inflammation by inhibiting NF-kB, a protein complex that controls transcription of DNA, cytokine
production and cell survival. It is involved in the cellular responses to stimuli such as stress, cytokines, and plays an integral role in regulating the immune system response.
Serrapeptase. This is a proteolytic enzyme that can dissolve and safely digest inflammation within the body. Once the inflammation is removed, it's possible for the body's natural self-healing mechanisms to come into play. Serrapeptase is derived from the silkworm intestine but is now manufactured within a laboratory. When serrapeptase is taken it can safely eliminate inflammation that can appear as various symptoms including redness, swelling, pain and more.

Ecklonia Cava Extract is a super nutrient that can help to support healthy blood flow and circulation. Studies show it may reduce blood glucose levels, while supporting blood pressure and cholesterol levels.
MSM (Methylsulfonylmethane) and other trace minerals can help to support healthy lungs, joints,
tendons and connective tissues.  This is an organosulfur compound that occurs naturally in plants and can help with a variety of health problems related to and including stress, inflammation, allergies and gastrointestinal conditions.

Any of the above nutrients can help to provide inflammation relief. Curcumin and Serrapeptase are particularly powerful as they are highly researched and have been documented as helping thousands of people improve their health conditions, due to their anti-inflammatory properties. When they are taken on a daily basis, they can provide long term results. Alongside taking these nutrients it's recommended to follow an anti-inflammatory diet, as it's then possible to find significant relief from the painful symptoms of inflammation.