Mac and Cheese!! Tasty, Vegan and Gluten Free!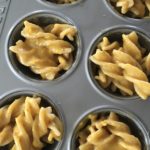 Mac and Cheese Cups
Vegan, Gluten Free
Happily Serves 2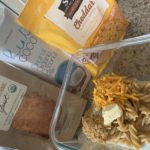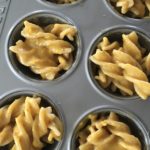 ALL ORGANIC INGREDIENTS
4 oz dry Gluten Free Pasta
1/4 Cup Almond or Coconut Milk
1/4 tsp Sea salt
1 TBSP Nutritional Yeast (optional)
1/4 Cup Shredded Cheddar Cheese (SoDelicious brand)
1 TBSP Butter
Preheat oven to 400.
Spray a mini muffin or cupcake tin with coconut or avocado oil. Set aside
Cook Pasta according to instructions, drain completely.
Add all other ingredients to the pot with the drained pasta.
Cook over low heat, stirring continuously, until cheese melts.
Portion into the muffin tins and press each down.
Bake 20 minutes
The cups should set up without falling apart.
Let them cool at least 15 minutes before removing.

https://amzn.to/2Gx6CRT