Are you having trouble falling asleep?  Do you hate swallowing pills?  There are lots of triggers that cause insomnia.  What are you eating before bed?  How close to sleep are you eating? Is it a Carbohydrate?  Let's connect the dots….
Carbohydrates give us energy, right?  That's why we eat in the morning….So, why would you want to eat before bed?  That raises insulin levels, causes disruptions in sleep patterns, and forces your digestive system to start working when your immune system should be working instead.
I would love to see my clients benefit from a full nights sleep.  There are many options… Nitric oxide, CBD oil, Melatonin, 5–HTP, Serotonin, GABA, and I could go on.  Here is one option below.
If you are interested in lowering your sugar levels naturally and want to actively take a part in your health and well being let's meet and discuss options that are best for you!
jldfit.kyani.com for information on Nitric Oxide
http://Www.buddhafarms.com for information on CBD oil
www.Naturalpartners.com for information on natural nutraceuticals that you can trust (only practitioners can order to keep purity)
Melatonin Gummies
Nordic Naturals
60 chewables $19.95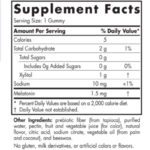 Fall asleep faster, and stay asleep longer with Melatonin Gummies.* 
Melatonin helps synchronize the sleep-wake cycle to a normal, circadian rhythm to facilitate deep sleep throughout the night. Melatonin also acts as a potent antioxidant, helping to reduce oxidative stress throughout the body.* Sweetened with xylitol, these vegetarian gummies have a great raspberry taste with zero sugar. These tasty raspberry-flavored gummies promote healthy sleep patterns for a more restful, deep slumber throughout the night.*
Delicious raspberry-flavored gummies with 1.5 mg melatonin per piece
Helps maintain healthy sleep patterns throughout the night for a deep, more restful slumber*
Provides antioxidant support*
Gelatin-free, vegetarian gummy for adults
No added sugar, artificial coloring or flavoring, or preservatives
Servings Per Container: 30 
For adults, one gummy (or two if needed) before sleep, or as directed by your health care professional or pharmacist.
Serving Size: 1 Gummy
Amount Per Serving
Calories … 5
Total Carbohydrate … 2g
Total Sugars … 0g
Includes 0g Added Sugars … 0g
Xylitol … 1g
Sodium … 10mg
Melatonin … 1.5mg
Other Ingredients: Prebiotic fiber (from tapioca), purified ater, pectin, fruit and vegetable juice (for color), natural flavor, citric acid, sodium citrate, vegetable oil (from palm and coconut), and beeswax.
Does not contain gluten, milk derivatives, or artificial colors or flavors.