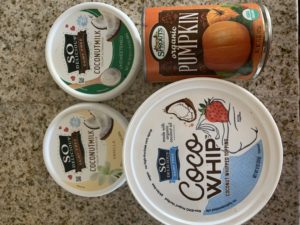 Happily Serves 2
Vegan, Gluten free
ALL ORGANIC INGREDIENTS
1 Cup Vanilla Coconut Yogurt (SODelicious brand)
1 Cup Pumpkin (canned)
1/4 Cup Pumpkin Seeds (GoRaw Brand)
1/2 Cup Coconut CoolWhip (GSODelicious brand)
Dash Cinnamon
Mix 1/2 cup pumpkin and 1 cup yogurt together. Place in the bottom of cup.
Mix 1/2 cup pumpkin and 1/2 Cup Cool Whip, layer in cup.
Sprinkle with cinnamon or mix it in.
Top with 1/8 Cup Pumpkin seeds, or you can put seeds on the bottom. Top with additional coco whip if desired.
Tip: Picture above shows options for coconut yogurt you can use. Notice the facts seem similar but the portions are different. Make sure you read the size if you are watching your sugar intake.
Unsweetened facts: 1 cup, 160 calories, 25g carbs, 4 grams fiber, 16g sugars, 7g fat
Vanilla facts: 5.3oz, 150 calories, 5g fat, 25g carbs, 2g fiber, 17g sugar