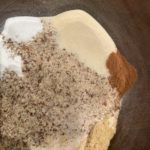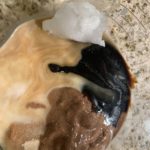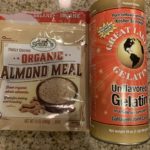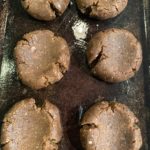 Dairy Free, Gluten Free
Happily serves 8
ALL ORGANIC INGREDIENTS
1/2 Cup Almond meal
1/2 Cup Quinoa Flour
2 TBSP Monk fruit
2 TBSP Almond butter
1 TBSP Gelatin
1 TBSP Coconut Oil
1 TBSP Molasses
1/2 tsp Vanilla
1/2 tsp Baking powder (use half if at high altitude)
1/4 tsp baking soda (use half if at high altitude)
1/2 tsp Himalayan sea salt
1 TBSP Macadamia nut milk
1 tsp ground Ginger
1/2 tsp Cinnamon
Preheat oven to 350 degrees. Use parchment paper or a baking stone
Whisk almond butter, coconut oil, Monk Fruit, vanilla, macadamia nut milk and molasses together.
In a separate bowl: Whisk flour, spices, gelatin, sea salt, baking soda, and baking powder and stir well.
Mix the dry ingredients with the wet ingredients. Spatula works best.
Roll dough into dough balls and place on the prepared stoneware.
Flatten with the back of a spoon and bake for approximately 10 minutes.