Chicken Sausage Stuffed Portobello
Gluten Free, Dairy Free
Happily Serves 1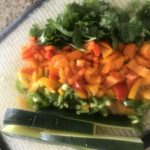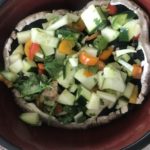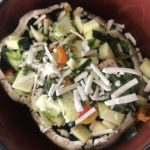 ALL ORGANIC INGREDIENTS
1 Chicken Sausage
1 Portobello Mushroom
1 Jalapeño
1 Bell Pepper or 3 mini tri color sweet peppers
1/2 Zucchini
Handful Cilantro
1/8 Cup Parsley
1 Garlic Clove
1 Green Onion
Himalayan Sea Salt
1 TBSP Ginger Lime Coconut Aminos
1 TBSP Avocado Oil
Optional: Coconut Cheese (SO Delicious Brand)
Wash Mushroom well, remove stem.
Dice or press Garlic, let sit 5 minutes.
Chop cilantro, parsley, peppers, zucchini, and green onion.
Air fry chicken sausage (or bake/grill) for about 5 minutes.
Mix all ingredients together and fill Portobello mushroom.
Bake 10 minutes or Airfry 5 mins. Add chicken and cheese and bake 2-3 minutes more or until Cheese is melted.